I must confess something. I'm not a die-hard football fan. I'm not blown away by encountering an Eagles football player in any aspect of my life. I don't attend every game or event.
As the first cook for Flik Hospitality at the NovaCare Complex, I get to see these guys every day, up close and personal. I arrive at 4:15 in the morning to prepare for the breakfast rush. It's not just players and coaches who we cook for. It's the entire front-office staff. The sheer amount of food is staggering. Over 250 eggs must be hand-cracked, 15 pounds of bacon and sausages need to be cooked, up to 20 pounds of potatoes turned into home fries, 45 or more Avocados split and sliced. And this is just to get breakfast started. Add in the full smoothie and fruit bar, the breakfast spread in our cafeteria is everything you could want to start your morning right. I work hard alongside the other chefs in our kitchen and we strive every day to tackle the daunting task of feeding an entire football organization.
This is just a small part of my day, of course. Lunch and dinner are a veritable smorgasbord of freshly cut fillets of salmon, steaks, and chops – a multitude of specials made to order fresh. Add to that all of the other delicious offerings from our salad bar, pizza oven, and spotlight action station, we cook and serve meals and snacks all day for our team. Anything that is required to sustain these guys is available and we all work long hours to make sure that not only all of their nutritional needs are met, but that we are providing great tasting food every day at every meal. Over time, I've definitely become desensitized to the celebrity status of the larger-than-life athletes and coaches we feed each day. Our task is simply to feed and nourish hungry people.
On May 13, however, I found myself simply amazed and delighted – a true fan moment.
Chef Robert Irvine, a die-hard Eagles fan, hosted the Beats 'n Eats charity event at the Fillmore in Philadelphia. All of the funds raised go to support the Robert Irvine Foundation, an organization that serves "the men and women defending our country, first responders, and the many other heroes in our lives (active, retired, and veterans)."
Now, I've met Chef Irvine before. I was able to sit down and interview him last season for our Feeding the Birds podcast. It was one of the best interviews I've done to date and I learned a lot about the day-to-day life of a world-class chef. Robert is very dedicated to his art and uses those skills to give back to people in need. He travels the world 345 days a year, raising money with special events for his charity. He is involved in the production of food documentaries and series that show off his unique brand of challenging the impossible meal. Despite being an imposing figure, TV celebrity chef and all, he is very accessible and friendly. When you talk with him, Robert greets you with a firm handshake and a pat on the back, looks you right in the eye and encourages conversation, and invites questions and stories. He has a great laugh and he will tell you anything and everything about cooking, and his love of food and service in the military.
He shared stories of cooking in her Majesty's Royal Navy and instituting an Afternoon Tea, which exists to this day, stories about his mother's cooking, and his love of fresh and fit meals. I was able to cook for Robert before his interview and he told me later that the steak I had made him was seasoned and cooked perfectly. I consider this very high praise, as this came from a man who I had watched rip other chefs to shreds because their food was horrible on Restaurant Impossible. Imagine that pressure, Robert Irvine walks up to you and orders lunch and you know he's going to be brutally honest about your cooking. I am confident in my skill as a chef, but it was still a bit daunting for me. I learned that Robert Irvine is not just the man I saw on television, but a peer, another chef in the food community dedicated to using his skill to nourish. I felt that I had stepped into a larger world the day I spoke with and cooked for him.
That world expanded a whole lot larger for me when I attended the Beats 'n Eats charity event. Chef Irvine, also highly impressed with the way our cafe at the NovaCare Complex operated, tasked Flik Hospitality senior executive chef James Sirles, food service director Eric Montijo, as well as our performance meal prep chef Emily Gundrum with providing a "family meal" for all the support staff at the event. They presented a meal that was part of a Player Spotlight series we did this past season, featuring tight end Zach Ertz's favorite food of steak and chicken tacos served with fresh sides of Mexican grilled corn, homemade salsas, and guacamole on over 200 handmade corn tortillas Eric had sourced just that morning.
Robert Irvine wanted Flik represented at his charity event because he loved the techniques and foods these chefs presented. This type of event is a huge shot in the arm for all of us because we don't usually get to cook for anyone outside of the NovaCare Complex. I can speak for James, Eric, and Emily when I say they were proud to be a part of this event to showcase their skill in front of so many wonderful chefs. The food served was authentic, tasted incredible, and wonderfully satisfied everyone who experienced it.
For the first time in my career as a chef, I was not involved at all in any of the cooking that evening. I attended to interview six celebrity chefs for the podcast. But beforehand, I was able to watch them present their own spectacular dishes to the event's attendees.
The mood backstage was professional, but also playful. Each chef and his or her crew engaged in camaraderie and discussions regarding preparation and plating. Chef Irvine came to the back to address his fellow chefs before everything started and let them candidly know that this event was to be "fun, not stuffy! This isn't one of those events where you need to be serious, remaining professionally aloof. If people want to talk to you, engage them! Share stories, answer questions, shake hands, and pose for photos! Enjoy yourself with the guests who are thrilled to be meeting all of you. Be thrilled to greet all of them."
As a fundraising auction of Eagles game tickets, one-of-a-kind items, and events took center stage featuring entertainment by SWOOP and the Eagles Cheerleaders, I had a front-row seat to the preparation and artistry of a six-course dinner. Our soundtrack for the evening of Lauren Hart, Potash Twins, Rahzel of "The Roots," Zeek Burse, Noelle Mercer, and Ryan Cabrera pulsed throughout the Fillmore as all of the chefs and culinary crew bent to the task at hand.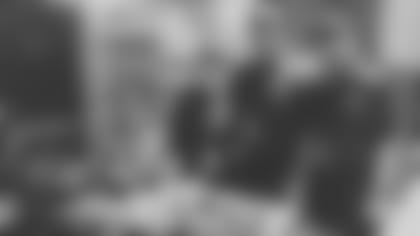 The first and second courses: Jose Garces' Ensalada de Habas – fava bean salad, served with Gordal olives, feta cheese, and smoked egg yolks; and Marcie Turney's Grilled Maitake & Oyster Mushroom Polenta, served with an English pea, fava bean and asparagus salad with Parmesan, lemon, and mint were plated with a simple elegance. The salad and polenta were a perfect start to an evening of such wonderful foods, both bright and fresh. The salad of the sweet and starchy beans was complemented by the briny taste of olives and feta, and the smoked complexity of the egg yolk. It prepared your palate for the umami of the grilled mushrooms and the creamy richness of the velvet polenta.
The third and fourth courses were Cat Cora's Braised Short Ribs with Modena Sauce and Sticky Rice, and Kevin Sbraga's Crab Salad with avocado and lime dressing. The short ribs brought both the savory taste and tenderness one craves contrasted by the quality and sweetness of the sticky rice. The Modena sauce finished this delightful dish of different textures and flavor in a rich tangy glaze. The cool creaminess of the crab salad, dressed simply in avocado and lime, smoothed and satisfied the senses.
The fifth and sixth courses were Andrew Zimmern's Poached Shrimp and Leeks with a black bean/braised pork vinaigrette and Szechuan chili oil, and Chef Irvine's Grilled Moroccan Spiced Lamb Chops over a warm freekeh salad with chickpeas and golden raisins, charred heirloom carrots, citrus goat cheese, and harissa that woke up the senses. The shrimp, with its moist and sweet flesh, married well with the refined and subtle flavor of the leeks, both ignited by the spice and depth of the vinaigrette.
The lamb chops took diners to the veritable summit of the presented meal. The Moroccan spice and the rich flavor of the meat mixing with the varied flavors, textures, and freshness of the salad ingredients. The harissa giving the dish a final punch of heat as if Chef Irvine clapped you on the back at the finale to punctuate the meal.
Finally, the Celebration Cake presented by Chef Buddy Valastro was masterful in its design, and delightful in the colors and shapes it borrowed from the Beats 'n Eats logo itself. Its taste was not overly sweet but delectable and the perfect finish for a great night of world-class food and music.
The joy of watching these chefs create the dining experience that Beats 'n Eats promised was simply fantastic. Their presentation was elegant, succulent, exciting, funky, and cool. I observed all the chefs helping each other and sharing anecdotes and skill as each dish was called for plating. There was no competition here, no bragging rights or battle of culinary titans. Just a community gathered together to create a one-of-a-kind meal for a wonderful charity, all working toward the goal of feeding people really good food. I was in awe of such a collaboration.
My awe of the evening was extended as we recorded our podcast episodes. Our space for recording was a makeshift green room off of the main prep area, where audio engineer Peter Kelly set up three microphones next to a small red couch and chair. The brick wall behind us lent a bohemian, almost stand-up comedy feel to the space. I felt the conflicting emotions of both being relaxed and nervous, definitely an odd feeling. The first chef I had the pleasure of meeting and talking with was Chef Valastro. The firebrand "Cake Boss," from Carlo's Bakery in Hoboken, New Jersey and the TLC show of the same name, couldn't have been more genuine and friendly. I got a huge handshake and a bear hug as we entered the room together. His casual attitude and sense of humor put me at ease, as it turned out, for the rest of the night.
We started off trading a few jabs about the historic Eagles-Giants rivalry and then dove right into a conversation about Buddy's favorite Italian foods and the most important thing his father had taught him about baking – using only quality ingredients. The interview with Buddy was professional, entertaining, and informative. I wish it had been longer. It turned out to be the shortest of my interviews that night, but the conversation taught me there was more to this man than just a fabulous baker and TV star. He was a family man, a traditionalist, a hard worker, and someone who was as generally curious about my world as I was about his.
After we discussed how our Eagles players have different needs when they eat, I felt myself stepping once again onto that level playing field I had occupied when first meeting Chef Irvine last season. As our discussion wrapped up with his perfect breakfast of Panettone French Toast that he makes for the family, I was sad to see him go. I was also grateful for this interview having concluded so I could take a few minutes to prepare for the next one.
The next session contained Iron Chefs Cat Cora AND Jose Garces. Now, if you thought I was intimidated by Chef Robert Irvine and his destruction of chef egos on television, here I was meeting and interviewing two Iron Chefs at the same time. I hadn't prepared to interview them as a team. These people met on the gastronomic battlefield of Kitchen Stadium and fought to be the best on that stage. Here I was, just pen and notebook in hand with no knives or assistants or secret ingredient. Just me. The camaraderie they shared upon entering the room put me at ease. I had a notebook full of questions and introductions for each chef. I was basically overprepared, so I chose to simply ask them to tell me about what they were most passionate about in this culinary world we dwell in.
I was once again calmed and captivated by their responses to my questions. Chef Cora spoke of her passion for the creation of unique dishes and the artistry of food on the canvas of the plate. Chef Garces spoke in much the same way, sharing a story of how he actually used a tablet and stylus to draw how he would plate his food, the design of the dish. We continued discussing their most important influences in their careers: Jose his Ecuadorian grandmother and her tireless efforts of cooking for her family and teaching him how to cook, and for Cat, her close work relationship with Chef Julia Child where she learned to "Pay it Forward" and help upcoming chefs, as Julia had helped her.
The interview continued much in that way, and I found myself more interested in their personal stories and reflection than how they became Iron Chefs or what techniques they specialized in. These were simply people who loved cooking as much as I did and making food for others to promote happiness and wellness was their overall mission.
Suddenly, the door exploded open into our tiny space and there came Chef Robert Irvine escorting chefs Andrew Zimmern, Kevin Sbraga, and Marcie Turney. It seems my interview would now have an audience and rather than hinder, it was helping! Hilarity ensued as Andrew, Kevin, and Marcie added background comments and jokes to the line of questioning I had used to conclude the interview with the Iron Chefs. I felt more like I was relaxing with friends at the end of a long day's cooking shift rather than conducting celebrity chef interviews for the podcast.
Cat and Jose exchanged places with Andrew and Kevin and took their leave. Sadly, Chef Turney had to also leave and I was unable to interview her. I was now facing the host of Travel Channel's Bizarre Foods, Andrew Zimmern, and a local celebrity chef and winner of Bravo's Top Chef Season 7, Kevin Sbraga. Both men relaxed on that couch in a way you can only relax after working hard all night making great food. I felt they were enjoying just being able to chat about their skill in a relaxed environment – no aprons, knives, lights, or cameras. Just food conversation.
We dove right in with a question about what career they each would've chosen had chef not been their choice. A discussion of truck driving, an idea for a cooking show called Truck Stop Hustle, and mention of a political career featuring art history both amused me and made me curious to learn more. Kevin and Andrew were eager to deliver and I learned how important it is to taste everything you cook, what cooking a meal for someone really truly means, and how love of food and food culture grants each chef the burden of sharing that culture responsibly. I learned how vital time spent sharing a meal is for our families, how today's chefs look to break out of their traditional role in the kitchen, and how all chefs should focus on sustainability because sustainability of food is the sustainability of people.
These chefs were very down to earth. They dug at the core of what I love to do every day, sharing the knowledge of how to thrive in the kitchen and how food is the vehicle to provide sustenance and happiness. I saw it in the foods they all presented for the event, and in their candor towards each other and myself.
From talking Italian food and Sunday morning breakfast with Buddy Valastro, to hearing the family stories, creativity, and passion in the words of Iron Chefs Cat Cora and Jose Garces, to experiencing the richness, depth, and love of food culture with Kevin Sbraga and Andrew Zimmern – the night was truly magical for me.
I felt incredibly lucky. Lucky to be part of an event that uses the power of brotherly love and the culture of food to raise money for a worthwhile charity. Lucky to be able to just relax and talk to these chefs on a level playing field because we are all on the same journey.
Beats 'n Eats brought to me the feeling of brotherhood that the great City of Philadelphia is known for. This really truly shone and it was like nothing like I've ever been a part of before. Andrew Zimmern summed it up best during our interview, "I think the most important thing about food is putting a plate of something down in front of another human being, and giving them that hug that food gives. It is really important. It is about sharing yourself with other people."
I'm a pretty basic guy. I grew up in enemy territory in Upstate New York – most everybody was a Giants fan or Yankees fan ... I was not. Sports just weren't on my radar. I had other interests and wasn't really built for any sport other than maybe bowling.
While other kids my age were involved in multiple team activities, I studied something I would later realize that I had a passion for, cooking, at the feet of the master – my maternal grandmother. My grandfather would leave his office and come home to eat lunch because her food was simply that good. He brought clients to his home for lunch. It was by no means five stars, just simple German-American cuisine that was hearty and made with love. These are qualities I aspire to with my own cuisine. I was happy to hear these ideals that I have carried in my heart for many years echoed by the chefs at the event.
Armed with some lessons from a few of my culinary heroes, I truly try to put the love of food culture and brotherhood right in my cooking every day. I share myself and my passion through the food I cook and my work on the Feeding the Birds podcast. I do it when I cook for my wife and son, friends and family. I do it when I cook for everyone in the NovaCare Complex. When we cook together and share a meal, we become family. Our Eagles family just keeps getting a whole lot bigger.