The Eagles rookies and selected vets arrived Monday at the NovaCare Complex for physicals and a team meeting prior to Tuesday's first Training Camp practice. Here's a look at what some of the rookies said about what it was like the past few weeks preparing for their first Training Camp ...
MOMAH: CONSISTENCY IS KEY
As he embarks on his first NFL Training Camp, towering wide receiver Ifeanyi Momah won't be trying to do too much. The 6-foot-7 Momah, who sat out last year while recovering from a torn ACL suffered during his senior season at Boston College, believes he simply has to prove he can fill the role he was signed to do.
"I don't think there's really too much to prove," he said. "It's just doing what they think I can do. I think if I just do what I show them that I can do consistently, I'll be fine. They all know what I can do and that's just play big, play big, catch every ball, be consistent and just mature in this offense. I think that'll help me out a lot.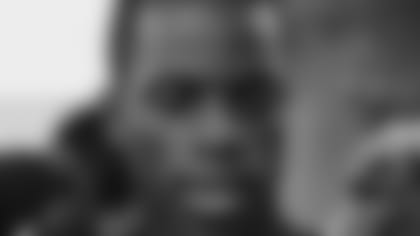 "We've got a couple of big guys here and obviously you've got to compete with those big guys because there are only a few spots. But somebody like me who has a greater advantage over most guys, it's exciting. I always try to use that advantage over the defender as much as I can and I'm going to stick to that as much as I can and hopefully the coaches like that."
Momah has been working hard over the past month-plus to prepare for his maiden Training Camp voyage, spending most of his time working with former NFL wide receiver (and one-time Eagle) Kelley Washington in Florida. Momah said that Washington helped him with specific techniques on certain routes as the latter works off the rust from his layoff.
Contrary to Chip Kelly's "big people beat up little people" mantra, Momah's approach to the weeks and months ahead is actually more modest.
"I really don't know what to expect, so I'm just taking it a day at a time," said Momah. "I just know that no matter what happens, I'm going to be excited. I'm going to be one of those guys that's going to have fun on the field. There's no tightness, no nerves, no space for fear. It's going to be one of those great experiences for me."
POYER PUTS DRAFT DISAPPOINTMENT IN PAST
To this day, cornerback Jordan Poyer still can't understand why he fell to the seventh round in the 2013 NFL Draft. His agent, Zeke Sandhu, thought he'd be selected during the second day, so Poyer expected the same. As the rounds went by and Poyer didn't hear his name called, he wondered what had happened, what had caused his precipitous drop. His agent didn't have any answers, either. Just as Poyer started to grapple with the reality that he might not get drafted at all, the Eagles selected him with their second pick in the seventh round.
Fast forward nearly three months, and Poyer is a man on a mission. He doesn't feel he's too far behind, despite missing OTAs and the June minicamp due to the NCAA Graduation Rule. He seems relaxed, but with a fire burning inside him. Poyer has put the disappointment of draft day behind him; he is excited for his first NFL Training Camp and ready to prove himself.
"I'm just happy for this opportunity," he said. "First round, seventh round, you still have to come out here and play. You still have to come out here and compete, and that's what I'm here to do."
Poyer was a PAC-12 All-America, but his showing at the NFL Combine reinforced scouts' concerns about his speed, athletic ability and strength. Poyer understands his game has to be about smarts and diagnosing what the offense is trying to do. He prides himself on being feisty and aggressive, as well as his ability to create turnovers. Poyer was tied for second in the country last season with seven interceptions. Poyer even said he models his game after pest extraordinaire Cortland Finnegan of the St. Louis Rams.
"I like the way he plays, I like his style," Poyer said. "He's just a scrappy, scrappy defensive back."
David King was the last, but certainly not the least of the Eagles' 2013 draft selections. The 6-foot-4, 288-pound defensive end is a former collegiate teammate and current Training Camp roommate of first-round pick Lane Johnson. While King is looking forward to the opportunity of playing in the NFL, he is also aware that he must prove himself to his Eagles coaches.
"I'm pretty excited," King said. "You just sit around when you're at home. You're on break, but you're not really on break, because you still have to work. I'm excited to be back and for the opportunity to compete.
"Everyone has to prove themselves. This is a starting point. Everyone's here now, but you know that everyone's not going to be here once that final preseason game is over… In the locker room, everybody's friends, but once you're out on the field, you can't take friendships out there. You just have to compete and work harder than the next man and hopefully you do something that catches the coach's eye."
King also shared the story of his mother, Gladys King, who passed away in 2010. This was the focus of King's Rookie Spotlight.
MICHAEL BAMIRO'S UNCONVENTIONAL PATH
Tackle Michael Bamiro's story is an interesting one, and his journey to the NFL has been anything but traditional. He wasn't recruited out of high school and didn't even go to college to play football at first. As a freshman at the University of Pittsburgh-Titusville, a school without a football program, Bamiro admitted he had his sights set on studying to be a lawyer. Not until he watched college games on TV and saw players he played against in high school, did he feel that drive again and thought "maybe I do have some more to contribute (on) the field, and maybe I could keep playing football."
Bamiro transferred to Stony Brook University in 2009 and redshirted as a sophomore. The mammoth offensive tackle, who's 6-foot-8 and 339 pounds, started 10 games at right tackle in 2010 and was named the Seawolves' Offensive Rookie of the Year. He went on to start all 26 games at right tackle over the next two seasons and was a first-team All-Big South selection in 2012. Up until the first week of July, Bamiro was training – and expecting – to be a college athlete, gearing up for his senior season. That's when he was told that his waiver appeal regarding the exhaustion of his college eligibility (clock started ticking the minute he enrolled as a full-time student at Pittsburgh-Titusville), which he learned of in late May, had been denied by the NCAA. Bamiro had already been ruled ineligible for the NFL Supplemental Draft and thus became a free agent.
A potential mid-round prospect for the 2014 NFL Draft according to reports, Bamiro had no shortage of teams courting him. Along with potential opportunity, he cited the coaches' overall enthusiasm and eagerness to work with his skill set as the main factors that led him to pick the Eagles. Bamiro said it felt like the coaches "really wanted me here" and called signing with the Eagles "an easy decision." While he promises that wearing No. 72 is just a coincidence, Bamiro worked out with Tra Thomas and said the former Eagles great has taken him under his wing.
Brad Wing, the Australian punter and former LSU Tiger, arrived at the NovaCare Complex on Monday with his fellow rookies (and a select few veterans). Special teams coordinator Dave Fipp asked Wing to work on his "consistency," Wing said, after the June minicamp and showed him certain technique "tweaks with drops to improve hangtime and direction."
Over the past number of weeks, Wing has been training in Baton Rouge, La., focusing on "little things with punting – little technical things, just drops and steps." The 2011 All-America selection is ready for the competition that lies ahead with All-Pro Donnie Jones and feels he has an equal chance to win the starting punter job.