When the Eagles first drafted Shawn Andrews out of Arkansas in 2004, he had to make the transition from tackle to guard.
Andrews seized that opportunity and worked his way to two Pro Bowl berths.
Now, it seems, the Eagles are asking Andrews to switch back to right tackle.
It's a move that makes "The Big Kid" feel, well, like a kid again.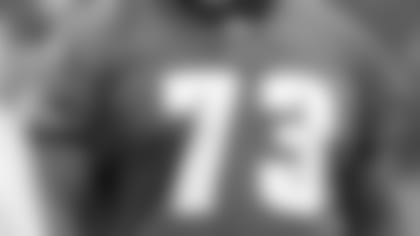 G/T Shawn Andrews back on the field
"It felt good, man," Andrews said, "I was moving around, and my conditioning is pretty cool right now. Of course, it's not hot and we're not in pads yet, but I feel like I'm up to snuff; a little above that, actually."
Andrews seems poised to put a not-so-good 2008 season behind him. He was diagnosed with depression during training camp before ultimately missing the final 14 games of the regular season and three playoff games with a herniated disc in his back.
Originally, the plan was to switch Andrews to left tackle but after trading for Jason Peters and signing Shawn's brother, Stacy, in the off-season, the Eagles have the flexibility to give Shawn a look at the right tackle position.
"I think it will rejuvenate my career and just my all-around game," Andrews said. "It's going to be fun out there."
Especially fun for Andrews. Not only does he get to play on the same team as his brother, which was something they have talked about doing for some time, but he also gets to lineup by his old college roommate.
Andrews played tackle at Arkansas, with Peters playing tight end. The two of them are obviously close; they even drove to the NovaCare Complex together for mini-camp on Friday morning.
"I don't think that happens very often," head coach Andy Reid said. "Jason and Stacy are good friends too. You have three guys that are very close that are playing on the same offensive line on the same team. You don't see that very often. Does it help Shawn? I don't know that. I know he's happy to have those guys here. We'll just see how things go down the road. He's doing a great job right now. It's good to have him back out there."
Make no mistake about it, though; neither Stacy Andrews nor Peters are here to provide a support system for Shawn. The three of them are here for the same purpose: to help the Philadelphia Eagles win football games.
"It meant that the front office felt like he does a good enough job to get the job done here," Andrews said. "He held his own in Buffalo. He's going to presume that job here."
With Shawn taking snaps at right tackle, Stacy may assume the right guard spot when he returns from his ACL injury – possibly in a limited role before training camp Reid said.
Together with Todd Herremans, who will miss the post-draft mini-camp after having his knee cleaned up, and center Jamaal Jackson, the Eagles have a formidable offensive line.
"I think it is," Andrews said. "(But) that's yet to be determined. A lot of teams in the past have looked great on paper but things didn't quite pan out. I think that our work ethic is up high enough to where we can (succeed) and make things happen to (meet) those expectations."
Much of that success depends on Shawn Andrews and whether or not he can make the switch back to his old position.
"I made the transition from tackle in college to guard in the NFL so it kind of goes back," Andrews said. "It's just being an athlete, being technical and everything will take care of itself."