It's Christmastime in Philadelphia, and this year, football fans have a new soundtrack for their festivities starring the Eagles' offensive line.
Yes, you read that right.
Put on your Midnight Green Santa hat, because Jason Kelce, Lane Johnson, and Jordan Mailata are the lead singers in the hit holiday album, fittingly dubbed, "A Philly Special Christmas."
The idea was birthed while Kelce and his teammates were volunteering at Children's Crisis Treatment Center's toy drive during the holiday in 2021. The effort has come full circle – all proceeds from each record sale will benefit CCTC.
"We wanted it to be a Philadelphia thing," Kelce said. "We wanted it to be something the community could embrace and have fun with. We wanted it to be something that could raise Christmas spirit and give some kids great holidays."
Like a weekly advent calendar of catchy tunes, a new track released each Friday through the month of December until the entire album became available on Dec. 23. It's on Spotify just in time for the team's Christmas Eve game against the Cowboys.
In addition to the virtual release, the album is available for purchase on the official website: https://phillyspecialchristmas.com/. There will also be a limited amount of signed vinyl records available at the Eagles Pro Shop at Lincoln Financial Field on Saturday, December 3rd.
Kelce, Johnson, and Mailata met at the NovaCare Complex days before Thanksgiving, decked in holiday gear to sign the copies, each writing their names on the cover alongside the gleeful Peanuts-inspired depiction of themselves posed around a tree.
While deliberating whether to use a black, gold, or silver paint pen to sign, the album rang through the studio. Mailata quickly admitted, "I've listened to this 20 times, start to finish already!"
As fans anticipate each addition, one might wonder, how do three professional football players create an album? For Kelce, the answer is simple.
"I love Christmas," said Jason Kelce.
"I had an idea that doing a Christmas album would be great. The problem is, I can't sing, so I knew I was going to have to coax guys that could sing to come do this. That's when I went to Jordan, Lane, and some actual musicians."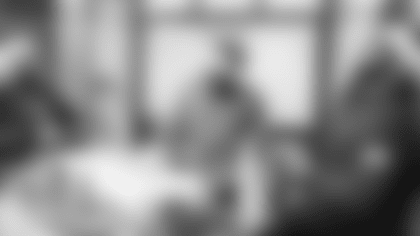 The trio paused their blocking drills with Coach Stoutland for vocal lessons with Philadelphia-based rock band, The War On Drugs. With the help of its drummer Charlie Hall, the linemen perfected their pitches, tailored classics to their skill sets, and spent hours recording covers of some of the most loved songs in the Christmas catalog.
"All of these guys can sing, and all of their voices are a reflection of their personalities. It's beautiful," said Hall, during a recording session.
Preparations began at a studio in Conshohocken in the heat of the summer, all parties gathering with the intention of celebrating "Philadelphia, friendship, and Christmas." Now, the finished product is finally ready for its debut.
The bellowing voices that often uplift huddles mid-game will instead uplift the holiday spirits of an entire city. As new songs drop on Spotify, they'll reveal the linemen's hidden talents that fans have sparsely heard.
"There are some songs on there that I think are going to shock people, especially people who haven't heard Jordan Mailata sing," Kelce said. "There's at least one song that really sounds like a legitimate pop hit. I think it could be huge.
"What Jordan did, you could call singing. What Lane did, you could call singing. I don't know if you could call what I did singing. I'm very much just a yeller in certain tones."
The first song released was a rendition of "Christmas (Baby Please Come Home)" with Jordan Mailata front and center. The pairing of his booming voice with his falsetto capabilities was the perfect fit. Mailata is as talented musically as he is athletic – he unveiled his skills while competing on FOX's reality singing show, "The Masked Singer," during the offseason.
"I think Jordan's just playing football to launch his singing career. Some people choose American Idol as their start, but he's like, I want to play left tackle and then go into singing. I think it's actually genius," said Kelce.
In the second song, released on December 2nd, the spotlight was on Lane Johnson, who took on the persona of Elvis Presley to cover "Blue Christmas." Though it was his first time singing in a studio, he's had plenty of experience belting longing cowboy tunes. He and Kelce often sit in a car together and sing what Kelce describes as, "sad country songs," after home games while they wait for South Philadelphia traffic to subside.
Along with the songs, the album will feature a heartfelt narration of "The Night Before Christmas" by the city's most recognizable voice – longtime Eagles broadcaster, Merrill Reese. Listeners can also expect cameo appearances from more favorites from the Eagles locker room in the finale.