When Kyle Eckel got word of what would be his newest NFL stop, he didn't exactly need to factor in the consequences of relocating immediately.
The former Navy fullback was inked to a two-year contract Tuesday to help solidify a revolving-door position in Philadelphia, his hometown and where most of his close family still resides. To make room for Eckel, the Eagles released safety J.R. Reed.
"I definitely know what this team means to the city of Philadelphia. I definitely know what it means to me," Eckel said. "I grew up watching Randall Cunningham and loving those guys. A lot of good memories about it."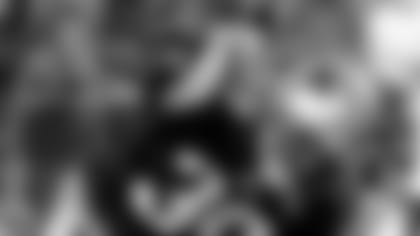 New Eagles FB Kyle Eckel
Local high school football connoisseurs likely won't need much of a spark to call the bruising Eckel to mind. He played his Friday night ball at Episcopal Academy in Merion, where he was honored as a first-team all-city selection as a senior, joining Chicago Bears running back Kevin Jones in the backfield. In fact, former high school rival and fellow all-city honoree Matt Ryan of Penn Charter will start at quarterback for Atlanta at Lincoln Financial Field on Sunday.
"That's the first I've thought of that," Eckel said.
When he moved to college, Eckel thrived in the Midshipmen's signature triple-option offense. For his career, he rushed for 2,906 yards and 25 touchdowns, both fourth in school history, and he rushed for over 1,000 yards in both his junior and senior seasons.
Despite bouncing around training camps with the Patriots and Dolphins since leaving the military in October of 2006, Eckel saw his first game action in 2007. In 12 career regular season games, all with the Patriots, Eckel ran the ball 33 times for 90 yards and two touchdowns, while also registering 12 special-teams tackles. The special teams experience is something the Eagles not only value from the fullback spot, but require.
And they still seem to have not found their fit at the position. Since not re-signing Thomas Tapeh in free agency, Eckel marks the sixth different fullback the Eagles have brought in – or squeezed onto – the roster.
Eckel said coaches haven't gone into a lot of specifics in their short meetings, concentrating instead on the fundamentals of the Eagles' scheme and administrative dealings.
"As far as how they're going to use me, I don't know," Eckel said. "But it's my job to get prepared. However way they want to use me, I've got to be prepared to meet their challenge."
For now, Dan Klecko will remain at fullback while Eckel explores the nuances of the offense. But at the least, he's smart and versatile.
And he knows what Philadelphia expects.
"This is a pretty exciting day," Eckel said, "but at the same time, I've really got to understand that you've got to put the fanfare aside and really get cracking away at the playbook and the business."