Nick Sirianni walked into his office at the NovaCare Complex for the first time on January 25, just one day after officially being named the 21st full-time head coach in Eagles history. His eyes were immediately fixated on a Philadelphia mural behind his desk, a collage of historical figures like Ben Franklin and legendary players like Reggie White. Sirianni walked up to the mural as if he was pulled toward it by a magnet. He reached out and touched one of the photos.
"Iconic picture right there," Sirianni said. "I love this picture. That is sweet. Wow."
Carol Safarowic was watching coverage of Sirianni's first day as head coach on the news later that evening. She witnessed Sirianni's interaction with the mural and heard his remark about the picture. The photo was that of Pro Football Hall of Famer Chuck Bednarik standing over Giants Hall of Fame running back Frank Gifford after a vicious hit during the Eagles' run to the NFL Championship in the 1960 season. Carol Safarowic is Bednarik's daughter. She looked over to her husband, Ken, and asked if there were any more mini-replica statues of Bednarik that they could gift to the new head coach on behalf of her late father, who passed away in 2015.
In 2010, Bednarik's alma mater, the University of Pennsylvania, was petitioned by several local businessmen to pay homage to the legend with a statue at Franklin Field, Bednarik's football home in college and the NFL. Franklin Field was also the site of his unforgettable performance in the upset win over the Green Bay Packers in the NFL Championship Game. Bednarik played every snap on offense (center) and defense (linebacker). Bednarik secured the win by making the final tackle of the game, wrangling Pro Football Hall of Fame fullback Jim Taylor 8 yards shy of what would have been a championship-winning touchdown. That contest marked the only playoff loss in Hall of Fame Head Coach Vince Lombardi's stellar career.
Thanks to a groundswell of support in the community, the statue was crafted by renowned sculptor Brian Hanlon, who has been commissioned to immortalize hundreds of sports legends. The statue was dedicated during a pregame ceremony on November 19, 2011. Bednarik lived his entire life in the region. Born in Bethlehem, Pennsylvania, Bednarik graduated from Liberty High School before serving the country as a B-24 waist gunner for the Army Air Force. He earned several military honors after flying 30 missions over Germany in World War II. Upon his return from duty, he enrolled at Penn and was a three-time All-America selection before the Eagles picked him No. 1 overall in 1949. He is the last player to be selected by the team No. 1 overall. The Eagles, of course, played their home games at Franklin Field from 1958-70.
"It meant a lot to him, especially it being down at Franklin Field," Ken Safarowic said. "He used to joke that nobody's been around the city longer, not even Ben Franklin. 'Now, we have another thing in common. We both have statues at the University of Pennsylvania.'"
Hanlon created mini-replicas of the statue as thank-you gifts for donors. Almost 10 years after the dedication, the Safarowic family happened to have a couple still around and provided one for the new head coach.
"It really means a lot when you see guys that embrace tradition, the pioneers of the game. Coach Sirianni seems to have that reverence. As an old-time fan from an old-school football family, it really does resonate," Ken Safarowic said.
Sirianni was floored by the sentiment. He placed the statue on a shelf that he sees every time he looks out the window toward Lincoln Financial Field. He sent a handwritten note to the Safarowic family explaining how the statue "reminds me of the tradition of excellence in this great organization, established by people like Concrete Charlie!"
"I was honored that they would give me that statue right there," Sirianni said, pointing to it, "because I think very highly of the person and the player. He's iconic. I'm very appreciative of the gesture. I love having it in my office."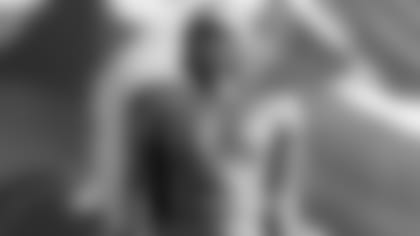 The photo that inspired the reaction from Sirianni just reinforced the elements that the head coach wants to see in his team.
"Toughness. Just flat-out toughness. And that this play is against the New York Giants, one of the best division rivalries in football," Sirianni said. "This guy is tough and mean and nasty and that's what wins football games. And you're doing it against a rival!"
Bednarik last put on the cleats for the Eagles in 1962, but his legacy continues to loom large. No Eagle in team history has played more seasons than Bednarik's 14. He holds the record for most games played by both an offensive lineman and as a linebacker. His eight Pro Bowl selections are also tops in the record books.
"The team was always very good to him and our family," Ken Safarowic said. "It means a lot that he (Coach Sirianni) appreciates the tradition of the team. Toughness is the one word you can associate with the city and with the franchise. I don't think anybody represents toughness better than Chuck Bednarik. He was the heart and soul. He's just a throwback who symbolized an era of football. That 1960 game (the NFL Championship win over Green Bay) was one of the great moments of professional football, playing every down at 35 years old."
As Sirianni prepares for his first game in his new role, the spirit of "Concrete Charlie" is present as a new era of Eagles football gets underway.