After hearing Head Coach Doug Pederson and several team leaders speak following the Eagles' 27-17 loss to the Giants, here are five takeaways:
1. Why were the Eagles unable to convert a third-down opportunity?
As Eagles Insider Dave Spadaro noted in his On the Inside postgame column, the Eagles went 0-for-9 on third down, marking the first time that the team didn't convert a single third down since a November 7, 2004 loss to the Pittsburgh Steelers. The Giants helped the Eagles out in the second quarter as a Darnay Holmes pass interference penalty on a third-down pass attempt kept a drive alive, but that doesn't count as a conversion.
During Head Coach Doug Pederson's postgame press conference, he cited "too many third-and-longs" as the primary reason for the struggles in that department.
"It's hard to overcome and we've got to do better on first and second down. Too many third-and-longs," he added.
"I knew we struggled on third down, I didn't realize we were that poor," quarterback Carson Wentz said. "Anytime you're 0-for-9 obviously you're not doing something very well. And hats off to them, they had a good game plan. That's a good defense over there, they made it hard on us, but we definitely made it tougher on ourselves, left some plays out there, didn't execute enough. 0-for-9 on third down is extremely frustrating and I think that something we pride ourselves on is staying on the field on third down and we didn't do it today."
The first three third-down situations were all third-and-3 or fewer. But on the day, the average third-down attempt was just shy of 9 yards.
"On third down we struggled a lot," said running back Miles Sanders, who had a game-high 85 rushing yards in his return from a knee injury. "That's just not acceptable. It's not gonna get the job done. We can't win games like that."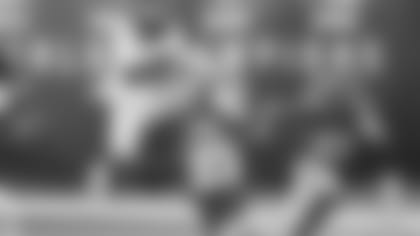 Postgame Show: Eagles' win streak over Giants comes to an end
Miles Sanders gained 85 yards on the ground, but it wasn't enough as the Eagles lost 27-17 to the New York Giants, snapping an eight-game win streak over the NFC East rival. Amy Campbell, Fran Duffy, Ike Reese, and Eagles Insider Dave Spadaro recap the game.
2. How did the Giants have success with their ground game?
In the first meeting between these two teams on October 22, Giants quarterback Daniel Jones became a meme after he chugged along for an 80-yard run – the longest by a quarterback in franchise history – only to stumble and trip over himself inside the 10-yard line.
On Sunday, Jones made sure to finish this time around as his 34-yard touchdown run capped off the opening drive of the game, giving the Giants a lead they never relinquished. Jones finished with 64 yards to lead the Giants as they amassed 151 yards on the ground. The quarterback had another touchdown run, a 14-yard scamper, taken off the board due to a holding penalty on rookie tackle Andrew Thomas.
Rushing gains by non-running backs have been a consistent issue for the Eagles this season. In the two games against the Giants alone, 159 of the 311 rushing yards were produced by Jones and tight end Evan Engram. On the season, though, 40.6 percent of the rushing yards allowed (486 of 1,197) have been by non-running backs.
"I don't know, specifically, until we watch the film on what was really happening," defensive end Brandon Graham said. "We're always gonna go play hard. But you know, it's always those little things that was creeping in. And I'm sure you know, it's probably a guy out his gap or just like little stuff that we can correct."
It wasn't just Jones on Sunday as Wayne Gallman accounted for 53 yards and two touchdowns, while Alfred Morris – who has played for every NFC East team except the Eagles now – chipped in with 34.
"They kind of came out with a little tempo. I know you guys have seen that, a lot of misdirection stuff, putting guys in different places," safety Jalen Mills said. "I think that was the biggest thing is they had the tempo and the guys coming out and moving guys all around the place. But after those first couple of drives, us as a defense, I feel like we settled in pretty good and we ended up stopping and killing those certain runs that those guys got those long runs on early."
The Eagles will need to figure things out because next week they travel to Cleveland to take on the league's fifth-ranked rushing attack as the Browns average 159 yards per game.
3. Offense doesn't turn ball over, but few explosive plays
The Eagles focused on reducing their turnovers during the bye week, something that plagued the offense in the first half of the season. Quarterback Carson Wentz had 16 turnovers (12 interceptions, four fumbles) in the first eight games, uncharacteristic considering he didn't throw 10 interceptions in any of the past three seasons.
A silver lining to Sunday's loss is that Wentz played turnover-free football. He made good decisions in terms of getting rid of the ball quickly and keeping it out of harm's way. He was still able to make some of his trademark plays, including a beautiful sidearm throw in the third quarter to wide receiver Greg Ward for a 16-yard gain with Giants linebacker Kyler Fackrell bearing down on him.
The Giants did, to their credit, take away the explosive plays. The Eagles scored on Boston Scott's 56-yard touchdown run in the third quarter. Wentz completed one pass of over 20 yards, a 22-yarder to tight end Richard Rodgers. That was it. Wentz finished the day 21-of-37 for 208 yards and a 72.8 passer rating.
"I think that defense in their style and structure, they kind of force you to just take what's there and play underneath, try and move the ball slowly in a 'bend, but don't break' type of defense," Wentz said. "So that was my mindset coming into the game and, like I said, I thought we did that OK at times, but they made more plays than us."
The lack of explosive plays was exacerbated by the fact that the Eagles' average starting field position was their own 16-yard line. Not one single drive started beyond their 25-yard line. Meanwhile, the Giants' average starting field position was their 31-yard line.
At the start of each half, the Eagles fared well moving the ball. The first two drives of the opening half netted 104 yards, while the first two of the latter half amassed 159 yards and two touchdowns. But the final four drives of the game, with the Eagles still in striking distance, only could conjure up 12 yards, 6, 24, and 17, respectively.
"I thought he played OK, played good. Obviously, there were some throws that we'd like to get back from the standpoint of just accuracy," Pederson said of Wentz's performance. "He managed the game and the run game well, put us in some really good situations, hung tough, did what he's capable of doing. We just have to continue to work with him, we've got to continue to work with our young skill guys to get on the same page because everything matters when you get in the games, it's all magnified. But overall, I thought he played well."
4. Penalties limit Eagles' effectiveness
Coming out of halftime, the FOX broadcast went to sideline reporter Laura Okmin to find out what Head Coach Doug Pederson said to her about the team's performance. Okmin said that before she could ask her question, Pederson was aghast at the amount of penalties the team committed.
In totality, the Eagles had 11 for 74 yards on Sunday.
"I'm obviously disappointed and it's on me that we played the way we did today, quite honestly," Pederson said after the game. "But I felt the energy was good. It's difficult obviously without the fans, but both teams have to deal with it and can't make excuses for it. We've got to stop shooting ourselves in the foot, that's the bottom line. All three phases had a hand in this loss today with the penalties and not good enough."
On the opening drive, defensive tackle Malik Jackson was called for encroachment turning a third-and-8 into a third-and-3 situation that the Giants converted on their way to a Daniel Jones touchdown run.
After the Giants took a 14-3 lead early in the second quarter, Corey Clement committed a holding penalty on the ensuing kickoff, forcing the offense to start from their own 9-yard line instead of the 34-yard line, a 25-yard difference. Twice, Eagles wide receivers were called for false start penalties during the game.
"We just didn't play very smart football at all," running back Miles Sanders said. "A lot of offsides, we were 0-of-9 on third down. You can't really win a football game like that. It's gonna be very hard to. A lot of mistakes, including myself. I hold myself to a high standard and I don't think I played to that standard other than running the ball."
Add it all up and the Eagles lose by 10.
5. Jalen Mills provides insight into emotion in locker room
When asked to describe the mood of the locker room following Sunday's loss, safety Jalen Mills simply said "pissed off."
"We got to put it together. We got to find a way," Mills said. "And I think we are. We definitely let this game go and we're pissed off for sure.
"Everybody's frustrated, not just the coaching staff, players, the whole building. Everybody's frustrated so just not one single person or one individual group."
The fifth-year veteran said that the process of moving on from this defeat will not be any different.
"At the end of the day, we're one week at a time. Got a 24-hour rule, you know that's at least what I was taught," he said. "Once you close your eyes and you wake up in the morning on Monday, you gotta let this go. I'm coming to work, you know Tuesday, Wednesday, Thursday, Friday, pissed off. We got the Browns this week coming up and we got to handle them for sure."
The Eagles have finished strong in each of Mills' first four seasons. In the last two years alone, the Eagles won five of six to get into the playoffs in 2018 and captured four straight to secure the division title last year. Sunday's game at the Browns kicks off a stretch of five consecutive matchups against teams with winning records bound for the postseason.