Another year and another impressive crop of young pass catchers entering the NFL. This draft class is full of players who cover a variety of skill sets, all of which will be put on display in Indianapolis. Here are some names you need to keep a close eye on.
These are the players who analysts expect to see perform best in the athletic testing portion of the workout.
Jalin Hyatt (Tennessee) – Hyatt blew up this season in a career year for the Vols, winning the Biletnikoff Award as the best receiver in the nation. The true junior averaged nearly 19 yards per catch in the high-flying UT offense this fall, and did so with potential 4.2 speed. Hyatt's instant acceleration allowed him to blow by defenders snap after snap, and his ball-tracking ability downfield is impressive.
Quentin Johnston (TCU) – Johnston is listed about 30 pounds heavier than Hyatt, and while he doesn't have 4.2 speed, he has impressive vertical ability that shows up on tape. The Athletic's Bruce Feldman, while highlighting the top athletes in the country in last summer's Freak List, listed Johnston as the No. 23 athlete in college football, citing outrageous numbers in both the vertical and broad jumps, signaling his explosiveness.
Andrei Iosivas (Princeton) – Iosivas is a world-class track athlete and is one of the likeliest players to break 4.3 in the 40-yard dash this week. The senior measures in at just under 6-foot-3 and 212 pounds, making that speed all the more impressive. A native Hawaiian who averaged over 15 yards per catch throughout his career with the Tigers, Iosivas is looking to cement himself as an early Day 2 lock in the NFL Draft with a strong performance this week.
Tyler Scott (Cincinnati) – A high school sprinter, Scott is undersized (5-foot-9, 185 pounds), but he has immediate speed at the snap with the ability to threaten corners early in the down on vertical routes. A fast-twitch athlete with standout stop-start quickness, Scott is another player who should run in the 4.3s and jump out of the gym.
Tre Tucker (Cincinnati) – Let's not forget Scott's Bearcat teammate in Tucker, who should turn in an even faster time in the 40 than his younger teammate and test equally well across the board. An electric return man who brought two kicks back for touchdowns during his time in Cincinnati, Tucker is small but explosive.
Tank Dell (Houston) – Like Tucker, Dell is a smaller senior with dynamic all-purpose ability on both offense and special teams. One thing the Houston Cougar brings to the table that separates himself is his production. With nearly 199 catches on his resume the last two seasons combined, Dell has been the focal point of Dana Holgorsen's offense. It's easy to see why many are excited about his future prospects.
Bryce Ford-Wheaton (West Virginia) – While Dell's size (5-8, 163 pounds) is a question mark for some analysts, that won't be an issue at all for Ford-Wheaton. Listed at 6-foot-3, 222 pounds, the senior has outstanding size, but has reported test scores from Feldman's Freak List that are truly eye-popping with his jumps (128 inches in the broad, 40 inches in the vertical) and shuttles (6.68 seconds in the 3-cone and 4.02 in the short shuttle) that would be great for anyone, much less a playmaker of his size. The tools are there to turn Ford-Wheaton into a big-time target.
One of my favorite drills to watch over the course of the entire week is the Gauntlet Drill with the receivers. The prospect starts on one sideline and runs across the width of the field, catching footballs coming at him from both his left and his right in rapid-fire fashion before he reaches the other side, where he pulls in his final reception and sprints to the goal line. Some of the things you can notice when watching this drill:
1. How cleanly the receiver catches the ball – look the pass in, secure it, and toss it aside while looking for the next throw.
2. Balance and body control while staying at near-top speed.
3. Battling through adversity – if they have a drop or a bad rep, do they have a short memory and finish the drill strong?
Here are the players who have a chance to shine in these drills:
Jordan Addison (USC) – The 2021 Biletnikoff Award winner as the country's top wideout while catching passes for Kenny Pickett at Pitt, Addison transferred to USC last offseason to play for coach Lincoln Riley and he responded with another impressive campaign for his new squad. Addison has strong hands and runs sharp routes. He should look good in all position drills, including the gauntlet.
Rashee Rice (SMU) – Rice's hands are one of his strong suits, as he's able to pluck the ball from the air almost effortlessly on tape at times while working both inside and outside. The senior has played a lot of ball for the Mustangs. His size, hands, and physicality remind me a bit of Pro Bowl receiver Chris Godwin.
Xavier Hutchinson (Iowa State) – Hutchinson set a school record with 83 catches pulling in passes from Brock Purdy in 2021, and he bounced back with even MORE production as a senior this fall. The First-Team All-American made 107 grabs this fall, putting his reliable hands to good use. Those mitts will come in handy in the Gauntlet Drill as well.
Marvin Mims (Oklahoma) – Staying in the Big 12, Mims first caught my eye when replacing Marquise Brown in the OU offense back in 2020 as a consensus Freshman All-American. Fast forward to this season, in a new scheme, where he set personal records with 54 catches for 1,083 yards for the Sooners. Mims is a pretty good athlete in all areas, but his hands and ball-tracking downfield are what stand out most.
Zay Flowers (Boston College) – Flowers is another player who set career highs in basically every statistical category this year, his final one on campus. A true senior who excelled at making catches through contact in all areas of the field, Flowers has good speed and confident hands. That's a good combination to have going into the pre-draft cycle.
These players have great stories to tell, but who has taken the most unique journey to get to this point?
Michael Wilson (Stanford) – Limited to just eight starts in the last two seasons before his final year on campus, Wilson tried to gut his way through injury during the majority of his time with Stanford. A dirty-work pass catcher with impressive skills as a route runner, Wilson stood out at the Senior Bowl after starting every game he played in this fall. But therein lies the rub, as Wilson played in just six games this season after playing in just five a year ago. The California native has only started more than 10 games once in his career for the Cardinal, but appears poised to impress teams with his skill set this week. And one final thing about Wilson's background? His genes. His aunt, Maureen Jacobson, played soccer for New Zealand's World Cup team in 1991.
Jonathan Mingo (Ole Miss) – Every year, when I come to the Combine, I ask players about teammates returning to school that we need to know about in the coming season. Last March, the guy that Rebels' players most brought up was Mingo. What was unique about that opinion was that he was already established on that roster. Mingo has started in nearly every game he's participated in throughout his college career in Oxford, but with the embarrassment of riches at wide receiver throughout his career, he was never a featured target in Lane Kiffin's offense, registering just 61 catches in three seasons. Fast forward to this year, when he set career highs in receptions (51), yards (861), and touchdowns (5) on his way to being named Second-Team All-SEC. Mingo is a big-bodied wideout with the ability to play a number of roles both inside and outside in an NFL offense.
Charlie Jones (Purdue) – While Mingo has been a steady contributor for four years in one place, Jones has been a well-traveled performer, putting an exclamation point on his career with his standout 2022 campaign for the Boilermakers. The Illinois native nabbed 110 passes for 1,361 yards and 12 touchdowns this year as one of the most productive receivers in the nation, but he made his bones on special teams in the years before that. Jones was named the Big Ten Return Specialist of the Year in 2021 at his previous stop with the Iowa Hawkeyes while also serving as a complementary piece on offense (21 catches for 323 yards and three touchdowns in their run-first attack). Iowa City was his second stop in his career, as the 5-foot-11, 186-pound receiver actually got his first run in the MAC with Buffalo, catching 18 passes for three touchdowns and averaging nearly 20 yards per kick return as a redshirt freshman in 2018.
Ronnie Bell (Michigan) – Coming out of high school, Bell was arguably the top player in Missouri as he challenged career records, several held by former Eagles receiver Jeremy Maclin. He arrived on campus at Michigan and earned the team's Offensive Rookie of the Year Award after playing nearly 200 snaps and turning in a couple of touchdowns as a true freshman. A year later, he paced the Wolverines' receiving corps by leading them with 48 catches for 758 yards. The COVID-shortened year proved to be another consistent season of production for the 5-foot-11, 192-pound possession threat and he was set to be a draft pick going into his senior season in 2021. A Week 1 injury ended his season, however, and Bell would have to wait a year. Spin it to this fall, where Bell set career highs in catches (62), yards (889), and touchdowns (4) as one of the heartbeats of the Big Ten Champs. Bell, who initially signed with Missouri State out of high school on a basketball scholarship, is an easy one to root for.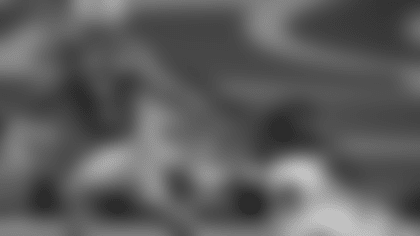 These are the players of note with a special statistic or measurement that sets them apart from their peers.
Jaxon Smith-Njigba (Ohio State) – Smith-Njigba barely participated in the 2022 season due to an injury, but he was an incredibly productive pass catcher for the Buckeyes in his sophomore season a year ago, and what stands out most about him is his efficiency, as he has posted 3.32 yards per route run over the course of his career, the second-highest number of any receiver at the Combine (a 1,600-yard season will do that for your box score). Diving deeper into the numbers was really enlightening as well, though. Smith-Njigba caught 76.9 percent of his contested targets in 2021, that is a higher number than any receiver at the Combine this year. But it's not like he made his living making catches in tight quarters, as only 8.8 percent of his targets came on contested situations. That's the second-LOWEST number of any receiver at the Combine from this past season. Smith-Njigba knows how to separate, but when he has to make those catches in a tight window with bodies around him or through contact, he comes through for his quarterback.
Cedric Tillman (Tennessee) – Tillman was my favorite senior receiver coming into the season, and while an injury hampered him for a chunk of the year, he still came through in a big way for the Vols. The Las Vegas native (whose father of the same name played in the league for four years) really looks the part at 6-foot-3, 214 pounds with an outrageous wingspan. Tillman will shock people with how he tests (I could have easily put him in the Workout Warrior section), but he's also an incredibly efficient pass catcher despite being used often as a vertical threat in that offense. According to Pro Football Focus, Tillman has a drop rate of 4.4 percent over the course of his career, one of the best numbers of anyone here at the Combine, but he did that despite having an average depth of target of 14 yards and while facing press coverage on 58 percent of his snaps last year.
Parker Washington (Penn State) – A thickly-built slot receiver, Washington caught a pass in every game of his career in State College, finishing with 146 grabs in three seasons. Like Smith-Njigba, the junior made a living on creating separation and being uber-reliable at the catch point. The Nittany Lions have proven to push out prospects who excel at this event every year, so I won't be shocked if Washington (who also ran track in high school) turns in better times than expected this week.
Puka Nacua (BYU) – I mentioned that Smith-Njigba's "yards per route run" number ranked second in this Combine group of receivers, and that's because Nacua's (3.45) sits at the top of the list. The senior, who began his career at the University of Washington, was extremely productive for the Cougars each of the past two seasons as a do-everything threat for them on offense as both a runner and receiver. Nacua's versatility will make him an intriguing pass catcher moving to the NFL.
Antoine Green (UNC) – If you're looking at vertical threats in this draft, don't sleep on Green, who actually leads this group of pass catchers this year with an 18.6-yard average depth of target. A perimeter receiver who relies on his wheels to attack downfield, the high school track star (who was one of the top sprinters in the state of Florida out of high school) turned in a respectable drop rate of 7.2 percent throughout his career.
Everyone else who will take part in the events in Indianapolis (in alphabetical order):
Jake Bobo (UCLA), Kayshon Boutte (LSU), Jalen Brooks (South Carolina), Jason Brownlee (Southern Miss), Jacob Copeland (Maryland), Jalen Cropper (Fresno State), Derius Davis (TCU), Dontay Demus JR (Maryland), Demario Douglas (Liberty), Josh Downs (UNC), Grant DuBose (Charlotte), Jadon Haselwood (Arkansas), Malik Heath (Ole MIss), Elijah Higgins (Stanford), Kearis Jackson (Georgia), Rakim Jarrett (Maryland), Michael Jefferson (Louisiana), Jaray Jenkins (LSU), CJ Johnson (ECU), Matthew Landers (Arkansas), Joseph Ngata (Clemson), Trey Palmer (Nebraska), AT Perry (Wake Forest), Jayden Reed (Michigan State), Justin Shorter (Florida), Mitchell Tinsley (Penn State), Jalen Wayne (South Alabama), Dontayvion Wicks (Virginia)
We get to read all about the measurements for all these players over the next few weeks ... but wouldn't it be nice to have some context? What is considered a "good" 40-yard dash time? What about arm length? The broad jump? Here's what the average player drafted at each position has looked like over the last decade (based on my own personal research).
Arm Length: 3178 (31 7/8")
Unofficial 40-Time (Stopwatch): 4.46
Official 40-Time (Laser): 4.48