The running back group is going to be fun to watch at the Combine because it's a wide-open battle to be the first one selected in this year's NFL Draft. There are a handful of players with a variety of skill sets that will attract teams in all areas of the draft, no matter the scheme.
These are the players who analysts expect to see perform best in the athletic testing portion of the workout.
Rachaad White, Arizona State – White has been one of the best big-play backs in the nation over the course of the last two years. Whether it was as a runner or pass catcher, White was electric in the Pac-12 playing for Head Coach Herm Edwards, and that dynamic athleticism will show up on the turf in Indianapolis.
Tyler Badie, Missouri – Badie has been one of the top all-purpose weapons in college football as a backup for the Tigers before this season. After taking over as the starter in 2021, he ripped through SEC competition with nearly 2,000 total yards of offense. The big-play threat has impressive speed and quickness that should show up on the turf.
Trestan Ebner, Baylor – Ebner was a role player in his first couple of seasons for the Bears but became a bigger part of the offense in his final season on campus. A two-time Big-12 Special Teams Player of the Year winner due to his impact as both a kick returner and punt returner, Ebner has track speed that should shine in Indy.
Brian Robinson, Alabama – Robinson returned for an extra year of eligibility in 2021 and really boosted his stock after taking the reins as the starter for the first time in Tuscaloosa. A big back at over 225 pounds, Robinson is no plodder in space. He could surprise with his 40-yard dash time at that size.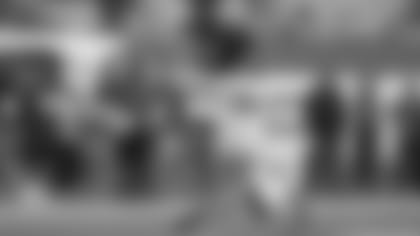 In today's game, running backs have to be able to impact the passing game if they're to be viewed as truly dynamic playmakers worthy of high draft choices. On Friday night, we'll watch these running backs run a series of routes at all three levels of the field. A couple of things you may notice on these routes:
1. Are they natural at the catch point? Does he have the ability to adjust to the throw, pull in the reception, gather himself, and transition to a runner immediately to generate positive yardage upfield?
2. What level of receiver is he? Is he just a checkdown option, can he work in the screen game, or can he be flexed out and run routes at a high level as if he were a receiver?
Here are the players who have a chance to shine in these drills.
James Cook, Georgia – Cook was a moveable chess piece in the Georgia offense this year thanks to his ability to be a big-play threat in the pass game. Dalvin Cook's younger brother shares the elder's dynamic dimension. Those vertical passes should look good when Cook is the target.
Breece Hall, Iowa State – Regarded as one of the top backs in the class, Hall is a physical back with impressive patience and vision along with the ability to make people miss. How will he fare as a pass catcher down the field? He was an extremely reliable threat underneath and displayed soft hands on a consistent basis. If he reels in those vertical throws he will be viewed as a big "winner" in Indianapolis.
Kyren Williams, Notre Dame – Regarded as potentially the top pass protector in the class, Williams has dynamic athletic qualities while also proving to catch the ball well in space. He should pass that receiving test with flying colors.
Dameon Pierce, Florida – Pierce is one of the fiercest runners in the draft with his physicality and competitiveness as a ball carrier, but in the pass game he showed the ability to contort his body and finish at the catch point for really impressive snags away from his frame. Putting that on display in Indianapolis after a good week at the Senior Bowl will continue his momentum.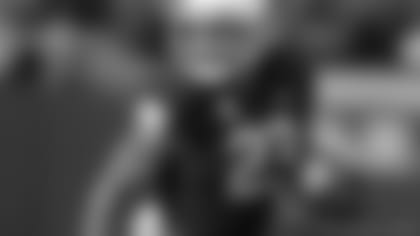 All of these players have great stories to tell, but who has taken the most unique journey to get to this point?
Kenneth Walker, Michigan State – Walker won the Doak Walker Award as the top rusher in college football this season for the Spartans, and he did it just months after arriving on campus as a transfer from Wake Forest. The junior ran for just under 600 yards in each of his first two college seasons before exploding with 1,600 yards and 18 touchdowns last fall for the green and white. By some projections, Walker has a chance to be the first back taken in April after being essentially a college free agent this time a year ago.
Abram Smith, Baylor – Smith ran for 1,600 yards for the Big 12 champs this season as the "thunder" element in the backfield. But what makes his story so interesting? Smith racked up nearly 50 tackles and a sack in 2020 while playing on the defensive side of the football as a starting linebacker. A physical runner, Smith's defensive mentality shows up with the ball in his hands.
These are the players with a special tie to the City of Brotherly Love or to the Eagles that you should keep a close eye on.
Kennedy Brooks, Oklahoma – Brooks was the lead back for the Sooners in 2021 after opting out of the 2020 season. The senior ran for over 1,000 yards the previous season while sharing the backfield with Eagles quarterback Jalen Hurts in Norman. Brooks, who hails from Mansfield, Texas, attended Mansfield High School in the Dallas area, the same high school as Eagles defensive tackle Hassan Ridgeway.
Jerome Ford, Cincinnati – The Eagles have had a history of plucking Day 3 selections from the Bearcats program (including Brent Celek, Trent Cole, and Jason Kelce), but that's not the connection here. Ford, a four-star recruit out of high school in the Tampa area, started his career at Alabama, where he was a part of the same offense as Eagles wide receiver DeVonta Smith.
Leddie Brown, West Virginia – Brown started for two seasons in Morgantown and was actually named first-team All-Big 12 in 2020 after belting off over 1,000 yards rushing. He did that after playing his high school career in Philadelphia, where he starred at Neumann-Goretti High School in South Philly, a stone's throw from Lincoln Financial Field.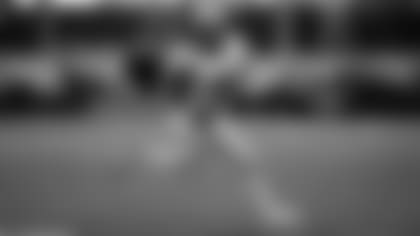 Everyone else who will take part in the events in Indianapolis (in alphabetical order):
Tyler Allgeier (BYU), Greg Bell (San Diego State), Max Borghi (Washington State), Ty Chandler (UNC), JaShaun Corbin (Florida State), Tyrion Davis-Price (LSU), Jerrion Ealy (Ole Miss), Tyler Goodson (Iowa), Kevin Harris (South Carolina), Hassan Haskins (Michigan), Keaontay Ingram (USC), Zonovan Knight (NC State), Sincere McCormick (UTSA), Isaac Pacheco (Rutgers), D'Vonte Price (FIU), Ronnie Rivers (Fresno State), Isaiah Spiller (Texas A&M), Pierre Strong (South Dakota State), CJ Verdell (Oregon), Jaylen Warren (Oklahoma State), ZaQuandre White (South Carolina), Zamir White (Georgia)
We get to read all about the measurements for all these players over the next few weeks, but wouldn't it be nice to have some context? What is considered a "good" 40-yard dash time? What about arm length? The broad jump? Here's what the average player drafted at each position has looked like over the last decade (based on my own personal research).
Unofficial 40-Time (Stopwatch): 4.52 seconds
Official 40-Time (Laser): 4.53 seconds
10-Yard Split: 1.57 seconds
3-Cone Drill: 7.07 seconds
Short Shuttle: 4.28 seconds