Here are 10 reasons you need to attend:
1. It's your first chance to see the Eagles at Lincoln Financial Field this season!
Have you been waiting to see how quarterback Jalen Hurts is connecting on the field with his "best friend," wide receiver A.J. Brown? Or are you more excited to see how the team's newly fortified defense holds up against them? Either way – now's your shot! The team will practice live in pads on Sunday.
2. You'll get a first look at the 2022 Draft Class
Two National Championship-winning Georgia Bulldogs, a beef jerky connoisseur, oh my! The Eagles' 2022 NFL Draft picks are gearing up for their rookie seasons – come show these guys some brotherly love:
DT Jordan Davis – Georgia
TE Grant Calcaterra – SMU
LB Kyron Johnson – Kansas
3. You can check out the players acquired during the offseason
Yes, the young guys are exciting ... but they aren't the only new faces in town. Sunday will be the first time the team's offseason acquisitions sport Eagles jerseys on the home gridiron and you do not want to miss it; this includes:
4. The Eagles will wear special edition Eagles Autism Foundation jerseys
The team will sport practice jerseys with energy green numbers, featuring the Eagles Autism Foundation patch that will eventually be available for auction.
5. There will be tons of family-friendly fun
There will be no shortage of fun at Lincoln Financial Field on Sunday. Between performances from the Eagles Cheerleaders, Eagles Drumline, and Eagles Pep Band, fans will have the opportunity to enjoy free face painting, interactive photo-ops, and more throughout the stadium.
6. You could get an autograph from your favorite Eagles!
There will be chances to win autographs from beloved Eagles alumni. Here are some of the legends scheduled to appear (subject to change):
If you stay until the end, you'll even have the chance to grab a signature from current players before they head to the locker room!
7. The Eagles Pro Shop is fully stocked with new gear!
Walk through the Pro Shop and stock up on new gear ahead of the 2022 season, including the limited-edition black helmets! There will also be multiple racks of deals up to 50% off.
8. There will be a Yard Sale with signed Eagles Memorabilia
During practice, take a walk around the main concourse (across from Section 132) to see tables full of former players' signed Jerseys, footballs, and other collectibles available for purchase. Fill a bag with your favorites for just $25!
9. If you download Eagles OnePass, you could win Eagles prizes!
Before you go, download the Eagles app (a new update was released this week) and register for Eagles OnePass. Once you're in the stadium, you'll see QR codes – if you scan them, you'll be automatically entered to win Eagles prizes!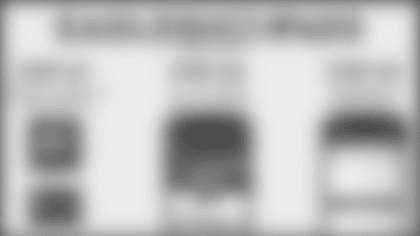 10. All the proceeds go to the Eagles Autism Foundation
If you can't make it to the Training Camp Open Practice, check out Philadelphia Eagles Fantasy Draft Night Event on August 23rd at Lincoln Financial Field.