It's difficult to make the case that an All-Pro running back who leads the NFL in rushing is underrated. But, days after LeSean McCoy set the Eagles' franchise record for rushing yards in a game by skating to 217 yards atop the snow, that's what we're here to do. You already know about McCoy's exploits last week and you probably know that his 1,305 rushing yards on the season are tops in the league. You might even know that McCoy is closing in on the franchise record for rushing yards in a season, a mark currently held by Wilbert Montgomery's 1,512 yards rushing in 1979.
But McCoy is not just among elite company for his numbers this season or for his rankings in the Eagles record book. His combination of production and efficiency throughout his first five seasons put McCoy in very rare company among the greatest running backs of all time.
Since entering the league as a rookie in 2009, McCoy has rushed for 5,171 yards on 4.72 yards per carry. Among running backs who have topped 5,000 yards rushing over their first five seasons in the league, McCoy's yards-per-carry average is sixth best of all time. The only running backs he trails are Jim Brown, Adrian Peterson, Eric Dickerson, Frank Gore and Barry Sanders (as an aside, Gore probably doesn't receive enough appreciation for the quality of his career thus far).
First Five Years For Running Backs
Player
Years
Att
Yds
YPC
TD
Jim Brown
1957-1961
1,269
6,463
5.09
57
Adrian Peterson
2007-2011
1,406
6,752
4.80
64
Eric Dickerson
1983-1986
1,465
6,968
4.76
55
Frank Gore
2005-2009
1,168
5,561
4.76
32
Barry Sanders
1989-1993
1,432
6,789
4.74
55
LeSean McCoy
2009-2013
1,096
5,171
4.72
37
Chris Johnson
2008-2012
1,463
6,888
4.71
44
Terrell Davis
1995-1999
1,410
6,624
4.70
58
O.J. Simpson
1969-1973
1,108
5,181
4.68
30
Clinton Portis
2002-2006
1,385
6,453
4.66
52
Among Eagles running backs, McCoy's production through his first five seasons is already the best in franchise history. His 5,171 career rushing yards top Montgomery's 5,095 rushing yards over the latter's first five seasons. The only five-year stretch in Eagles history that tops McCoy's 5,171 is Montgomery's total of 5,427 rushing yards from 1978-1982, beginning in his second season.
Eagles RBs First Five Years
Player
Years
Att
Yds
YPC
TD
LeSean McCoy
2009-2013
1,096
5,171
4.72
37
Wilbert Montgomery
1977-1981
1,121
5,095
4.55
36
Steve Van Buren
1944-1948
757
3,758
4.96
48
Brian Westbrook
2002-2006
736
3,452
4.69
20
Duce Staley
1997-2001
835
3,315
3.97
12
Because McCoy is only 25 years old, it's odd to think of him in this kind of historical context. But the truth is that he very well may be the greatest running back in Eagles history already. Of course, where he ultimately ranks, both in Eagles history and league history, will be determined by his production over the next few seasons. Because running backs can have such volatile careers, there are no guarantees. Of the nine other running backs listed in the chart above, four got even better after year five (Brown, Peterson, Sanders and Simpson) and four saw their production, at least in yards per carry, fall off a cliff (Dickerson, Johnson, Davis and Simpson). Gore has remained steady.
That McCoy has the fewest carries through his first five seasons among the aforementioned group (though he'll likely pass Simpson soon) probably bodes well for his future. Regardless, when you're ooh'ing and ah'ing as McCoy breaks another tackle or 10 this Sunday, keep in mind just how rare a player McCoy is. We're watching one of the best.
Prior to the start of the season, the Wulf's Den predicted that the 2013 Eagles would challenge the franchise record for team rushing yards and every week we keep track of that race. Things were looking down for us entering last week's Snow Bowl, despite the Eagles' league-leading rushing totals. But then LeSean McCoy and his backfield mates busted through for 299 rushing yards, the franchise's highest mark since the Pickle Juice game in 2000, and all of a sudden the race is back on.
Franchise Record (1949): 2,607 yards
2013 Eagles Pace: 2,537 yards
Watch Out For The Escalator
Seeing as we're deep into the holiday shopping season and the Eagles visit Mall of America Field in Minnesota this Sunday, the Wulf's Den digs deep this week to find out where the Eagles like to shop. The question posed in the locker room was "What is your favorite store in the mall?"
No question this season has elicited such a wide range of responses. Of 50 players surveyed, 31 different stores received a mention. The most popular answer, meanwhile, was completely unexpected. Seven players, including the likes of LeSean McCoy, Brent Celek and Zach Ertz, gave the nod to … Nordstrom.
"I hate malls," said center Jason Kelce. "That's a tough question because my favorite store is that joke store, Spencer's. I think that's my favorite store to go in and just browse. If I'm going to a store, even though I hate their prices, the customer service at Nordstrom's is outstanding. So I appreciate that about a store. They treat you right. They make you pay for it, but they treat you right."
It took a few minutes for Trent Cole to remember the store where he buys his white and black tees. After asking for help from Brandon Graham, Cole remembered that he could check the label of the shirt in his locker, revealing that his choice store is Foot Locker. That was the second most popular answer as Cole was joined by Michael Vick, Jeff Maehl and admitted shoe aficionado Brandon Boykin.
Elsewhere, there was little consensus. There was, however, plenty of passion.
"Hell of a question," said linebacker Emmanuel Acho. "Aldo, it's more like accessories. You go there for your standard necklace, bracelet, maybe shoes, a tie, glasses, hat, scarf. It's your standard accessory store."
"Great question," added long snapper Jon Dorenbos. "Fredrick's of Hollywood and Victoria's Secret. Is that a fair answer? Is that appropriate for whatever you're doing? I like Frederick's."
Fear not, Jon, we're in a safe place.
Damion Square and Dennis Kelly both lamented the lack of clothing options for bigger guys at the mall, while Earl Wolff began his pitch to become a jeans spokesman.
"True Religion. If it isn't true, it isn't right," Wolff said with a smile, before shouting across the locker room. "Keelan (Johnson), what's my favorite store in the mall? B.J. (Cunningham), what's my favorite store in the mall?"
"If it isn't true, it isn't right," Wolff reiterated. "Keelan, how did you not know that? When you open my closet, what do you see?"
Colt Anderson and Cary Williams, meanwhile, revealed their paternal instincts. Williams gave his nod to Build-A-Bear, his daughter's favorite, while Anderson went with the Disney Store.
"I'm going to say the Disney Store because I go in there with my two boys and just the smile that the Disney Store puts on their face is pretty phenomenal," Anderson said. "I wish I had the Disney Store at home, because I could entertain them for days. It's like a love-hate relationship going into that store because you can never leave without something. If you try leaving, they're going to sit there and cry until they get what they want. The Disney Store and I have a love-hate relationship."
There were a few other standout answers, including Bennie Logan's love of cookies and Damaris Johnson's penchant for fancy chocolate, but we'll give the final word to perhaps the most surprising answer.
"Believe it or not, Yankee Candle," said running back Chris Polk, revealing his sensitive side. "I love candles. I love those scents. You walk in and smell fresh gingerbread, that's what it's about."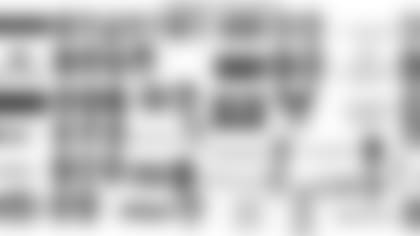 ](http://prod.static.eagles.clubs.nfl.com/assets/docs/1537.5x770_Shopping.jpg)
*Each week, we'll sit down with a member of the Eagles to discuss something beyond the playing field. This week, we find out if Damion Square has the right
Bo Wulf: What would you call it if your family moved to Los Angeles?
Damion Square: What would I call it if my family moved to Los Angeles? I don't know, what?
Wulf: You'd be the Hollywood Squares.
Square: (Laughs) That's good, I like that.
Wulf: What would you call it if you became a pirate and lost a leg?
Wulf: You'd be a Square peg.
Square: (Laughs) Where did you get these?
Wulf: I made them up myself. I've been working on them.
Wulf: I swear. How does Merrill Reese describe your sack celebration?
Square: That would have to be Square dancing.
Wulf: There you go, well done. Obviously we know your son's favorite cartoon.
Square: Of course, SpongeBob SquarePants.
Wulf: Yup. What would you call researching your family's genealogy?
Wulf: You know, tracing back your family tree.
Wulf: Going back to Square one.
Wulf: What happens when you're in the game and you go back to the sidelines?
Square: I leave the field? Square out?
Wulf: I have Square off, but that's not terrible. What is the dentist looking for when he's pulling your teeth?
Wulf: Your Square root. OK, this is one of my favorites. Where would you plant vegetables with the fourth President of the United States?
Square: Where would I plant vegetables with the fourth President? I have no idea.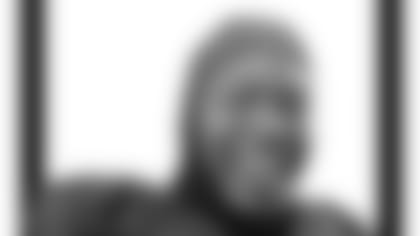 Wulf: Yup. How about what do they call you when you haven't shaved for a couple days?
Square: I don't know, what?
Wulf: What are the things you need the most?
Square: The things I need the most?
Wulf: Your Square necessities.
Wulf: What would you be called if you jumped a motorcycle over a big canyon?
Square: I'd be Squevel Knievel.
Wulf: I have Squaredevil.
Square: Alright, alright.
Wulf: What would the band be called if you were the lead singer and you were singing "If I Had A Million Dollars?"
Square: I don't know, the Square band?
Wulf: Squarenaked Ladies. When you sit down with the barber, what does he give you?
Square: Yeah, but that's a box fade.
Wulf: I get it, square and box. Nice. What kind of toothpaste do you use?
Wulf: Square gel. What is your son to the Square fortune?
Wulf: The Square apparent. That's a terrible one. How do you like your steaks?
Wulf: What do you call your pass rush moves?
Square: I don't know, back to Square dancing?
Wulf: Square tactics. What does Howie Roseman say when teams try to trade for you?
Wulf: Sorry, I don't have a Square to spare.
Square: I don't have a Square to spare, I like that.
Wulf: That's a Seinfeld reference. Squarry Seinfeld. Alright, a few more. What would you be if you just ate a big meal and then you went into the sauna?
Wulf: You'd be a hot Square balloon. How about your favorite instrument?
Wulf: There you go, nailed it. Where do you drop your kid off in the morning?
Square: I don't know, the Squabysitter?
Wulf: Day Square. How does your family fly across the country?
Wulf: There it is. Favorite dangerous fish?
Wulf: Squarracuda. Favorite fable?
Square: The Square on the wall?
Square: The Tortoise and the Square.
Wulf: Maybe I should have gone with Goldilocks and the three Squares. OK, you and your wife are …
Wulf: Squarried. Favorite character from the Wizard of Oz?
Square: The Squarecrow, I like that.
Wulf: Which State do you like better, North or South Squarolina?
Square: North or South Squarolina? It would have to be South, I don't like North Carolina.
Wulf: Almost done. Favorite Spice Girl?
Wulf: I think that's right. She's …?
Wulf: Yup. OK, last one: What would you rename this building if you bought the Eagles?
Square: The Square Complex?
Wulf: The NovaSquare Complex.