This week, we take a break from the penetrating analysis of snap-weighted age and rookie snap counts in order to get back to basics. And by back to basics, we're talking Kindergarten basics.
If you stare at anything for long enough, you'll start to notice some weird things. If that thing happens to be, say, the Eagles' active roster, then you might notice something odd about the alphabetology of the team's players. Namely, that there is a heavy concentration of early-alphabet surnames.
The next series of questions are obvious. Is that truly odd? Do the Eagles have a higher concentration of As, Bs and Cs than the rest of the league? Why on Earth should I care? Leaving aside the reasonable final question, let's find out how the Eagles' alphabet stacks up against the rest of the league.
By official Wulf's Den statistics, the Eagles do, in fact, have the most alphabetically front-loaded roster in the league. A whopping 41 of the 53 players on the roster (77 percent) have last names that begin with a letter in the first half of the alphabet (A through M). Now, alphabetically first half names are more common than their counterpart, but the current NFL league average is only 34.25 players per team with a last name that begins with a letter in the first half of the alphabet. The Eagles' stack of 41 such players stands just over two standard deviations outside of the league average.
The Eagles, however, are not alone with the most players in the first half of the alphabet. The New Orleans Saints are tied with the Eagles at the 41 mark, but the Eagles can still claim early alphabetical superiority. That's because the Eagles roster is more heavily weighted towards the top of the alphabet than the Saints, with a league-leading 18 players whose last names begin with the letters A through C.
Most First-Half Surnames
Team
A-Ms
2013 Record
Philadelphia Eagles
41
5-5
New Orleans Saints
41
7-2
Kansas City Chiefs
40
9-0
Seattle Seahawks
38
9-1
The key to that superiority? A league-best nine players whose last names begin with the letter C. The team's "C World" consists of Roc Carmichael, James Casey, Brent Celek, Patrick Chung, Kurt Coleman, Trent Cole, Riley Cooper, Fletcher Cox and Vinny Curry. Of course, that number dropped this week when B.J. Cunningham slid down to the practice squad.
So what does it all mean? Perhaps nothing. Or, perhaps, everything. Consider that the four teams with the highest concentration of first-halfers are the Eagles, the Saints, the Kansas City Chiefs and the Seattle Seahawks. That's four teams with a combined .789 winning percentage this season. The four teams with the lowest total of early-alphabetters? The Miami Dolphins, the Baltimore Ravens, the Tennesee Titans and the San Diego Chargers – four teams with a combined .432 winning percentage.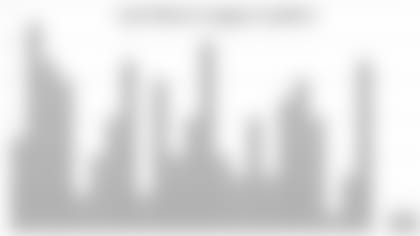 ](http://prod.static.eagles.clubs.nfl.com/assets/docs/1230x752_AlphabetChart.jpg)
In a league where every team is constantly searching for a leg up on the competition, maybe the next market inefficiency is already being exploited by the top teams in the league. Is roster construction really as easy as A-B-C?
Prior to the start of the season, the Wulf's Den predicted that the 2013 Eagles would challenge the franchise record for team rushing yards and every week we keep track of that race. Despite rushing for 204 yards in last week's win over the Green Bay Packers, the Eagles are still slightly behind the pace needed to break the franchise record.
Franchise Record: 2,607 yards
2013 Eagles Pace: 2,450 yards
Who's Your Celebrity Crush?
Donnie Jones wouldn't answer the question. Too dangerous, he said. The same went for James Casey and Casey Matthews and Jason Avant. Bryce Brown took a different route.
"My wife," Brown said with a laugh. "That's my celebrity crush."
Brown may only be in his second season, but he appears to have picked up some veteran moves already. Indeed, some players in the locker room chose to plead the fifth when asked to identify their celebrity crushes, and who can blame them.
Then again, if you're a locker room leader like DeMeco Ryans, you can forge your own path.
"You know they have their picks too," Ryans said, dismissing any sense of trouble. "I can't give you one of those cliché Beyonce answers, it's got to be something else. What's her name? She's in that new movie Best Man's Holiday. Regina Hall. That's my pick."
And so the ball got rolling. Cedric Thornton, also happily married, quickly identified Alicia Keys as his celebrity crush, adding that "My wife already knows."
"I don't have one now if that's what you're asking," said a cautious Matt Barkley. "Growing up? Probably Blake Lively because she looked like my wife."
While some players worried about the homefront, others took the opportunity to request matchmaking services.
"Make sure it gets to her because she might be single," said Vinny Curry. "Nia Long."
Alas, according to Wikipedia, Long is off the market.
"I have a few," said Najee Goode. "First one, Scarlett Johansson. Christina Milian. And then I would have to say Meagan Good. Christina Milian, Scarlett Johansson and Meagan Good. Tell them I need a date. Tweet it, then tweet at me. Oh you know who else? Adriana Lima. She's the number one. Hold on, take it back. Stacey Dash number one. Mine goes Stacey Dash, Scarlett and I'm going to still keep Meagan Goode."
With a wide net of diverse answers, the most popular mention was Johansson, who received four votes. Well, sort of.
"Probably Charlotte Johansson," said Lane Johnson. "Scarlett. I don't know why I say Charlotte every time."
Locker neighbors Damaris Johnson and Curtis Marsh are set to fight over Eva Mendes, who also received a vote from Michael Vick. They'll have to reportedly go through Ryan Gosling to win her affection though. Brandon Boykin, Michael Bamiro and Evan Mathis each chose Katy Perry, while Meagan Good received three votes as well.
Celebrity crush was such a popular topic that it extended beyond the players. Dignified members of the assembled press provided the objects of their desires as well.
"It used to be the girl from Entourage, Emmanuel Chriqui," said noted Television connoisseur and purveyor of Birds 24/7 Sheil Kapadia. "But now I'd say Cece from New Girl (Hannah Simone). Put me down for her. I want to go off the board."
Now, the Wulf's Den is nothing if not fair. So we needed some opinions from the other side.
"Hugh Jackman's up there, he's kind of older," said Rachel Appel Micali of Comcast Sportsnet. "Matthew McConaghey. Brodie Jenner. I'll go with him, the other one's are kind of older."
PhiladelphiaEagles.com's social media maven Katie Tang chose to announce her answer in GIF form. Finally, the Philadelphia Inquirer's Zach Berman provided a sincere wish for the future.
"Mila Kunis. That's my girl. If this get published and she reads it, I'll give her my cell phone number," he said. "Isn't she dating like Ashton Kutcher? He's got nothing on me.
"I'm hoping she sees this on PhiladelphiaEagles.com, dumps Ashton Kutcher, Googles me, Facebooks me."
Here are the rest of the answers from the locker room …
Damion Square – Jessica Alba
Mychal Kendricks – Cassie
Dennis Kelly – Scarlett Johansson
Clifton Geathers – Dominique Hourani
Brandon Boykin –Megan Fox, Katy Perry and Kelly Rowland
Jon Dorenbos – "I've always been a Jennifer Aniston guy, but that's boring. You know what? Denise Austin. 1980's, 7:30 AM on ESPN. I was in junior high and she was the fitness aerobics chick on ESPN and they'd always be on the beach in these exotic locations. We had a date every morning at 7:30."
Emmanuel Acho – Paula Patton
Zach Ertz – Scarlett Johansson
Jason Kelce --  "Who was the girl in Saved By The Bell? Kelly Kapowski. Not Tiffani Amber-Thiessen, just go Kelly Kapowski. I don't really care about her outside the show."
Cary Williams – "Beyonce. I've seen her in person and it's just like it is on TV."
Patrick Chung – Paula Patton
Julian Vandervelde – "Right now? See it changes every time a new Marvel movie comes out. I'm going to go with, oddly enough, Aubrey Plaza. Not quite as mainstream. There are a variety of reasons, but yeah mostly because of Parks & Recreation and Scott Pilgrim Vs. The World."
Fletcher Cox – "Gabrielle Union. Make sure you tag her in it."
Will Murphy – Carrie Underwood
Roc Carmichael – Wilona from Good Times
Connor Barwin – "I have too many of them. Celebrity? Do they have to be real big celebrities? Probably Ashley Sky and Emily Ratajkowski (from the Blurred Lines video)."
Earl Wolff – "Meagan Good. I used to love Meagan Good. Tell her to find me. I'm here."
Keelan Johnson – Kendra Wilkinson
Matthew Tucker – Kim Kardashian
Travis Long – Jennifer Aniston
Brandon Graham – Angela Simmons
Brent Celek – Angelina Jolie
Chris Polk –Iggy Azalea
Colt Anderson – "I have a couple. Can I give you like a top 5? Halle Berry, Jennifer Aniston, Selena Gomez … Erin Andrews and let's go Serena Williams."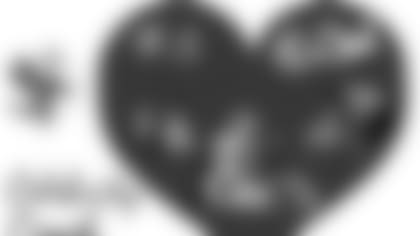 ](http://prod.static.eagles.clubs.nfl.com/assets/docs/1230x900_Crush.jpg)
*Each week, we'll sit down with a member of the Eagles to discuss something you may not know about him. This week, we sit down with the newest Eagle, Brad Smith. Smith is the only player in NFL history to have a passing, rushing, receiving, kickoff return and blocked punt touchdown in his career.  *
Bo Wulf: So you have scored a touchdown passing, rushing, receiving, kick return and recovering a blocked punt. So I was trying to think of other ways that you could score a touchdown. Tell me how likely these are.
BW: OK. Field goal return, like they try to kick a long field goal, it comes short and you catch it and run it back.
BW: How about a blocked field goal recovery?
BW: How about an interception?
BS: I wish. I wish they would put me back there.
BW: OK, similar, a defensive fumble recovery.
BS: Not likely, but I think I could do it.
BW: How about you're the Wildcat quarterback, you go to pass it, the ball's batted into the air –
BW: You catch it and run it in. Throwing and receiving on the same play, lot of fantasy points.
BS: We might have to draw that up. Hopefully nobody tips it, but it could happen. That's more of an it-could-happen.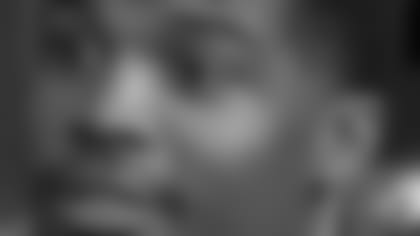 BW: Alright, how about you line up on the line of scrimmage as a tackle eligible and catch a pass.
BS: Yeah, goal line? Yes.
BW: How about you line up as the center and it's a Fumblerooskie?
BW: How about you intercept the snap?
BS: Yes. Intercept the snap to the quarterback on defense?
BW: Or it could be a punt, you'd have more time to get there. You're rushing and you get the ball before it even gets to the punter.
BW: Yeah, that's a tough one. OK, how about you guys are kicking off, it lands in the end zone, they just don't pick it up and you recover it there?
BW: How about after a safety, you guys get the free kick. Somehow you have the most powerful punter that's ever been and he just skies one up as high as he can, you run into the end zone and you just catch the jump ball?
BW: OK, how about you jump on the back of an offensive lineman?
BW: Well it's getting crazier.
BS: I jump on the back of an offensive lineman?
BW: And he carries you into the end zone.
BW: OK, how about you guys have the World's Strongest Man as your offensive lineman and he just throws you into the end zone?
BS: From like the 5-yard-line? It would have to be, but yeah.
BW: OK, how about there's an underground tunnel. Or you're like Sonic the Hedgehog and you get the snap and burrow underneath the field and pop up in the end zone untouched. Unlikely?
BS: Unlikely. Highly unlikely. 
BW: This is a little gruesome, but how about you're on kickoff or punt coverage and the guy who's carrying the ball, his arm just falls off and you just carry his arm into the end zone.
BS: And he has a death grip on the ball?
BW: Now how about you are traded to the Cowboys, you take the snap, you run backwards into your own end zone, hand the ball –
BW: To an Eagle, and then you rip off your jersey and you have an Eagles jersey underneath.
BW: So you don't score the touchdown, but you're responsible for it.
BS: That would be like undercover.
BS: That would be the spy touchdown.
BW: I think that might be all of them.
BW: Oh wait, one more. There's a pass to the receiver over the middle, the safety hits the receiver as the ball's coming, his helmet pops off, the ball pops –
BW: Into the helmet, you pick up the helmet and go.
BS: Yeah, I would do that. And I would hold it like a loaf of bread.