Welcome to Women's World. Brandyn Campbell is the founder, editor and writer of the Philly Sports Muse. Every Thursday, Campbell will offer a unique perspective as she shares her passion for the Eagles ...
Now that we're in the month of October, it seems like a good time to discuss the color pink.
It's Breast Cancer Awareness Month and accordingly, NFL fields across the country are awash in pink. Pink ribbons are painted on the field. Player uniforms are enhanced by pink wristbands, towels and shoes. You may even witness a sprinkling of the color in the stands, in the form of pink jerseys.
Trying to determine what captures the hearts and minds of female sports fans is an elusive task. It's also big business. How do you successfully market to such a diverse constituency? It's a line that is difficult to walk, as appealing to stereotypes of what women "should" want may result in a backlash among the very people that teams, leagues and advertisers seek to court.
One of the most effective, but controversial strategies to date? Designing and selling official team gear in the color pink.
To be clear, I am not speaking solely of pink apparel whose proceeds support the important cause of breast cancer awareness. In large part, I am speaking about clothing designed with no cause in mind, other than the hope that it appeals to female sports fans.
Since this phenomenon began, I have read tirades by women very similar to myself - writers and die-hard sports fans - about the women who purchase pink jerseys and other team apparel. They can't be real fans, goes the argument. If you want to support your team, wear their colors. Stop assuming that items that are pink and bedazzled appeal to real sports fans, is the reaction of some women.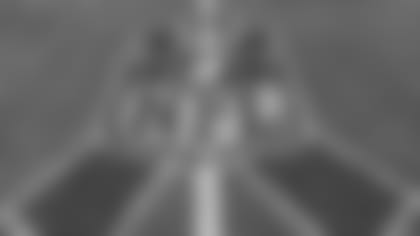 But what if they do? After all, sales of the more colorful apparel have been tremendously successful.  Right along with my love of football is a love of fashion and, yes, the color pink. I don't assume that anyone choosing to wear a pink jersey is a fair-weather fan or doesn't know anything about the sport. Those conclusions seem pretty harsh. I think, quite simply, that the person likes pink. End and period.
Do pink jerseys give the impression that the women wearing them are less than serious supporters of their team? Fashionably designed gear with style in mind more than team spirit isn't just the domain of female fans. Plenty of jerseys are worn and sold in the non-Eagles color of black, for instance, without controversy. So what's so different about pink?
Full disclosure: I do not own a pink jersey. I'm still over the moon that I can purchase a fitted jersey designed for a woman and not be pointed to the little boy's section when looking for new attire (which happened only three years ago at a major sports retailer). I happen to love Eagles midnight green, so the purchase of any item in non-team colors isn't at the top of my list when looking to add to my wardrobe. However, could I see a pink jersey in my future to add a pop of color? Absolutely. Does that change my support of the team or knowledge of the game?Absolutely not.
It hadn't occurred to me to doubt the knowledge of or passion for a sport of women who choose to wear pink gear until I began seeing diatribes on major media outlets about the infusion of the color pink into sports apparel for women. While I do understand being on guard about things that are stereotypically female, it all seems a bit silly to me, as it creates division for no reason. Are the purchasers of pink at the same games rooting for the same squad and otherwise throwing themselves full-force into cheering on a win? Then it sounds like everyone is on the same team.
The color of the jersey does not define the fan. Whether the jersey is pink or green, we're all united on this journey of being Eagles fans.