Looking at the injury-depleted, struggling Seattle Seahawks, there isn't one item about them that should scare the Eagles in Sunday's game.
On the contrary, there are 67,000 of them. There's a reason Qwest Field is considered one of the toughest places to play in the NFL, some said. It's loud. Really loud. Considering the crowd in Seattle as one of the biggest home-field advantages in football probably isn't much of an embellishment.
Not only that, but the Eagles have to adjust to their second West Coast trip in a month. It's the major reason the Eagles can't overlook a 2-5 team.
"The biggest thing is going out earlier. Being able to have to get used to the time and all that stuff," free safety Brian Dawkins said. "How many games have we lost? That's good enough (motivation). We've lost three games. We have no room for error. We have no room to look at this team as not being a good team."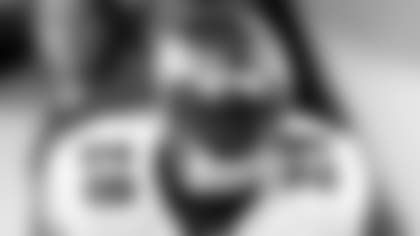 Brian Dawkins is one of the leaders Andy Reid looks to help on a West Coast trip
As is typical with West Coast trips, the Eagles flew out on Friday as opposed to Saturday. The extra day gives them a better chance of adjusting to the time difference, as Dawkins said. But it also takes an extra ounce of guidance to make sure every player keeps focused.
"I think you have to have good leadership in the locker room to do that because you're giving the players certain responsibility," head coach Andy Reid said. "But, they have a lot of free time there that they can do certain things, and I know teams have not used that properly. I bank a lot on the veteran players to make sure that they kind of control that and then the people that we bring in here."
The situation should definitely help the Seahawks, who are missing quarterback Matt Hasselbeck and defensive end Patrick Kerney, and star linebacker Lofa Tatupu is a game-time decision on Sunday. But the crowd will, assuredly, be ready for this one regardless of who's actually playing.
Getting Donovan McNabb out of a rhythm early is not simply the goal of the Seahawks' defense, but their fans as well.
"I'm glad it's in Seattle. That helps us a little bit. We have a good home-field advantage because of the noise," Seattle coach Mike Holmgren said. "Our fans really take that as part of their job on Sunday. They are yelling to beat the band. Like most times you travel and you go on the road, that is a problem for the other team's offense."
Even though focusing is the biggest hurdle for the Eagles this Sunday, practices this week weren't any different than they would typically be for a road game.
"We've traveled distances like this before," linebacker Omar Gaither said. "We're just preparing as usual."