University of California defensive tackle Brandon Whiting was elated and excited when he was chosen by the Eagles in the 1998 NFL Draft. He was also surprised.
"You go through the process as a college athlete with the Combine and the personal workout days," Whiting says, "and the D-line coach of the Eagles, Tommy Brasher, let me know later on that he was around. But I don't remember connecting with him at all. So, when the Eagles drafted me, I had no clue. I was not expecting to be drafted by the Eagles."
Born and raised in Southern California, Whiting had no clue about Philadelphia either.
"I think there was a little bit of a culture shock. I had no experience with the East Coast," Whiting says. "The cold winter weather was tough for me to begin with. The pace of life, that East Coast harder-edged mentality, it took me a little bit to get used to. And the passion of the fans. Growing up in California, where oftentimes fans can be a little bit fair-weather, coming to Philadelphia and really seeing what a true die-hard fan looks like.
"I remember my first couple of years, we weren't very good. There were a lot of Monday and Tuesday mornings when you'd be out shopping for groceries and people would realize that you were a player on the team, and they'd be crushed. They would be talking to you about how much they wanted you to win and how it ruined their whole week. So, it was different to get used to the passion of the fans."
The 10 items or less checkout line became a nicer experience for Whiting after Andy Reid became Philadelphia's head coach in 1999. The Eagles began to compile winning seasons and make annual appearances in the NFC Championship Game.
"For a young coach like that to come in from Day 1, Andy had a plan. It was a forward-thinking plan. It was, 'I know how to build a program and this is the way we're going to do it,'" Whiting says. "The first year was a little bit tumultuous. There were old-school vet players who were used to doing things a certain way and were let go.
"It was kind of get on the bus and we're going to all do this together, this way that I know we can be successful at, or you're not going to be a part of the program anymore. As I look back at it now, for a young coach to come in with that much confidence and that type of plan, I think that was the key."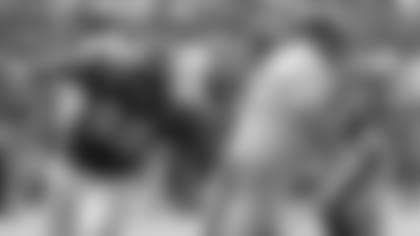 With the Eagles for six seasons from 1998-2003, Whiting became a fixture at left defensive end. During his final four years, he helped post a 46-18 record with 14 sacks and 144 combined tackles.
"Football's such a team sport and being around the organization, I remember sitting in the locker room with Hugh Douglas, Hollis Thomas, Brian Dawkins, just all these big personalities. It was fun. We just had such a great time playing the game that we all loved," says Whiting, who joined the San Francisco 49ers in 2004 as part of the Eagles' acquisition of wide receiver Terrell Owens.
"I remember the 2000 Pickle Juice Dallas Cowboys game. That week, Mike Mamula tore his ACL and Greg Jefferson got hurt. So, we were short on defensive ends, and (defensive coordinator) Jim Johnson came to me and said, 'I need you to start at defensive end this week.' I'd never played defensive end. Not in college, not in high school, not ever. So, I picked up the playbook and was able to get the position down, and we went out and won that game in Dallas (41-14) and it was part of Eagles lore. That was something that was an accomplishment for me.
"It was those type of things, finding a way – whether it was special teams, whether it was changing positions, whether it was being able to play all the different positions on the D-line, whether it was knowing the playbook – I think that's what kept me in the league for seven years. And that's something that I'm very proud of, being able to put in that work and be that person to stick around."
After his playing days, Whiting returned to the Eagles in 2009 to participate in the Bill Walsh NFL Minority Coaching Fellowship during Training Camp.
"My dad was a high school football coach my whole life, and so I always envisioned myself becoming a football coach," Whiting says. "That was my first step and I loved it. I loved being back in the locker room. I loved being back in the meeting rooms. I loved dissecting film, the X's and O's, and working with athletes.
"But there was something about it that just wasn't a fit. It was the job security, and moving around the country, and sleeping in your office because the NFL coach's job is a 24-hour thing. I just wasn't ready to commit to that. So, I went into the private sector. I did some sales stuff. I worked as an entrepreneur with a business which was indoor go-kart racing with a couple of facilities in and around the Philadelphia area."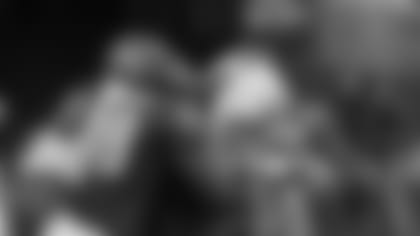 "I needed to get back into sports, but I wanted to do it in a way that fit my life and that fit my current kind of maturity of my evolution of wanting to give back to young kids. I had so many great coaches that affected my life in positive ways. I wanted to make sure that all kids had that experience, as well," Whiting says.
"I fell in love with the mission of PCA, of what we're trying to get accomplished. And I've been with PCA for over four years now putting together partnerships where we support high school and youth sports in a way that brings positive culture. And with coaches who are just out there to care for the kids and teach them life lessons that build character. It's something that I'm super passionate about."
Making his home in Saucon Valley, Pennsylvania, Whiting isn't the only former Eagle in the household. His wife, Amanda, was on the team's cheerleading squad for three years.