Shortly after arriving at Eagles Training Camp in 1987, Byron Evans was given uniform No. 56. But if the rookie linebacker hoped to make the team and then get some playing time once the regular season rolled around, he'd have to learn coach Buddy Ryan's 46 Defense.
"It was very complicated," says Evans, a fourth-round draft pick out of Arizona. "Probably one of the most complex defenses of all time. But it wasn't intimidating. I think, more than anything, I was surrounded by a good bunch of guys who were willing to go the extra mile and help me out and give me the confidence boost that I needed.
"(Fourth-year veteran strong safety) Andre Waters, he'd taken me under his wing and just really gave me the confidence that I needed. Just let me know that I could get it done. If I studied, I could make it happen."
Playing mostly on special teams, Evans would make eight starts during his first two seasons before becoming the first-team middle linebacker in 1989. Leading the Eagles with 184 tackles, which included three games with 20-plus stops, Evans was indeed making it happen.
"It just showed all the hard work I put into it," Evans says. "I remember (assistant coach) Jeff Fisher, when we played in the Fog Bowl (in Chicago) in 1988, he pulled me aside and said, 'The only way the defense is really going to take off is that you have to be in there. You have to run this defense like you're able to run it.'
"So all that reassurance during the '88 season and staying (in Philadelphia) all of the offseason, spending all the excess time that I needed (to learn the intricacies of the defense), when we played Seattle in the (1989) opening game (and won 31-7), I was able to call all the signals. Buddy gave me a game ball for that."
It was one of several game balls he'd receive from the coaches. The following season they presented him with a new title: team captain.
"It showed that the coaches felt I was competent, I was worthy, and that I was able to lead the defense. That gave me another shot in the arm and the pat on the back that I needed. That made me feel like, 'Hey, I was there,'" Evans says. "To be named one of the captains, you have to trust the person and really believe in what they were doing. They believed that you were a leader and that made me feel real good."
Under new Head Coach Rich Kotite and his staff in 1991, Evans was still thought of as a team leader and was named as a defensive co-captain along with Reggie White.
When he was a rookie, Evans had to study and learn Ryan's specific defense. And now, as a veteran, he did the same to understand new Defensive Coordinator Bud Carson's playbook fully.
"It was pretty difficult, but a lot of the things that we had were pretty similar, just different terminology," Evans says. "Bud was a heck of a defensive coordinator, being in the (Pittsburgh's) Steel Curtain and the Cleveland Browns and all of that. Bud knew what he was doing. It was a good transitional period. I think Bud, rest his soul, was just a great defensive coordinator and a great person."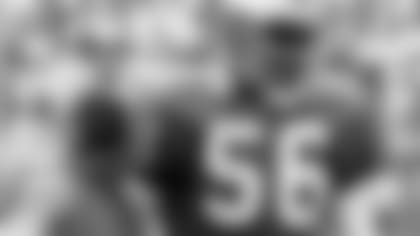 Philadelphia's game at Veterans Stadium against Cleveland on November 13, 1994 was, well, not a good day for the home team. The Eagles lost, 26-7, which began a seven-game losing streak to close the season with a 7-9 record.
"That was one of those days, a very eerie day. I usually had a little pregame ritual that I used to get myself psyched up," Evans says. "Being a middle linebacker, you have to get the team ready and I was getting the team ready, but I wasn't ready.
"It just seemed like everything was in slow motion for me. It's hard to believe (because) the Browns were 7-2 and the Eagles were 7-2. One of the biggest games of the year for us, and it was kind of hard for me to really get into it."
As bad as a game was for the Eagles, it was worse for Evans. He suffered career-ending injuries, a fractured right tibia and a torn MCL, while tackling Browns running back Leroy Hoard.
"Usually, when you break your leg, you don't tear up your knee. And when you tear up your knee, you don't break your leg. But in that case, I did both," Evans says. "But never once did I say, 'Why me?' Everything that was supposed to happen, happened. I think it was the Lord telling me it's time for you to go and do something else.
"I was in the last year of my contract, and as a matter of fact, I turned down a contract with the Eagles. I was getting ready to sign for all this money, but the Bible tells us – 'What does it profit a man to gain the whole world and lose his soul. And what exchange would a man do for his soul?' – I was getting ready to do all this, but the Lord had different plans for me."
Evans, his wife, Alva, and their adult children: Brykara, Byron II, and Brielle, make their home in Phoenix, where he is the assistant pastor at the Shiloh Apostolic Church.
A year ago, he returned to his alma mater, South Mountain High School, as its football coach.
"It's a dream of everyone that goes off, everyone that makes it. That's the dream and it's no different for me," Evans says. "Through faith. Through hard work. Through dedication. It just came around. Everything was in order."
While his first season on the sideline was challenging because of the pandemic – they could only play three games, winning two – Evans enjoyed every moment.
"Those kids are me. The same thing that I went through and been through and done that for a reason, and that's to give them the opportunity to say, 'Hey, if coach can do it, I can do it.' And they have every opportunity to do it," Evans says.
"And not only that, they look at it as being a difference-maker. Somebody that's not going to give up on them. Somebody that's consistent. Somebody that tells them that they love them."
The affection Evans has for the kids was clear during a recent free clinic he held along with former Eagles teammates Seth Joyner and Mark McMillian.
"Whenever you can have a player like Byron, who comes from the same background as those kids, it's a blessing," McMillian says. "They see him in the neighborhood, but to see him acting out and see him getting fired up and just bonding with the kids, a lot of kids looked at that as motivation.
"For Byron, that means so much for him to work with these young kids and be able to give back to the same community that raised him."