It was, as Eagles Chairman and CEO Jeffrey Lurie has often described it, a franchise-altering decision. In what was considered a stacked draft class, the Eagles, led by new head coach Andy Reid, were armed with the second overall pick.  Thirteen first-round picks in that class went on to have Pro-Bowl careers including the likes of Torry Holt, Champ Bailey and Jevon Kearse. The much-heralded quarterbacks, though, were a different story. McNabb turned out to be far and away the best of the five first-round quarterbacks, with only Daunte Culpepper making a serious impact in the NFL.
So what went into the decision to tab McNabb as the worthwhile selection?
"It was dubbed as sort of the year of the franchise quarterback," Lurie said Monday. "New coach Andy was here. We were interviewing both together and very intensely every one of these quarterbacks and the top players at the top of the round, obviously with the second pick. This was meant to be a very, very important pick. We, ironically going back, didn't have a lot of confidence in most of the quarterbacks in that draft. The only quarterback that we all, with Andy leading the way, felt very confident in was Donovan, and it wasn't just his athletic ability. It was his years at Syracuse, his being able to learn a complicated offense, the way he was as a person with a stable family background compared to some other quarterbacks both in that draft and elsewhere. So it all came together. That was really the only quarterback that was really far above all the others for us. It's funny because I remember we had one running back we thought was outstanding, Edgerrin James, but it was a no-brainer to go with the potential franchise quarterback than the running back, although Edgerrin became a superb player as well."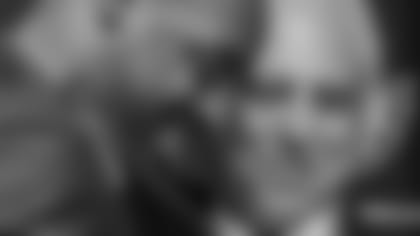 Lurie went on to say that if McNabb had been selected first overall, James would have been the selection for the Eagles. Instead, he was selected two picks later by the Indianapolis Colts, where he was an immediate success playing alongside Peyton Manning. James now ranks 11th in NFL history with 12,246 career rushing yards.
"Through that process it was really Donovan or 'Yikes, what are we going to do?' I guess the answer was Edgerrin, we probably thought this was a potential Hall-of-Fame running back," said Lurie.
Of course, the Cleveland Browns selected Tim Couch with the first overall pick and the Eagles got their man in McNabb. Lurie remembered part of the reason the team was so smitten with McNabb during the interview process.
"A sense of stability," Lurie said. "You can create impressive interviews. More and more I think players are trained to interview very well and we're not that expert that we can't be fooled. So this was a lot of both interviewing Donovan, understanding who his parents were. At the time, ironically, my second-cousin who I didn't know very well was married to his head coach, the Syracuse football coach (Paul Pasqualoni). It wasn't like that was a close relationship of a cousin, but I talked to the Syracuse head coach and I said, look, this is a potential franchise-changing moment. We can pick a quarterback who isn't going to be great or pick one who at least has a chance to be great. Does he have the aptitude, the desire, the stability, and with Andy Reid stability was a big factor in terms of the players he'd been around, in terms of their family background or at least their ability to devote themselves to football."
The rest was history; a history that will be cemented on September 19, when the team officially retires McNabb's No. 5. In the year of the franchise quarterback, the Eagles selected the only one who would go on to earn that moniker.
"I felt extremely lucky" to have McNabb, Lurie said. "It's what every NFL franchise hopes to have."