Carson Wentz knows the importance of making a good first impression.
He energized the Eagles' fan base in his NFL debut last September after throwing for 278 yards and two touchdowns in a 29-10 victory over the Cleveland Browns. The performance was all the more impressive considering that he played in just one preseason game, and was named the starting quarterback just eight days before that season opener.
Wentz was named the "face of the franchise" multiple times this past week by Eagles executives at the NFL Annual Meeting. Wentz understands the responsibility that comes with playing the most important position in the game, and that it goes beyond on-field performance.
Wentz's first touchdown pass in that September 11 win over Cleveland was to wide receiver Jordan Matthews on a beautiful over-the-shoulder throw. Wentz raced down to celebrate with Matthews. The two faked as if they were going to jump and bump shoulders in the air. Then, Wentz pretended to straighten a tie. Matthews acted as if he was positioning a bow tie. And the two shook hands. "All business" is how the two players have described their post-touchdown handshake, which was repeated throughout the course of the season.
On Tuesday, Wentz was once again all business, as he wore a real suit - a blue one along with a white shirt, cuff links, a light blue plaid tie, pocket square, and brown dress shoes - as he spoke to 20 high school students at the Columbia North YMCA on Broad Street in North Philadelphia. Wentz was joined by quarterback Deshaun Watson, who guided the Clemson Tigers to the National Championship in January and is a potential first-round pick in the upcoming NFL Draft. The two appeared on behalf of JCPenney, as the store fitted the young men for suits of their own and provided gift cards.
The visit was a surprise to the students, who are members of the Y-Achievers Program enrolled in a college-prep program learning about the business of sports.
"You wouldn't take me as seriously if I walked in wearing pajamas," Wentz said to the students, who were in awe of seeing the Eagles' quarterback up close and personal.
He told the audience that when you look good, you feel good, and that carries over into your performance. He also cited the importance of individualizing your look. On the field, Wentz loves wearing arm sleeves. He pointed to how Watson wore a bow tie.
"Be comfortable with who you are," Wentz said. "Once you're comfortable with who you are, your confidence will go through the roof."
It takes more than style to be successful in any walk of life. Wentz stressed the value of hard work. Wentz is typically one of the first players in the building each day, arriving around 5:30 a.m. His football IQ and attention to detail greatly accelerated his learning curve. That is why the Eagles felt comfortable enough trading Sam Bradford to Minnesota at the end of the preseason and naming Wentz as the starting quarterback.
"Embrace the grind," Wentz said. "By no means is it easy, but it is rewarding."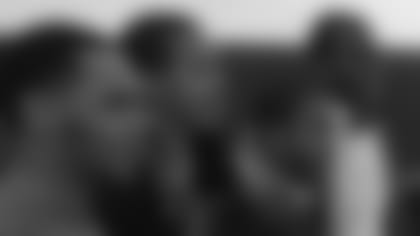 Following his speech to the students, Wentz spent time interacting on a personal level by answering questions, offering advice, signing autographs, and posing for photos. His message had the right touch like that touchdown pass to Matthews against the Browns on that beautiful Sunday afternoon in the fall. In the days after the event, at least one student took advantage of the opportunity to get a free suit.
"The interaction was absolutely amazing. He was very gracious. He was fully engaged. Sincerely, he was just a great, great spirit. His energy and spirit were absolutely wonderful," said Brent Hill, director of the Y-Achievers Program for the Philadelphia Freedom Valley YMCA.
"I think it's really important for them to see someone of his profile invest time in the community. He wasn't pretentious at all. He was very open with them. I think it's also important for them to see the whole aspect of mentorship and what mentorship means. He clearly expressed that Deshaun Watson is his mentee. He expressed to the young people that they should find a mentor, and in addition become a mentor when they get older or be one now to a middle-schooler. Lead by example. It was really important for him to show up and express those views."
The Y-Achievers Program was founded in 1967 and focuses on college prep, career exploration, and character development. The Philadelphia Freedom Valley YMCA's Y-Achievers Program is one of the largest in the nation with about 1,800 middle school and high school students. High school students have the chance to embark on college tours, and this year 10 of them will take part in a global learning experience in Haiti.
"I think we all have a responsibility to mentor one another, but especially young people," said Hill, who is the son of Philadelphia basketball legend Sonny Hill. "It's all a part of the Y mission of youth development. I just want everyone to take that extra step to reach out to a young person. Don't just walk by them in the hallway or on the street, sometimes we have to impart some wisdom upon them.
"Sometimes it's not about resources, it's about commitment to young people or the community. You just have to give it your best, gather a network of people around you who are like-minded and do what has to be done to service young people in our community."
Wentz certainly made an outstanding first impression on the City of Philadelphia. He isn't shying away from the quest to make it a lasting one.
"I'm more than a football player. I'm more than what you see under the facemask. I'm more than that, and that's what it's all about," Wentz said. "The Lord's blessed me with this opportunity, so I have to make the most of it."
Photos courtesy of the Philadelphia Freedom Valley YMCA.