"All-Pro center Jason Kelce!" boomed the public address announcer as Kelce took the field for practice in front of a raucous crowd of over 40,000 fans at Lincoln Financial Field on August 5. Hartranft looked up at the closest screen and saw his hero burst through the team tunnel, running with his head down and his helmet in his hands.
"My man!" Ben yelled as his enthusiastic applause echoed in the large, mostly empty space.
But Ben, a 20-year-old die-hard Eagles fan on the autism spectrum, is more than just an admirer of Kelce. After an offseason adventure unlike any other, Hartranft considers the Eagles' All-Pro and Pro Bowl center his friend. Well, more than that.
"We're best friends forever," Ben says.
It all started at the Eagles' Super Bowl Ring Ceremony on June 16. Ryan Hammond, the executive director of the Eagles Autism Challenge, needed someone to carry the Vince Lombardi Trophy into the party for the team. Hammond called Glenn Hartranft, Ben's father, the day before the event and asked if Ben, a top fundraiser for the EAC, would be able to do it on short notice.
"We talked to Ben and his heart rate on his Fitbit went from 79 beats per minute to 144," Glenn says. "He was a little excited."
The next day, Ben went to the ceremony as the Eagles' autism ambassador dressed in a suit with a puzzle-themed tie to represent autism and a Super Bowl Champions hat on his head. For 45 minutes, he stood in the back of the event room talking with Eagles players as they lined up. He did handshakes with Jason Peters, chest-bumped Chris Long, and danced with Jay Ajayi.
Then, with his name in bright letters on the massive screen in the front of the room for everyone in attendance to witness, he delivered the Eagles' first Super Bowl trophy to the podium for the big event.
"It was pretty epic and it was pretty amazing," Ben says. "I couldn't ask for any more. It was unbelievable."
After the ceremony, he found Jason Kelce and knowing that Kelce is a "funny and crazy guy," Ben thought he would be a fun person to hang out with. So, he simply asked Kelce if he liked roller coasters. As a Dorney Park employee, he thought maybe he could bring him over sometime to go on the rides with him. Kelce looked right back at Ben and said two words.
"I was like, 'What?'" Ben says. "So, I called my manager and I said, 'Hey, Jason Kelce is coming Saturday,' and he said, 'No way!'"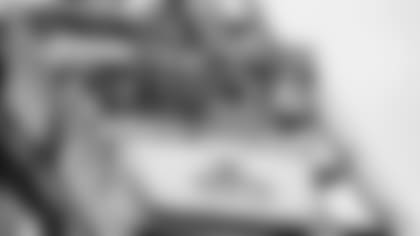 They set a date to go to Dorney Park for July 15 but had to reschedule for the following week because Kelce forgot he was attending Carson Wentz's wedding that day. So on July 21, Ben and his parents met up with Kelce and his wife, Kylie, at a fast-food restaurant parking lot in Allentown and drove over to Dorney Park together.
They rode just about every attraction: Talon: The Grip of Fear, Dominator, Steel Force, Possessed, and Hydra. On Hydra, the two reenacted the Philly Special as Ben pretended to toss a football to Kelce as the ride took a photo of the two.
"It was amazing, he wasn't afraid of any of them," Ben's mother Sandy says of Kelce. "There wasn't one he said no to."
"He was like, 'Oh yeah! Oh yeah! Here we go! Woo!'" Ben says.
While there wasn't any press at the park aware of the trip, several people recognized Kelce and he took the time to stop and take some pictures. Ben said one of his coworkers, Kate, saw him and asked him why he wasn't working. Then she noticed Kelce.
"She was like, 'No way! That's my favorite player!'" Ben says. "It was pretty cool to be with him. It was unbelievable."
In total, Kelce and Ben spent close to four hours together, including a lunch at the Dorney Park Chickie's and Pete's location where they talked about their lives for more than a half hour. Kelce also recorded a birthday message for a 13-year-old family friend of the Hartranfts, who is also on the spectrum.
Ben is now Facebook friends with Kelce's wife because Kelce doesn't have a page. He hopes he will see Kelce again sometime in the future especially as the Hartranfts stay involved with the Eagles Autism Challenge. No matter what, he will be cheering all season long from the stands or while watching on TV for the player he considers to be his close friend.
"He's a great guy," Ben says. "He's very kind and loving. He's just the best."