J.R. Reed had the opportunity to attain the one thing his family never had while growing up. And he turned it down.
Turned out, it was the best decision Reed ever made.
Reed will be the first to tell you that he was on "top of the mountain" in February 2005. As a rookie, Reed played a prominent role on the Eagles as the primary kickoff returner. He showed potential to be a future starter at safety as well. The Eagles were coming off their first Super Bowl appearance in 24 seasons and Reed looked like he was going to be an integral part of the team's future. Reed had recently proposed to his college sweetheart, Stacci Sastre, on New Year's Eve. A couple weeks after the Super Bowl, Reed's agent Jonathan Kline set up for Reed and his fiancée to hang out as VIPs at the Daytona 500.
Life couldn't get any better.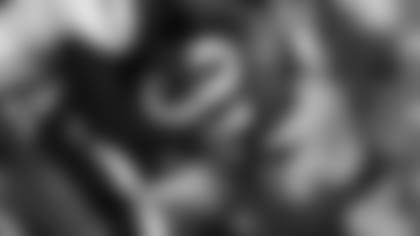 The hit that put J.R. Reed back on the map
After the race, Sastre headed back to her home in Miami while Reed spent time with some close friends before heading back to Philadelphia.
That's when Reed's world was turned upside down. Stacci had just returned home when she received a phone call. She knew instantly by the tone of Reed's voice that something was horribly wrong.
"You know when you hear someone's voice on the phone and your heart drops because you know it's bad," Stacci said. "He was devastated. He was in the hospital and I was like 'What's wrong? What's wrong?' and he was like 'I can't play football anymore. They say I can't play football anymore. I can't move my foot.' It was heartbreaking."
During a freak accident, Reed damaged the peroneal nerve in his left leg. It controls the movement in your foot. To put it simply, lift up your knee and point your foot to the floor. Reed couldn't do that anymore. Forget about football. At the time Reed couldn't bend his leg, walk up the stairs, reach his feet or put his clothes on. Simple things most of us take for granted.
Reed flew back to Philadelphia where doctors told him the most devastating news of all; that there was a very good chance that he would never play again. If the sensation in the leg doesn't come back in six months, it will never come back, was how the story went. Reed started going to rehab, but the trainer was teaching him how to bench press. Bench press? A football player needing to learn how to bench press? Please. Reed wasn't going to waste his time. He was fitted for a brace. It was same type of brace that is usually given to Alzheimer's patients to protect themselves. It was big and bulky and covered his leg from the knee to the foot.
"I said, 'I'm not wearing this thing. Man, this thing's going to mess up all my shoes. I'm not wearing this.' It came all the way up to my knee," Reed said.
Six months came and went. Reed was still unable to move his foot. The Eagles prepared for life without Reed. They used a fourth-round draft pick on Sean Considine and were about to begin the season. Stacci returned to Miami, where she was beginning her career as an actress.
Depression set in for Reed. He had bedsores from refusing to leave the safe comforts of his home. Stacci has pictures of Reed not having shaved for weeks. In addition, the bills started to pile up. Reed was $30,000 in debt. He had to take out loans. He was on the verge of foreclosing on his house. Reed's place on the mountaintop turned into a personal hell. It was so bad that for a brief time he drove away the love of his life.
"He was a different person," Stacci said. "He was depressed all the time. We had a lot of problems at the time. The distance was hard."
J.R. and Stacci first met on the campus of South Florida in 2003. Well, they actually met for the first time twice. Stacci was saying goodbye to friends for the summer in the weight room when she saw Reed working out. To amuse her friends, Stacci stared at Reed for long periods of time to try and make Reed feel uncomfortable. Reed wanted to find out who the girl was, but Stacci had already left. About a month later, the two were working out getting ready for their respective seasons - Reed on the gridiron and Stacci on the soccer field. Reed didn't even realize it was the same girl from a month earlier.
The bond that brought them together was the joy of competition. Card games, ping pong; you name it. Just bring it.
"The best thing about him really is that he has such an amazing heart," Stacci said. "And from the time I met him, he's such a different person now than he was even then. But I always saw something in him that was really good. There was something really special about him that I didn't see that much of when we first met.
"He's one of the hardest working people I know. I was an athlete, too, and I used to say there weren't too many people as driven as I was. He is definitely one of those people."
That competitive spirit is what allowed Reed to piece together his long road back to the NFL.
Reed's friend from Hillsborough High in Tampa, Mike, moved in with him after Stacci went back to Miami. A short time later, Reed started taking classes at Rowan University to finish his degree in management information systems. When not in class, Reed was watching his friend Mike play basketball. That desire to play started to burn. It eventually became a burning rage that was too much for Reed to handle.
"I challenged him. I was like, 'Man, I'll beat you with the messed up foot.' He was like, 'Man, you're crazy.' He beat me the first time and then after that I started killing him," Reed said. "I couldn't move like I needed to, but I could compensate enough to play with him. I went home and was excited. I think that was the first day I could move around and be normal."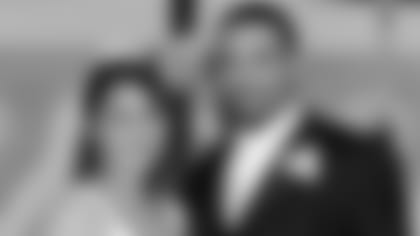 J.R. and Stacci were married in March. Stacci believed that J.R. would come back
Something had to be done about the brace, however. Reed was referred to John Swoyer of Orthologix. Lucky for Reed, Swoyer is an Eagles fan who makes customized prosthetic braces for athletes with all kinds of ailments. The problem for Reed is that without the ability to control his foot; he had to watch how he cuts. Without the brace, he would break his ankle every time he tried to cut.
As Reed laid the foundation for attempting a comeback, Reed was faced with the most difficult decision of all.
After missing the 2005 season, the bills still had not been paid and Reed remained mired in debt. However, he had an out. It came in the form of an insurance policy. If Reed gave up his dream of returning to the NFL, he would walk away with $500,000 tax free.
That money would have given him the one thing he never had growing up - financial security.
"It was a huge decision for him not just emotionally, but financially," said Stacci. "He came from very humble beginnings. His mom (Dottie) killed herself working two or three jobs to support four kids. They didn't have a house and they moved all the time. He finally had a house and had he accepted the insurance settlement he would have had what he always strived for and that's security."
But it wasn't worth the dream. And Reed's biggest backer was Stacci.
"I'm the eternal optimist," Stacci said. "I know J.R.'s drive and his passion. That's what makes J.R. who he is as a player and as a person, really. He's not 6-3. He's not Justin Gatlin, whose going to run a 3.9 40(-yard dash). But J.R. has more heart than anyone you can ever meet. I don't think there's a player out there with more heart than that kid. You put 10 people in his shoes with his injury and they would not be able to play."
Reed called head coach Andy Reid and told him he was good enough for a workout. Reed went to the NovaCare Complex and made sure to wear sweatpants to cover the brace. After Reed was put through some basic DB drills, Reid had to ask which leg was injured in the first place.
"Once he said that, I knew that I was back," said Reed.
In reality, the roller coaster ride was just about to begin.
Reed continued training at his home in New Jersey. There were a lot of restless nights where Reed would be in his basement at three in the morning doing calf raises, leg extensions. Fueled by the fear of failure. Fueled by the words of the doctors who said that he would never play again.
"I don't know how to deal with failure. In college, there were points where I wanted to quit," Reed said. "There were hard times for me. And I would just think about my little league coaches, about my teammates when I was younger. They knew I was going to be great. I have a problem. I fear disappointment. I don't want to disappoint anyone. It hurts me more to disappoint my coaches than for them to yell at me. To disappoint someone who cares about me is what drives me. Sometimes that would push me through.
"If I'm going do something, I'm going to do it. I'm not going to try to do it. I'm either going to do it or I'm not going to do it. There's no question about it ... There's no try. You either do it or you don't do it. There's no in-between. You're taking a risk, but if you don't risk you don't gain anything. You can't half be something. You can't say I'm going to go to school for this and keep a job here. You are never going to get yourself to that one situation where you can be great at something."
Training camp came in 2006 and Reed was in shape, but not football shape. Five preseason games interspersed with Reid's notoriously physical camp took its toll on Reed. A leg brace isn't exactly the most comfortable piece of equipment to be wearing on the football field.
After he was released by the Eagles at the end of training camp, a couple of teams called and were interested but the only team to offer him a roster spot without a tryout was the St. Louis Rams. The only problem is that the Rams only wanted Reed to be a kickoff returner. They had no interest in him as a safety. Reed had to beg just to get a defensive playbook. And his job returning kickoffs was further complicated by the fact that unlike the Eagles, the Rams don't work on special teams at every practice.
Reed was released by the Rams towards the end of the 2006 season. The Falcons signed him and had planned to make Reed the starter at free safety in the playoffs ... if they got there. Atlanta fell short of the postseason. Head coach Jim Mora Jr. was canned and new coach Bobby Petrino cleaned house.
Reed waits for his shot to be a full-time starter in the NFL
The problem for Reed now wasn't his health, but the lack of game experience. All teams had to go on were his performance in the 2006 preseason, his brief stint as a kickoff returner and any reputation he had formed before the injury. One person very familiar with Reed, former Eagles assistant and new Giants defensive coordinator Steve Spagnuolo, needed a camp body to replace the injured Will Demps at the end of the 2007 preseason. Despite making an eye-popping one-handed interception to prevent a touchdown, it wasn't enough to crack the final roster.
So, who came around to snatch him up?
Yes, the Eagles did. But after the muffed punt return against the Packers, Reed was released again. Luckily, it was only for a short time.
The stinger injury to Brian Dawkins opened up room for Reed at the position he wanted to play all along - safety.
He wasn't going to waste this opportunity.
Reed recorded 33 tackles in 15 games. He got to start in three contests. But the play that everyone talks about when they discuss Reed is the lick he laid on Patriots wide receiver Randy Moss. Reed described that wrecking ball of a hit as the moment that told everyone he had arrived.
"I've always been doubted, 'Can he still do it?' 'Can he still play?' I just got the satisfaction of now everyone else can see what I can," said Reed. "That there's nothing wrong."
It took three years, but Reed is near the top of the mountain once again. He and Stacci were married in March. He re-signed with the Eagles which allowed him to spend the entire offseason working out in the team facility for the first time in his career. Now, instead of wondering if he'll be able to land with a team, Reed bides his time, waiting for the opportunity to show that the first person to ever play in the NFL with a drop-foot condition can be a legitimate starting safety.
"Every safety wants to start and I'm not starting right now," Reed said. "It's frustrating, but every player has to wait their turn. I know my role. My role is to play special teams. My time will come. It's not right now. It's not tomorrow. Just like when I was hurt. They told me I would never play again, nevertheless run or walk right. My time will come.
"Through those experiences, I've become so strong. You can't break me. There's nothing you can do to break me. I've already been broke. Once somebody's been broke, you can't break him again. They're just that much stronger. What doesn't kill you makes you stronger. I'm as strong as oak right now. No matter how many times you yell at me or how many times I make a mistake, I'm still back there and I don't quit. I have a reputation for being tough. I learned it the hard way."
That prosthetic brace, once doomed to be a permanent fixture in Reed's closet, has gone through four different phases and is not much more than an ankle brace thanks to Swoyer. One day, Reed would like to donate the four braces he played with to the Pro Football Hall of Fame.
"What John's done is priceless," Reed said. "Without him, it would be much harder for me. It would have been near impossible. He's made braces for millions of people. He said it's up to them. He tells me all the time, 'It's not the brace, it's you.'"
Last week, Reed walked into the trainers room to show head athletic trainer Rick Burkholder a new trick. He was able to point his left foot down. The feeling has started to come back in the leg about three years after it was stated that it couldn't happen ever again.
"That's amazing," Burkholder said.