Being a part of the Philadelphia Eagles affords players and coaches a very special opportunity.
It's more than financial security or camaraderie, deeper than anything material and more significant than any championship they could win.
They have the chance to be immortal.
Brian Dawkins is a prime example of what that means. When he hoisted the George Halas Trophy after winning the NFC Championship game in early 2005, he let out a loud ""Hallelujah"" as if to exclaim that he had reached heaven. The tears streaming down his face were genuine.
Those are the kinds of things that endear players to the fans. For the players to show that they feel how the fans feel means a lot to the 69,000-plus people sitting in the stands and the countless others watch at home or listening to Merrill Reese and Mike Quick on the radio.
The fans, in turn, put those players on pedestals, crowning them an Eagle for life.
When the Eagles suffer a tough loss or two, like they have the past two weeks, it seems like Dawkins feels the same pain as the fans. Dawkins has connected with the city in a very profound way – from his huge hits against Michael Vick or Alge Crumpler in the playoffs to his interception of Brett Favre in overtime of the 4th-and-26 game.
In short, Dawkins personifies what it means to be an Eagle.
Despite having a rough go of it lately, kicker David Akers has come through too often for his teammates, the city and the fans not to be considered an Eagle. No one, not one fan, is more upset about missing field goals the past two weeks than Akers.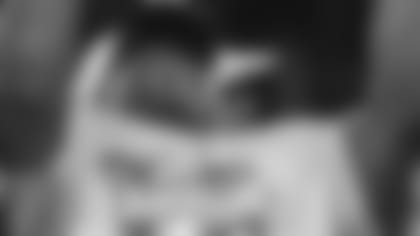 Dawkins said everything the fans felt on this wonderful day in 2005
Besides making 12 game-tying or game-winning field goals with less than five minutes to go in the fourth quarter in his 10 season with the Eagles, he instantly connected with fans on his road to the NFL.
Remember, Akers worked as a waiter and substitute teacher and landed on the waiver wire three times before finding a permanent job in Philadelphia. He also endeared himself to the fans for his toughness – he's a kicker that's trained in Brazilian Jiu-Jitsu and Shaolin Kempo, so he has no problem delivering a lick.
Donovan McNabb meets several criteria to be considered an Eagle. The guy played an entire game with a broken ankle (against Arizona in 2002). He's suffered more injuries than Wile E. Coyote did while chasing the Roadrunner. But he's led the team to four straight NFC Championship games and, like the beloved Ron Jaworski before him, McNabb led the Eagles to a Super Bowl appearance.
Tra Thomas hardly gets any attention, yet he's clearly an Eagle. That's because his favorite offensive lineman in history was Eagles' Hall of Famer Bob Brown. It's because he's been there playing left tackle for the Eagles in all but four games over his 11-year career. It's because he's the one in the huddle on the Eagle at midfield firing up the entire team before a game.
Sheldon Brown deserves a nod as an Eagle. He hasn't missed a game since being drafted by the Eagles in 2002 and he's delivered quite a few memorable plays over the years, including a hit on Reggie Bush that still gives the Saints running back nightmares.
After watching how defensive tackle Brodrick Bunkley reacted after losing to Washington on Sunday, he has a chance to be an Eagle. Many of the young players on the team like Trent Cole, Stewart Bradley, Dan Klecko, Sav Rocca (even though he's 34) and Jon Dorenbos also have chances to be an Eagle because of their blue-collar work ethic and because they come across as regular guys that happen to play football for a living.
Brian Westbrook and Correll Buckhalter are well on their way to being Eagles. Both have repeatedly put their bodies on the line for the team, the city and the fans and each has kept coming back for more.
That's not mentioning how many times Westbrook has helped the Eagles snatch victory from the jaws of defeat, like in 2003 when his punt return against the Giants saved the season.
Fans would love for tackle Jon Runyan to be an Eagle. After all, he connects with them, was the first significant free-agent signing of the Andy Reid era and developed a legendary rivalry with former Giants defensive end Michael Strahan.
Runyan, though, is very proud of being the last Houston Oiler still playing in the NFL. He can cement his status as a lifelong Eagle, though, if he decides to go into Canton wearing midnight green instead of red, white and blue.
Undrafted coming out of college, safety Quintin Mikell has followed Dawkins' advice and has built himself into one of the better strong safeties in the NFL. That makes him well on his way to being an Eagle.
Reid himself, well, he will always be an Eagle. He got his first and only head coaching job in Philadelphia and took the Eagles to heights only one other coach was able to reach.
It's not easy attaining the status necessary to become an Eagle. But once it's achieved, that player is an Eagle for life. Like Chuck Bednarik, Tommy McDonald, Jerome Brown or Reggie White before them, that's what happens when you become immortal.