Defensive end Trent Cole has accomplished a lot in his first eight NFL seasons. The former fifth-round pick has earned two Pro Bowl nominations while accumulating the third-highest sack total in franchise history.
Cole is not content, however, with his past accomplishments. Last year, Cole had 3.0 sacks. It was the lowest output of his career. It was the first time since 2008 where he didn't post at least 10 sacks.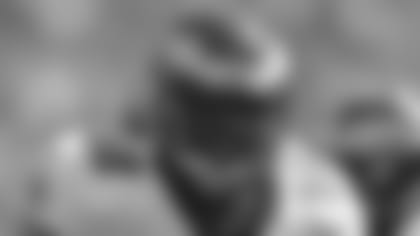 After a "very different" offseason, the second-longest tenured member of this football team is ready to show that last year wasn't a sign of decline.
"There's a new task. There's a new Philadelphia Eagles. I'm very excited," Cole said. "There's nothing wrong with having change. I'm very excited for this year."
Preparing for new head coach Chip Kelly's up-tempo practice style, Cole currently weighs 268 pounds and wants to get down about another five pounds to be at his self-described "perfect weight." Cole said last season he played at anywhere between 265 and 270 pounds.
It remains to be seen how new defensive coordinator Bill Davis will utilize Cole, who has the build to play in a hybrid scheme. When Cole was a draft prospect in 2005, Cole was considered someone who could play as either a 4-3 defensive end or a 3-4 outside linebacker.
"I've got to prepare my body to be successful at the position," Cole said. "I'm looking forward to it. I'm just looking forward to playing with the team overall."
Cole notices the culture change that is taking place at the NovaCare Complex. As Kelly sets the tone for the next era of this football team, Cole understands the importance of setting a good example for all of the new faces in town.
"I'm a type of guy who shows through my game play and how I carry myself on and off the field," Cole said. "That's just kind of my way of showing other teammates of mine and the new guys who are coming in a way to be successful in this game."
The 2013 season presents a "new challenge" for Cole. He can't believe it's already his ninth season and acknowledges that it's been "a great road." But it's not over. Cole wants to prove that it's far from over in the new year.