It's been a long road to recovery for Jeremy Maclin.
Before the start of last season, fans were eager to see what the multi- talented wide receiver could accomplish with Chip Kelly pulling the strings of the Eagles offense. But on July 27th, 2013, just as Training Camp began to take off at the NovaCare Complex, Maclin fell to the ground during a team drill.
His ACL in his right knee was torn. His season was over.
Throughout a lengthy rehab process, Maclin vowed to come back stronger than ever, and to this point in 2014, the Eagles wide receiver has been a man of his word. The Missouri product has bounced back to become the team's leading wide receiver on the season with 632 receiving yards and six touchdowns, and his valiant effort to rebound from his 2013 setback has not gone unnoticed in the locker room.
On Tuesday, the Eagles announced Maclin as the recipient of the team's 2014 Ed Block Courage Award, as voted on by his teammates. As Maclin continues to push forward, here's a look back at No. 18's bounce back to the Eagles huddle …
July 27, 2013- Maclin Tears Right ACL Injury
"I think I can definitely come back, and I'll come back bigger faster and stronger than I was before. That's my mindset and that's how much I'm going to work at this. That's my dedication, that's my motivation, that's everything, so I think I'll come back in better shape than I was beforehand and I think I'll ultimately be a better player because of that."
November 1, 2013- A Mid-Season Update
January 6, 2014- The Eagles Season Ends, Maclin's Rehab Continues
"I think the most important thing right now is getting myself back (100 percent healthy). I'm excited just to be able to look forward to playing next season, but at the same point I'm disappointed and upset for these guys that they came up short. It's bittersweet, but at the same time, I think the most important thing for me is just to get healthy."
January 27, 2014- Five Months To The Date Of Injury, Maclin Posts Instagram Video
February 28, 2014-Maclin Returns To The Nest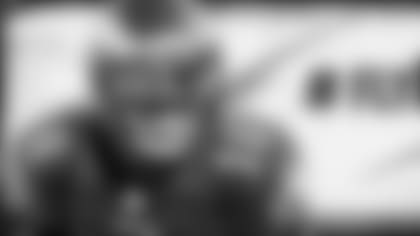 "I'm just confident, and I think that maybe there are certain things that you can't explain, but I'm confident. I'm really happy with how rehab has been going and with where I am considering how long I've been out of surgery, and I just know what type of person that I am. I think the Eagles do too, and just knowing what we've gone through in this process, I think that they believe in me too."
June 18th, 2014- Back In The Swing Of Things
"I think having that chemistry (Foles and I) had, and then the OTAs last year and throughout the spring and summer, I think we got a lot of work in. And I think this summer we've got a lot of work in, as well. I don't think it's going to be as big a deal as people may think it is. We're on the same page, and we'll continue to work together, obviously, and make sure that we don't miss a beat."
September 7, 2014 – Maclin Scores TD In First Game Back