For Zach Ertz and Jordan Poyer, the wait is over. After an NFL rule kept the two rookies from practicing with the Eagles during most of the team's spring workouts, the pair arrived at Training Camp at a slight disadvantage. The NFL prohibits rookies from practicing earlier than their college graduation dates. Now that school is out, Ertz and Poyer are all-in on getting caught up to speed.
"It was amazing," Ertz told reporters. "I spent all of those months watching film and getting the plays, but now just being out here with the guys is an amazing feeling. I think all the work that I've done has finally (paid off)."
"I was excited just to go out there and compete again and just be out there playing football," said Poyer. "I love this game; I love everything about it, and I put my heart into it, so to be able to go out there and compete, it's always fun. I've got a lot to work on from today, but I'm going to watch the film and hopefully tomorrow (I'll) get better."
For Ertz, it was very difficult to be in California while his new teammates were practicing in Philadelphia. He would video-chat with the coaches every week, but that wasn't the same as being at the NovaCare Complex. Despite his desires to leave school, Ertz does understand the NFL's rule.
"It was tough (to wait), but I understand the NFL rule and I don't think it should be changed in any way because when I was 18 years old I didn't have plans to play in the NFL," he said. "I wanted to, but I didn't think that was a reality at that point. At the end of the day, I wanted to graduate, and I know that made my mom and dad really proud, so I don't think it needs to be changed."
After missing OTA's, Poyer admits that it was a bit of an adjustment for him to get used to being back out on the field. Now that he's back with the Eagles, he's doing everything he can to improve his game.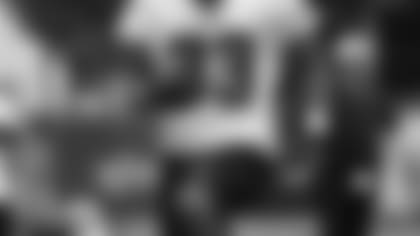 "(I felt) a little bit of rust from not going live for a little bit, but I definitely have a lot to improve on," Poyer said. "I'm excited to be out here with these guys... I'm about to go watch the film right now and see what I can improve on."
According to Ertz, he's been able to catch up by visiting with coaches while also watching some of the veterans go about their business.
"We had meetings this morning (with the coaches) and then during lunch we met with the coaches again individually and I think that's a big thing," Ertz explained. "Seeing some of the older guys like Kelce and Vick out here is something that I wasn't able to do (during minicamp), and just seeing their workmanlike approach is really cool."
There is competition at just about every position on this Eagles team, and the secondary and tight end spots are no exceptions. Ertz and Poyer know that they're going to have to keep working hard to find spots on the roster, let alone on the field.
"I have to work and I have to go earn it," said Poyer, the seventh-round pick. "No spots are guaranteed right now, and there are a lot of great players in the secondary. I have to work and I have to go get it."
"I'm not going to say average, above average or whatever it may be," Ertz answered when asked to rate his play after day one. "All I know is that I'm going to keep working on all aspects of my game. I want to be a complete tight end, and that starts in the run game, and I want to be a physical blocker."
The two Eagles draft picks may have gotten off to a slower start then the other rookies in camp, but they are both ready for whatever Training Camp throws at them.
"It's a lot of individual work with the coaches, which is very beneficial, especially for myself after missing OTA's," Ertz explained. "I think when camp starts it's going to be a whirlwind and it's going to be a lot of fun."