Next up in our position-by-position preview of Training Camp (now only 10 days away), we turn to the interior offensive line, where the likely starting group includes two players returning from injury ...
1. How Ready Is Jason Kelce?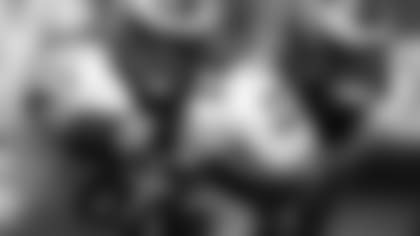 Primed for a big second season, Jason Kelce suffered a season-ending torn ACL in Week 2 of the 2012 season. After a long rehab, Kelce returned to action on a limited basis in the spring but there's still a sense of intrigue regarding whether he'll be able to go full force come Training Camp. But Kelce has said all offseason that he believes he'll be 100 percent come the start of camp.
"I expect to hit the ground running full-go just like everybody else out there," he said.
Kelce's presence in the middle would be a boon to the offensive line as he would appear to be an ideal fit for the offense. Among the most athletic centers in the league, Kelce is also smart enough to handle the rigors of the pre-snap responsibilities. After a season in which the offensive line was ravaged by injury, there will be some serious comfort in seeing the five starting offensive linemen working together throughout camp.
Behind Kelce, meanwhile, is Dallas Reynolds, who filled in quite well in Kelce's place. He'll aim to prove that he fits in the offense as well and will be challenged by veteran Matt Tennant and undrafted rookie Kyle Quinn.
2. How Smooth Will Todd Herremans' Transition Be?
Herremans has been the jack of all trades for the Eagles offensive line since he was drafted in the fourth round of the 2005 NFL Draft. He's started 100 games for the Eagles since then, split between three positions – left tackle (six starts), right tackle (23 starts) and left guard (71 starts).
You'll notice, of course, that Herremans has yet to start a game at right guard, where he lined up throughout most of the spring as first-round pick Lane Johnson was slotted into the right tackle spot. But Herremans doesn't expect the transition to be too difficult.
"When I was working at right tackle for the first (veteran) camp and those little individual periods, we weren't just learning the position, they were teaching the whole scheme," Herremans said. "So it hasn't really been that hard of a switch. I'm still trying to stay fluid for whatever they want. Everything seems to be going well."
3. Who Will Emerge As The Top Backups?
Since he already returned to action following a minor ankle procedure, the only real question facing Evan Mathis is whether the good folks over at ProFootballFocus will ever pony up the cost to sponsor Mathis' Pro-Football-Reference page. So we move on from the starters to the group of players competing for a role on the 2013 roster.
The most intriguing player among those jockeying for spots is former first-round pick Danny Watkins, who seems reenergized by the offseason of change. Watkins, 28, still has the talent to succeed as a guard, especially in the running game, and he's been cross-training between left and right guard for the first time, which only increases his potential value.
Dennis Kelly would seem to be a frontrunner a roster spot,  as he has the versatility to start at both tackle and guard, despite his mammoth 6-foot-8 frame. Beyond that, the roster battles will take place on the NovaCare practice field throughout the preseason. Will a veteran like Allen Barbre or Matt Kopa emerge? Will it be a young veteran like Julian Vandervelde or Nate Menkin? Or will a rookie like Quinn or Matt Tobin show enough promise to stay on the radar? Those are questions on the periphery of the roster that we'll continue to follow throughout the next couple months.