The countdown to Training Camp is on and with the arrival of the rookies and selected veterans less than a week away it's time to look at the questions each position group must answer before the start of the regular season. Here's a look at the defensive end group which will be asked to do things a little bit different in 2013 ...
1. How Will The Defensive Ends Adjust To Dropping Back In Coverage?
Yes, the Eagles defensive ends have been asked to drop back in coverage on occasion, so it's not a completely foreign concept. But the defensive ends who have played primarily with their hands down will now be asked to play in space more often. Fortunately, players like ninth-year veteran Trent Cole and fourth-year vet Brandon Graham have bought into the program. Cole is one of the most prolific sack artists in franchise history, ranking third in team annals, but still believes he has a lot to prove.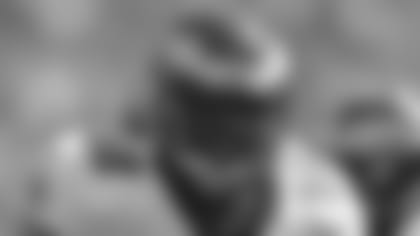 Linebacker Connor Barwin went through the same transition during his time in Houston and thrived. He's seen his new teammates and knows from his own experience that it's a work in progress, but one that improved a little bit each and every day. Cole is hungry coming off the lowest sack total of his career. Graham was an ascending player at the end of last year as the light appears to have gone on for the former first-round pick. Both players still have pass rush ability, but if they are a liability in coverage it won't allow defensive coordinator Bill Davis the flexibility that he's looking for.
This isn't just about Cole and Graham. There's Phillip Hunt, the former CFL star who has spent the last two seasons with the Eagles. Everette Brown is the former second-round pick who never panned out with Carolina, but is looking to make the most of the opportunity here with the Eagles. Chris McCoy was a playmaker north of the border before sustaining a knee injury.
How much will the defensive players be asked to drop back in coverage? Looking at Barwin, he played 1,137 snaps last season (including playoffs, per Pro Football Focus) and dropped back in coverage 101 times. That's fewer than 10 percent of the time. Still, the most Cole ever did in the past five seasons was 42 times in 2010. In the past two seasons, Cole has only dropped back 14 times per Pro Football Focus. It's an adjustment to watch as Training Camp unfolds.
2. What Lies Ahead For Vinny Curry?
The Eagles got a steal in the draft when they plucked defensive end Vinny Curry, the Conference USA Defensive Player of the Year, in the second round of the 2012 NFL Draft. The Eagles were deep at defensive end and Curry didn't get much action on the field until the second half of his rookie season. When the Eagles brought Davis on board, Curry was in an intriguing place. Would the Eagles cross train him to play both as a hands-down end and a stand-up linebacker? Or would they simply leave him with his hand on the ground?
The Eagles have decided to keep Curry as a true defensive end. Curry has a big, stout upper frame and the motor to keep fighting during plays. To prepare for the transition, Curry bulked up adding 20 pounds of muscle and tips the scales around 280 pounds. He also has the assistance of former college coaches Jerry Azzinaro and Rick Minter to help guide him along. Curry was disappointed in that he did not contribute more as a rookie, but has used that as motivation to force his way onto the field in 2013.
With the Eagles utilizing both 4-3 and 3-4 looks, there will be a number of ways to get Curry involved. Curry has brought the right mindset along for the journey. Now, it's up to him to earn playing time this season.
3. Which Young Player(s) Will Emerge?
The Eagles have a lot of young, hungry talent fighting for roster spots at this position. Seventh-round pick Joe Kruger is just 21 years old and can still grow into his 6-6, 269-pound frame. David King was also a seventh-round pick and he has more bulk at 6-4, 285 pounds, but maintains the tenacity to create opportunities for himself. Damion Square was a key cog in Alabama's 3-4 defense helping the Crimson Tide win back-to-back National Championships.
One of the more intriguing players is defensive end Clifton Geathers, who is a mammoth of a man at 6-8, 340 pounds. He earned first-team reps at defensive end during the spring camps. Geathers was acquired in a trade with the Indianapolis Colts this offseason, so he knows how to make the transition to a 3-4 scheme. He will be one of the players to watch during Training Camp.