Todd Herremans either doesn't want to remember last season's first meeting between the Eagles and the Giants or he chooses to block it out.
All Herremans would reveal is that he didn't like the feeling he had after the Giants racked up 12 sacks in a 16-3 win over Philadelphia.
Chances are quarterback Donovan McNabb felt worse.
"I'm reaching back into the memory bank and I really don't remember that much," Herremans said. "I remember being real depressed and upset about the outcome of the game. But watching the film, I don't think we were unprepared, they were just coming with different fronts here and there."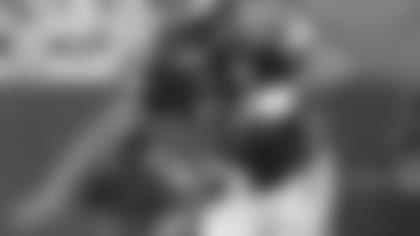 McNabb has only been sacked 13 times this season, but the Giants have 30 in 2008
After the amount of success the Giants' defensive line had last season, chances are the Eagles will once again see those different fronts. It's definitely something for which they need to be prepared.
"Sometimes they'll show blitzes, sometimes they'll walk up and show blitz and not even run it just to get the offensive line confused," Herremans said. "We take it personally anytime we give up one or two. Obviously, it was ten-fold last year."
The Giants' defensive line played so well as a unit in the playoffs, they were given MVP consideration following the upset of the Patriots in the Super Bowl. Herremans stopped short of calling them the best he played against last season, but he did compliment one aspect of their game.
"Were they the best d-line we played last year? I don't know, we played a lot of different kinds of d-lines," Herremans said. "They brought a lot of pressure. I would say as a d-line, they were probably one of the best as far as bringing pressure against us that we saw last year. But it's not just their d-line. They find ways of putting their 'backers in situations and run blitzes and stuff where they're getting everybody involved.
Despite losing perennial All-Pro Michael Strahan to retirement and starting defensive end Osi Umenyiora to injury in the preseason, the Giants are third in the league in total defense and second to only the Pittsburgh Steelers in sacks thus far in 2008 with 30.
Defensive end Justin Tuck emerged as a star last season and has notched a team-high 8.5 sacks this year. Mathias Kiwanuka (who was selected using a first-round draft pick out of Boston College in 2006 to play defensive end only to be switched to linebacker and now is back at defensive end) and defensive tackle Fred Robbins have 5.5 apiece and substitute defensive end Dave Tollefson has registered 3.5.
"I think it is a tribute to the guys who have stepped in," head coach Andy Reid said. "Tuck played there a lot last year; he came off of a fantastic year last year. Kiwanuka had to switch from linebacker to defensive end. That's a tough thing to do. He has handled it well. He played there in college and a little bit in his first year. I think he has done a nice job transitioning into that position. Their inside guys are the same guys. They are good football players."
That said, the Eagles like their chances a little bit more this season considering that they faced the Giants without starting tackle Tra Thomas and starting running back Brian Westbrook in that first meeting in 2007.
"We're a little healthier this year," Herremans said. "Obviously, we don't have Shawn (Andrews). But Max (Jean-Gilles) is playing real good. I feel great. Tra and Jon (Runyan) feel great, we'll have Brian back. That was a big thing, too, not having Brian back there. Our backs serve a huge purpose both blocking and receiving."
Either way, this is type of game a former offensive lineman like Reid particularly enjoys. It should be a game decided in the trenches.
"I absolutely believe that," Reid said. "When you have two good football teams play - I think this is probably around the NFL, but I would say in particular to this game right here - it starts up front. I always say that, but I would put a little extra on this one. It starts up front on both sides of the ball. The attitude you bring is very important to this thing."