There will never be another No. 5 to ever play for the Philadelphia Eagles.
The pairing of that team and number will forever be linked to Donovan McNabb. On Monday, the Eagles held a press conference at the NovaCare Complex in which McNabb officially retired as an Eagle. In addition, Chairman and CEO Jeffrey Lurie announced that McNabb's number will be retired at the Sept. 19 game against the Kansas City Chiefs. After hearing from Lurie and former teammates Brian Westbrook and Brian Dawkins, McNabb took the podium with tears in his eyes and a tremble in his voice.
"Special day, special day," McNabb said. "I'm not one for emotions, but this is pretty tough. ... Pretty tough."
McNabb, the second overall draft pick in the 1999 NFL Draft, starting out by thanking the Eagles for taking a chance on him. He then spoke about how much of an honor it is to be forever remembered by his former team.
"First, let me start by thanking God for blessing me to achieve great things and surrounding me with a wonderful group of human beings," McNabb said. "Secondly, I want to thank Jeffrey Lurie, and obviously Ms. (Christina Weiss) Lurie and the Eagles organization, for this unbelievable honor. To be mentioned with the likes of Reggie White, Jerome Brown, Chuck Bednarik, Tommy McDonald, Brian Dawkins and all the other players who have paved the way for me, for my former teammates and for the current players. It's truly an honor, not only to be the (team's) first pick in the draft in 1999, but to be your starter for 11 years, but most importantly to be inducted in the (Hall of Fame) and to have my number retired.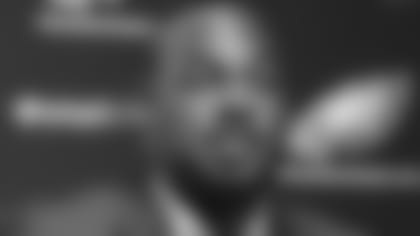 "As a young man having dreams and being a professional athlete, never would I have thought that this day would come true. Watching the likes of Michael Jordan and Walter Payton flourish in their given sports, I tried to model myself with the same preparation, motivation, determination and most importantly the results on the field, as well, but most importantly to me in my heart, off the field. In order to become a champion and to go down as one of the best to ever do it, it would take more than expected, and I would never allow myself or or allow anyone to tell me what I would and could not accomplish."
After thanking the Eagles organization, McNabb turned his attention to the ones who have been closest to him for his entire life - his family. Through all of the ups and downs, McNabb said that his family was always there to support and keep pushing him.
"Fortunately, I was blessed to have two of the greatest parents in the world, who cared, who motivated me, who drove me, who challenged me, not only to be a great athlete but to become a great role model," said the newest inductee of the Eagles Hall of Fame. "What you do on the field or on the court does not make you a great role model. It's the decisions that you make away from your place of business, and when no one is looking. With those words instilled in me each and every opportune time, they knew that it was going to be more of a challenge, and that's why I took it on and prepared myself for such. No matter what you decide to do in life, there's always someone out there watching every step that you make, and that's why I want to stop right now and say thank you and I love you to my parents Wilma and Sam McNabb.
"I want to also say thank you and I love you truly to my wife Roxie, my four beautiful kids - Alexis, Sariah, Donovan Jr. and Devin James. You've always been there with me for the good and the bad times. I know it's been tough these last few years of my career, but you never allowed it to get in the way of what we set out to do as a family and where we want to go. As we embark on this new journey, it will continue to bring us stronger and closer together as a family and tighten the chain that we started in 1994. I know at times you wanted to lash out at folks, but I appreciate your passion and your love and your strength, so I take this moment to say I love you."
Speaking in front of a full auditorium, consisting of front office members, the media, former teammates and and current Eagles players, McNabb thanked his former teammates who helped him achieve everything that he did, starting with the offensive line.
"As for my teammates, it's hard to explain or to put in words how I truly feel. Being a man in this world, you have to choose your words wisely, but I'll take this time to tell you - my former teammates that are here, as well as the current players - I appreciate everything, everything, about each and everyone of you. This would not be possible without your effort, sacrifice, passion or resolve. We all know that there weren't the easiest times, but I appreciate you putting things behind when it came down for us to put it on the line."
Prior to the announcement, McNabb's greatest moments were displayed on the movie screen in the NovaCare Complex auditorium. Among them was McNabb's favorite moment as an Eagle.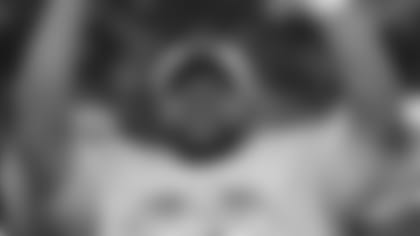 "Holding up the NFC Championship, holding that trophy up," McNabb responded. "That was something that we fought for, a couple times. And that brings back memories of the effort you put in. There were times guys came out to Arizona, we spent a week or two. We spent time here in Philadelphia. We went out to dinner together. We invited each other over. We'd go over to each other's houses. It was the bond that we built from '99 on and it felt like it was weight off all of our shoulders to finally get it done. That right there just brought a tear to me because I hadn't watched that game nor the Super Bowl since. And to see that highlight again brings back special memories."
Though McNabb was emotional during the entire press conference, he was perhaps most notably choked up when he spoke about two people who were not in attendance.
"Last but not least, I want to thank Big Red (Andy Reid), who probably is in camp right now, for taking the chance and sticking with me in '99," McNabb said. "Eleven great years. We will forever be linked together, but that's one of the things I can honestly say, I love it. We made history, big fella."
McNabb concluded his speech by referencing another former coach, and although he was one who didn't work on McNabb's side of the ball, he still made a lasting impact on the former quarterback's life.
"One thing I learned from a historic man who's no longer with us - Never take anything for granted because when it's all said and done, and lace your shoes up, put that helmet behind you, you don't want to have to regret anything," the former Syracuse standout said. "And that man was Jim Johnson, one of the best defensive coordinators in the NFL and to this day.
"So love your brother, love the man next to you because everything you set to accomplish, you have to do it together. There's no 'I' in team, but if you want to be great, make the man next to you greater. Thank you."