It took just one play. Then, suddenly, a position of perceived depth for the Eagles had been thrown back into the crowded pile of questions waiting for answers.
Up on the defensive front, coordinator Jim Johnson wanted to get younger. Three of the Eagles' last four top picks have been spent on defensive tackles. At end, they cut loose struggling veteran Jevon Kearse. They signed Chris Clemons, a third-down speed rusher just entering his prime. And Victor Abiamiri, a 2007 second-rounder, was going to get his shot to start.
Then, on Monday, Abiamiri went down with a dislocated wrist, which was immediately repaired through surgery the next day. His timetable for a return? Uncertain. All we know is that his training camp is over.
Should Abiamiri not be able to go until a few weeks into the season or longer, and since the defensive end trade market has been notably thinner since last week, it's up to four guys - three here from a season ago - to pick up the slack.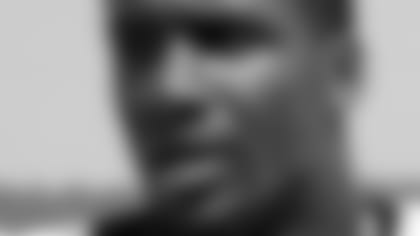 DE Darren Howard
Yeah, there's Pro Bowl end Trent Cole, whose production has increased every season and is almost a shoo-in for double-digit sacks. But past him? Abiamiri's absence will definitely linger.
"He brought an aspect to the D-line that we didn't have, which was a solid, 270-pound weakside end," veteran end Darren Howard said. "Now, it's basically the same situation we had last year, the same people."
Howard can sympathize with Abiamiri. As a Saint in 2003, he suffered almost exactly the same injury during the season opener, which too required surgery. He missed eight weeks, but played in the team's final seven games.
It's an interesting situation for Howard. Before camp, many wondered if he would even make the team after two unproductive seasons. Now, he's asked to shoulder the same hope that he brought with him as a free agent acquisition in 2006. Logging time at both end and tackle, he's looked quick and motivated. But, since Abiamiri's injury, he's slipped outside more often than not.
Juqua Parker, né Thomas, will be asked to step above the role he's thrived in for two seasons. As a situational pass-rusher, he's logged 11 sacks the past two years, as part of a constant rotation. But he was never handed the starting role. Can he step in?
"All I got to do is step up to the challenge," Parker said. "I like challenges. I have been challenged since I have been in this league. I wasn't drafted so challenges aren't anything new to me. I just have to get out there and do it, continue to make plays."
As for Clemons, his mystery might have grown since he signed a five-year contract in March. For one, he's still a bit raw. His eight-sack 2007 season statistically destroyed both of his previous two seasons of action. And his reps in training camp, as a passing-down specialist, were limited at best.
But when Abiamiri was sidelined, Clemons took on a much more active role in Andy Reid's famously laborious camp. And then, he went down himself to a case of dehydration and was hospitalized.
Clemons could practice on Thursday, but his responsibility still isn't clear.
Cole, who remembers growing a bit weary himself when his reps first increased, understands the trouble.
"It was hot out here," Cole said. "And he was working his tail off. When you're here for a couple of days, and a guy goes down, you know he was working his tail off."
So, what will the Eagles do? If the injury to Abiamiri is incredibly serious, the team could place Abiamiri on injured reserve and keep another end. Or, it could wait out Abiamiri's recovery and hope he comes along quickly. In this case, linebacker Chris Gocong might double as an end in some passing situations.
Whatever it is, it won't be easy.
"Victor's going to be a key to our success. He's come a long way, he's done a lot, he's prepared so hard," Cole said. "I feel very sorry for him, because I know how he's feeling. I mean, he's down right now, but we've just got to call him up and cheer him up."