To those who worked with Otho Davis during the 23 years he served as the Eagles' head athletic trainer, there is deep thanks and reverence and, even now 18 years after Davis's death, some magical voodoo mystery. Davis was an innovative, caring, and extremely aggressive trainer at a time when conservatism was more the norm. Davis, with the Eagles from 1973 to 1995 and voted into the team's Hall of Fame in 1999, followed his own protocol.
"He did a lot of unusual things in that athletic training world, but you just left him to his own devices and he got the job done," former Eagles head coach Dick Vermeil says of Davis. "The players trusted him, the organization trusted him, and even though he wasn't conventional, he was effective. He had his bag of magic tricks that worked so we let him do it his way."
Davis was a colorful character who dressed up the Eagles' training room at Veteran Stadium with helmets and fun football artifacts and even a POLISH POWER SAW, named after former Eagles quarterback Ron Jaworski. He called the athletic training room The Otho Davis Wildlife Sanctuary. He loved playing pranks on players, particularly unsuspecting rookies whom he promised a free trip to Atlantic City, complete with $500 in chips, and the players would eagerly gather for a bus that never came. Davis gave out coupons for "free" turkeys on Thanksgiving, but the players who went to the supermarket to get their dinners were indeed the real turkeys.
"He made it fun. Heck, nobody wanted to see Otho because that meant you were injured and he needed to get you back in the game," Jaworski says. "But when you're with Otho, you trusted him and you worked hard to get back to the lineup. He did it with love and he did it with laughter, and that's a great combination."
Davis is remembered fondly to this day by the legions of athletic trainers who studied under him or who heard the legendary stories about his methods, by the players who spent time in his care and by the Otho Davis Foundation, which on November 14 held its 20th annual Otho Davis Foundation Scholarship Dinner in Philadelphia. The event packed the house at a city hotel ballroom and continued its tradition of providing scholarships to young, aspiring athletic trainers.
Davis was a five-time recipient of the National Athletic Trainers Association's Professional Trainer of the Year award. He also was a member of the Athletic Trainers Hall of Fame. From 1971-89, he was the executive director of the NATA, an organization whose national headquarters office building in Dallas is named in his honor.
And he was an Eagle, through and through.
"As time went on, he became a mythical figure," former Eagles linebacker Seth Joyner says. "He had some remedies that weren't traditional. What he was able to do to get guys healthy and get guys ready to play, I think, was unprecedented in the history of training staffs. You were his son. He treated you like you were one of his. When someone like that treats you that way, you never forget that person. He meant so much to so many people in and out of the game of football."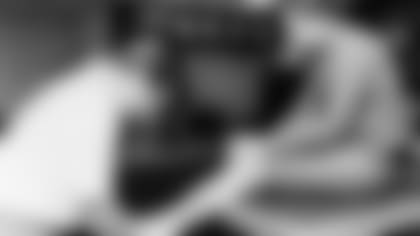 John Travolta was filming a movie in Philadelphia in 1980 when he hurt his ankle. Travolta went to Veterans Stadium every day for a week to get treated by Otho Davis.