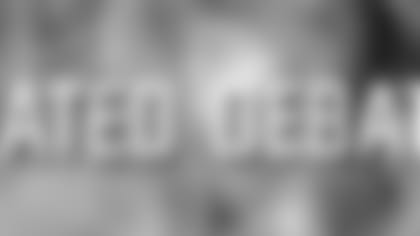 Is Wide Receiver A Pressing Need For The Eagles?
One of the few positions on offense that is secure from a contractual standpoint is at wide receiver.
Other than Hank Baskett, who is scheduled to become a restricted free agent on Feb. 27, all of the Eagles wide receivers are under contract for the 2009 season. You can't say that about the offensive line, running back or tight end positions.
Wide receiver is always a popular topic of discussion amongst Eagles fans, but is it warranted this off-season? We've all heard general manager Tom Heckert tell Fox 29's Anthony Gargano how Donovan McNabb had a career-high 345 completions and 3,916 passing yards in 2008. The Eagles had the sixth-best passing offense and had 52 big passing plays (plays of 20 yards-or-more) which ranked fifth in the league. A tribute to the receivers' ability to make plays once the ball was in their hands, the Eagles were sixth in the NFL with 1,876 yards after the catch. Of course, running back Brian Westbrook gets some of the credit for those numbers as well.
But the Eagles did have four receivers go over 100 yards in a game this year - Jason Avant, Baskett, DeSean Jackson and Greg Lewis. In an article by Paul Domowitch of the Philadelphia Daily News, he points out that the 197 receptions by the Eagles' six receivers were the most of a wide receiver group in the Andy Reid era. In fact, Domowitch also noted that for the first time under Reid four receivers had 30 catches or more. The Eagles led the NFL with eight players with 25-or-more receptions and 10 players with 250-or-more yards.
DeSean Jackson was better than anticipated with 62 catches and 912 yards as a rookie, both franchise rookie records by a wide receiver. He led the Eagles six times this season in receptions and eight times in yards. Even though he had six drops, according to STATS Inc., there is no question that Jackson is on the fast track to superstardom.
Kevin Curtis may not have had 1,110 yards like he did in 2007, but he fought back from a sports hernia operation to contribute 33 catches for 390 yards and two touchdowns in 2008. He had a team-high 122 receiving yards highlighted by a 50-yard grab in the NFC title game.
Jason Avant turned into a first-down machine for the Eagles in 2008. On third down plays, Avant converted 13 of 15 receptions into a first down this past season.
Is there room for improvement? Of course.
The Eagles need more consistent production in the red zone. The Eagles scored a touchdown 31 times in 63 trips into the red zone in the regular season. But red zone play can be improved by an upgrade at any of the other positions on offense, as well.
The Eagles do not have a Pro Bowl receiver on the roster, but many of Jackson's teammates have said that they envision him turning into that type of player.
What options are available for the Eagles to upgrade the wide receiver position? The Eagles have been connected to every potential roster move involving a wide receiver in recent years. Curtis was the Eagles' big-ticket free agent in 2007, one year after trading for the services of Donté Stallworth. The Eagles admitted to having contract talks with Randy Moss prior to the 2008 season before he decided to re-sign with New England.
If the Eagles look to free agency, there are a lot of recognizable names but not a number of players who would provide an upgrade for the Eagles. The biggest names that could hit the market are T.J. Houshmandzadeh of the Bengals and Antonio Bryant of the Bucs. If the Eagles were to look via trade, everyone would point to Arizona's Anquan Boldin. Boldin's agent, Drew Rosenhaus, has made it known that his client wants out of Arizona according to many published reports. What would be the price tag for Boldin? Are the Cards even interested in dealing him? They hold his rights for the next two years. If the Eagles decide to go via the draft like they did with Jackson, would they really use one of those two first-round picks after investing a high pick on the position last year?
If the Eagles believe that wide receiver is a pressing need, they will address it. But do they think it is?