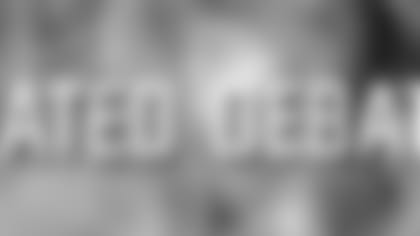 What Should The Eagles Do Regarding Correll Buckhalter?
On Feb. 27, Correll Buckhalter is scheduled to become an unrestricted free agent.
Brian Westbrook battled through knee and ankle problems for most of the season having missed two regular season games due to the injuries. He had as many rushing yards as receiving yards (119) in the three postseason games, not typical Westbrook numbers.
Lorenzo Booker was acquired during draft weekend a year ago for a fourth-round pick from the Miami Dolphins. He played in only 10 games and gained just 53 yards on 20 carries.
Whether they choose to re-sign Buckhalter or address the running back situation via the draft remains to be seen.
Buckhalter has averaged almost five yards per carry the past two seasons and after missing three years due to knee injuries, he doesn't have the wear-and-tear that an eight-year running back normally would.
"I definitely feel fresh," Buckhalter said at the end of the season. "The years I was out with the knees has allowed me to be fresh in a sense. I think that plays a part in my favor."
Ideally, Buckhalter said he would prefer to be part of a two-back system as opposed to being a team's main threat out of the backfield. He said it's a system in which he could flourish.
"Yes, absolutely, because (in) this league, almost all of the teams have a two-back system," Buckhalter said. "It keeps the backs fresh and keeps the defense off-balance as well. But it's up to the team and the coaches to make that decision."
In games where Buckhalter had significant touches, like he did against Chicago, San Francisco and Dallas last season, he's shown just how explosive and valuable he can be.
In each of those games, he had more than 60 yards rushing. He also showed that he can catch the ball out of the backfield, catching at least two balls in seven different games in 2008. His 20-yard touchdown reception sealed the win over Pittsburgh back in Week 3.
But he could only play as much as the coaching staff would allow. It seems as if Buckhalter would like to remain an Eagle, but he would have to be guaranteed to be used more in order to stay.
"It was out of my hands, you know?" Buckhalter said. "Do everything they ask, practice hard. It's up to the coach at the end to decide how many plays you're going to play."