The Eagles defense gets a lot of credit for coming together and playing with what safety Brian Dawkins called a "collective heartbeat" over the past few weeks, but it has been something more than 12 years in the making.
It started when Jim Johnson, then a linebackers coach with the Indianapolis Colts, met Green Bay quarterbacks coach Andy Reid.
Reid liked Johnson's attacking, blitz-happy style of defense and when the Eagles tabbed Reid to become head coach in 1999, one of his first orders of business was to bring Johnson in to run his defense.
It's been a match made in heaven.
"I'm partial, but I've got the best defensive coordinator in the National Football League," Reid said. "The guys believe in him and the things he does. He's kept it fresh for them. For being almost 100 years old, he's kept it fresh."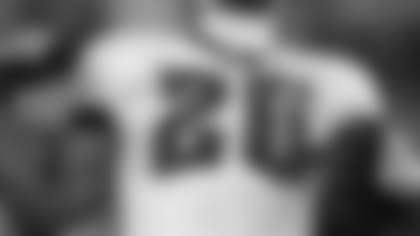 The first piece of the defense was put in place in 1996 when Dawkins was drafted
He's kept it fresh enough to mold the Eagles into one of the elite defenses in the NFL, but part of that success has to go to Reid and his football operations staff which pieced it all together.
Seven of the 11 starters on defense have come to the Eagles via the draft, and considering that linebacker Akeem Jordan and safety Quintin Mikell were signed as rookie free agents, it can be argued that nine of the 11 starters are home-grown commodities.
The Eagles are getting bang for their buck, too: Of those seven starters, only Trent Cole (2005 fifth-round draft choice) was selected after the third round.
Philadelphia's defense boasts two first-round picks (Mike Patterson and Brodrick Bunkley), two second-round picks (Brian Dawkins and Sheldon Brown) and two third-round picks (Chris Gocong and Stewart Bradley).
The Eagles have also been selective on how they spend their free-agent money. Cornerback Asante Samuel was inked to a lucrative deal last offseason.
The talent the Eagles have assembled on the defensive side of the ball is paying huge dividends for the team, especially during their postseason run to its fifth NFC Championship Game in eight years.
That's in spite of the fact that only Dawkins and Samuel were named to the Pro Bowl.
"Every Sunday, it seems like we've got some different guys stepping up," Johnson said. "They kind of spread the wealth a little bit. You're going to have defensive teams like that, that don't have a lot of Pro Bowlers. We've got a lot of good, solid football players and they're playing at a pretty good level right now."
The Eagles have also utilized free agency to add depth as well. Defensive end Juqua Parker was originally signed in 2005 and has since been re-signed. Defensive end Darren Howard, who led the Eagles with 10 sacks this season, and cornerback Joselio Hanson both joined the team via free agency in 2006 and pass-rushing defensive end Chris Clemons was salvaged from the Oakland Raiders this past offseason.
Add in second-round picks Victor Abiamiri (2007) and Trevor Laws (2008), both of which played collegiately at Notre Dame, and it's no wonder the defensive line is as fresh and consistent as it's been this late in the season in years.
"I said a long time ago, 'We just have to get more consistent,'" Johnson said. "That was the difference. I think we're more consistent in the last six or seven weeks. We're not giving up big plays and we're being better in the red zone. I thought, before, we were good one game and we were kind of so-so the next game. At least, the last six or seven weeks, we've been very consistent on takeaways and pressure in the red zone."
There are players on the team that are talented enough to start anywhere else in the NFL but because they're on the Eagles, they're relegated to playing their roles.
Cornerback Lito Sheppard (2002 first-round pick), safety Sean Considine (2005 fourth-round pick) and linebacker Omar Gaither (2006 fifth-round pick) are all players with starting experience that have made big contributions on special teams and have filled in admirably when players ahead of them on the depth chart went down this season.
That's not mentioning the Eagles' 2008 fourth-round draft choice, safety Quintin Demps, who has been solid in spot duty on defense this season. Furthermore, he's been a steady performer on special teams as well. He's handled the kickoff return duties with aplomb all season and he was second behind Considine for most tackles on special teams in 2008.
But the defense's biggest test of the year is coming up on Sunday in Glendale, Ariz.
"They are playing very well," Reid said. "I'm proud of the way they're playing. I will say that this challenge this week between (Arizona's) run and the passing game will be one of their biggest challenges of the year."