When Cornelius Ingram suffered a knee contusion at Wednesday's practice, it had a significant impact on Eugene Bright.
As the only healthy tight end participating in the Rookie and Selected Vet OTAs, Bright took every single rep at practice on Thursday. Out of football in 2008 as he recovered from a sports hernia, Bright took advantage of the added practice time. He said that he committed zero mental errors at Thursday's practice and none again at Friday's workout.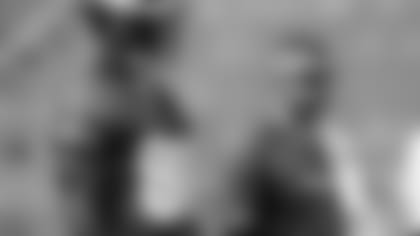 TE Cornelius Ingram with head athletic trainer Rick Burkholder
"It was exhausting but at the same time that's where I learned the most throughout the entire camp," Bright said. "It allowed me to be able to be fatigued and still try to keep myself sound in my technique and understand the plays and the coverages."
A defensive end at Purdue, the 6-4, 268-pound Bright said the biggest adjustment to the tight end position has been running the routes more than catching the ball. Bright said that he's spent additional time with quarterback Adam DiMichele after practice to fine tune the receiving part of the job.
Ingram returned to practice Friday and looked smooth coming in and out of his cuts.
"I'm feeling pretty good. I think at the beginning of practice, it was a little stiff," said Ingram, who didn't have any bandages or braces on the knee. "But once I started to sweat, we got going a lot more (and) it became more comfortable. Once we got going, especially in 7-on-7, I was a lot more active. I knew the ball was coming my way, so regardless of what happened you have to suck it up and make sure you catch the ball."
A fifth-round draft pick this past April, Ingram tore the ACL in his left knee and missed all of Florida's 2008 National Championship season. It was the same knee that he injured Wednesday. Ingram attended practice and went through each rep mentally with tight ends coach Tom Melvin.
"Yesterday (Thursday), felt like a long time sitting out practice," said Ingram, who is 6-4, 245 pounds. "I felt a lot better. The swelling went down a lot. I just wanted to come out and be with the team again."