On any given day, there are 16 players on each NFL roster listed on the practice squad. Only 53 players are eligible to be on a team's active roster. Only 48 can suit up on gameday.
Those rules leave a contingent of players on the sidelines at kickoff, wearing team-issued gear instead of their uniforms. Often unnoticed, these players support their team in ways other than making plays on the field.
Week after week, the group dedicates their minds and bodies to helping their teammates prepare for the game ahead. Head Coach Nick Sirianni has proclaimed on many occasions that this team is a selfless one, propelled by love for each other. The practice squad is a testament to that.
Life on the practice squad isn't glamorous. There are near-constant roster fluctuations and an ever-present reality that you or a teammate could be released at any moment. All the while, players await the moment their number is called, persevering toward a chance to see game time snaps of their own.
At the start of the week, they watch hours of film of upcoming opponents in their position group, with the goal of identifying their strengths, habits, moves, and more. Then, during practice, they emulate those tendencies, giving the active roster the best glimpse at what they can expect on Sunday.
"As a practice squad member, you've just got to understand really what your value is for the team and what your value is to the guy across from you that's going to be getting the look from you all week. That's the look that they're going to transfer over to the game," said offensive lineman Sua Opeta.
"You've got to make sure that you're spot on with what the other team does and give them the right looks so that when they feel it, it's not new to them, you know? They felt that look all week."
Opeta lines up against defensive tackle Javon Hargrave, preparing him for powerful blocks to come. This season, when those blocks expectedly came, Hargrave often broke through with ease, adding sack after sack to his resume. He had 11 during the 2022 regular season. That's how Opeta knows his was a job well done.
"If he's making some plays, I might like to think to myself, 'Oh yeah! I know this is because I gave him a good block on that play.' There's a little bit of pride in that," Opeta said.
"The guys, they appreciate a good look. They appreciate you going hard, showing them what they might see, and just being as close to the other team as possible."
What does this Super Bowl berth mean to the practice squad?
This season's Eagles practice squad features a diverse blend of age, professional experience, and collegiate background – no one is like the other. What they do have in common is the special experience ahead – they're going to Super Bowl LVII.
Now settled in Arizona, the squad is meticulously picking apart Kansas City Chiefs film, preparing to mirror their opponent during practices.
Through all of the uncertainty they were confronted with this season – there's a mutual agreement. Moments like this make it all worth it.
"It's amazing. I feel like for us we do a great job of getting everybody ready. A lot of the stuff that we do is behind the scenes, but it helps everybody else shine on gameday. For us, seeing the plays we go against work in the games, it's like – we did that! So, it's an amazing feeling," said safety Andre Chachere.
Super Bowl LVII is the pinnacle of Chachere's long and arduous journey navigating the NFL. He first signed with the Houston Texans as an undrafted free agent in 2018, but he didn't stay for long. Instead, Chachere endured five years of bouncing between six different organizations throughout the league until landing in Philadelphia in 2021.
"It's kind of a surreal moment. I'm still taking it all in. This is my sixth team in five years – something crazy like that. But it's all worth it. Putting all that work in to get to this moment is definitely worth it," Chachere said.
Chachere has been part of more organizations than years he's been in the league. Though he's been on a slew of teams, he says what makes this Eagles team so special is the people and their steadfast appreciation and care for each other.
"Everybody's so close. I really feel like all these guys are my brothers. I can call them whenever and they got my back. Every day is so fun and I'm laughing all the time with these guys. I don't take any of this for granted – being around this group of guys, it's a special group," Chachere said.
His story is one of persistence and patience; his wife Rachol Chachere-West, whom he met at San Jose State University when the pair were both student-athletes, has supported him through mounting changes and frequent moves. Now, along with the rest of the team, they've made it to the biggest stage in football, where they'll celebrate his success before settling back in their native California for some offseason downtime.
For defensive end Tarron Jackson, playing in the Super Bowl has fulfilled more than a fantasy that he, like most other players, has had since he was a kid. It also fulfills an intimate promise he made to his older brother, Daron, who lost his battle with leukemia in 2008.
Before he passed, Jackson assured him that he would play in the NFL one day. Now, 15 years later, he's not just playing at the professional level. He's guiding Daron and his late uncle Dean Bryant's favorite team, the Philadelphia Eagles, toward a Super Bowl victory.
"It brings me great joy to be able to say I made a promise to him and I stuck with it. I actually made good on my promise. I try to tell people, I try to live my life through him. He was the one that whenever he was suffering and going through whatever he was going through, he was always smiling, always was a bright spirit. This is all his dream too," Jackson said.
"His favorite team was the Eagles. Him and my uncle that passed, they were big Eagles fans. For them to see me right now, on the biggest stage in football, to be playing at this level, I know they're looking down on me smiling."
Though overwhelming at times, Jackson is trying to absorb every moment of the experience – he knows that chances to be a part of an event of this stature are few and far between.
"It's something that you dream of as a kid. To come here now, in year two, it's a blessing. Most people play their whole career and they never get to go."
But still, his mind is churning with plans he hopes to carry out when he returns home. Jackson is the first person from Silver Bluff High School in Aiken, South Carolina to go to a Super Bowl.
His new objective? To make sure he isn't the last.
"I just think it was God's plan for me," Jackson said. "I'm going to take the knowledge and everything that I learned here and try to spread it to the people that I know and the people in my community so other kids can get opportunities like I did."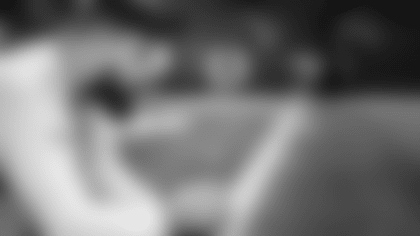 Like Jackson, Opening Night provided an opportunity for reflection for second-year cornerback Mac McCain. His favorite quote is, "Hard work never goes in vain." Fitting for a practice squad player. That rang true for him this year, as his unwavering desire to learn from James Bradberry and Darius Slay helped him defend Jalen Hurts' passes in practice.
"It's hard going against our guys! This is the best team in the world. They are getting better and I'm getting better just going against them," said McCain.
"It's a pleasure to be a part of this team. It's a great organization, great coaches, and I got great players to learn from."
But this Super Bowl isn't just about football.
McCain's grandfather, Franklin McCain, was a part of the "Greensboro Four," a group of North Carolina A&T students who organized a sit-in protest at a Woolworth's counter in Greensboro in February 1960. It was a defining moment in the Civil Rights Movement.
"My grandfather put his life on the line to have equal rights and I just feel like me being here is doing my part. It means a lot just to be here in February, especially coming from an HBCU (North Carolina A&T)," McCain said. "Not a lot of players get to make it here, so I don't want to take this for granted."
At the start of the season, there were only 33 players from HBCUs on NFL rosters, including McCain and Javon Hargrave, who attended South Carolina State.
It hasn't been decided which players – if any – will be elevated to the active roster for Sunday's game against the Chiefs – but that might be the only thing that's remained the same as a typical NFL week. Marvin Wilson knows how it feels to hear your name on the list of players activated to the gameday roster. Paired with his experience playing in front of the raucous Florida State crowd, he's ready for anything this week has in store.
"I got activated to play against the Texans and I was ready. They just threw me out there on a Thursday night, didn't practice at all that week. Just being able to go out in front of big crowds, perform, and help our team win is a big part for us," Wilson said.
Wilson was acquired as a free agent in 2021 after he was waived from Cleveland who signed him as an undrafted rookie. Coming from a big school, he anticipated a call on draft night, but he soon learned an important lesson that has stuck with him ever since.
"I think comparison is the biggest thief of joy. Some people might have things you want, but you don't know what it took for them to get there. Everybody has a story, everybody has a different walk in this industry," Wilson said.
"At the beginning of this year, after the rosters dropped and I was on the practice squad again – I feel like that's the lesson I learned and it helped me grow as a player."
Eagles fans across the world are anxiously awaiting kickoff on Sunday night. After Chris Stapelton concludes the National Anthem and the coin is tossed, all eyes will be on the Eagles and Chiefs on the field. But when that heart-stopping, game-changing play that's certain to captivate sports enthusiasts for weeks or years to come unfolds at State Farm Stadium – don't forget the unsung heroes who helped it come to life.