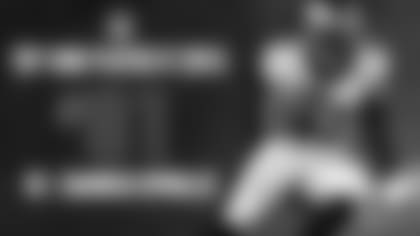 A year ago, the Eagles acquired multi-purpose running back Darren Sproles in a trade with the New Orleans Saints. The Eagles understood how tough it was to game plan for him in the NFC Wild Card matchup two seasons ago. They saw Sproles nearly end their season single-handedly with a 39-yard kickoff return late in the fourth quarter of that playoff game.
Sproles may only be 5-6, 190 pounds, but he provided plenty of big moments for the Eagles in 2014 resulting in his first Pro Bowl selection in 10 NFL seasons. On Wednesday, Sproles was named the 81st best player in the NFL by his peers on the NFL Network Top 100 Players of 2015.
"I remember when we played them, I came downhill on him and he just juked me and just took off," said Colts safety Mike Adams. "I think he scored on that play and it was a big third down. He plays big … he's a phenomenal player."
In his Eagles debut, Sproles took a handoff on a fourth-and-1 play and scored from 49 yards out to spark a comeback win over Jacksonville. One week later, in Indianapolis, Sproles earned NFC Offensive Player of the Week honors setting career highs in receiving yards (152) and yards from scrimmage (178) in the victory. Sproles scored on a spectacular 19-yard run, the one Adams was referring to, and had two receptions of 50 or more yards.
Sproles was named the NFC Special Teams Player of the Week twice after he returned a punt for a touchdown against San Francisco in Week 4 and again in Week 9 versus Carolina.
"I've always learned that the great returners see past the first wave; see past the first wave of guys and his ability to hit it with speed, he doesn't hesitate at all," said Dolphins wide receiver Jarvis Landry. "It's kind of hard when guys are 6-5 trying to reach for a 5-6 guy. I think that's one of the things that definitely made him a premier returner in this league."
"Anytime you give him the ball in space, he's going to be electric," said Giants punter Steve Weatherford. "You try to hit him in the ankles because his quads are about 30 inches around. He's incredibly tough to tackle. He's been doing it for a long time. Good person and I enjoy playing against him. It's a challenge."
At the end of the year, Sproles had 329 yards rushing on just 57 carries (a 5.8 yards per carry average). He had 40 catches for an additional 387 yards. He led the league in punt return average (13.0 yards per return) and was tied for the league lead with his two punt return touchdowns. His 506 punt return yards were the second-highest total in franchise history.
Sproles was the first Eagle and first running back to be revealed on the Top 100 list.
In his first year as an Eagle, sprightly running back Darren Sproles revolutionized the Eagles' punt return game and provided a big spark each week on offense ...