On to the next opponent, and for the Eagles' defense, it becomes a whole different kind of challenge. After dominating early in Sunday's win at New England and then closing late to preserve the 25-20 victory over the Patriots, the Eagles have a quick turnaround to play against an explosive Minnesota Vikings offense on Thursday night at Lincoln Financial Field.
"They're good. Weapons all over the field. Great corps of receivers," said cornerback Darius "Big Play" Slay, who intercepted quarterback Mac Jones on the game's first drive on Sunday and returned the football 70 yards for a score. "It's great that we started with a 'W' and that we started fast and got the job done. That's all that matters.
"But I'm standing here (in the visiting locker room at Gillette Stadium) and I know we're about to start preparing for Minnesota. We have to rest up, get our bodies ready, watch what they did (against Tampa Bay) and turn things around fast."
The Eagles also have some injuries to deal with, notably cornerback James Bradberry (concussion protocol) and linebacker Nakobe Dean (foot injury). Depth will be tested right off the bat in this 2023 regular season.
"It's always going to be next man up and everybody in this locker room has to be ready when his number is called," Slay said. "That's the nature of the NFL."
Minnesota struggled in a 20-17 loss Sunday to Tampa Bay, but the passing game was off and flying. Quarterback Kirk Cousins completed 33 of 44 passes for 344 yards with two touchdowns and an interception. Wide receiver Justin Jefferson had 9 receptions – 7 of them in the first half – for 150 yards. Rookie receiver Jordan Addison served notice with 4 receptions for 61 yards, including a 39-yard scoring grab. Tight end T.J. Hockenson had 8 catches for 35 yards in a move-the-chains performance.
It was a pass-heavy offense and one that put up only 17 points, hurt by three giveaways and just one touchdown in three red-zone opportunities, but the threat is very, very real.
"We know they can be scary," defensive end Brandon Graham said. "We have a lot to clean up."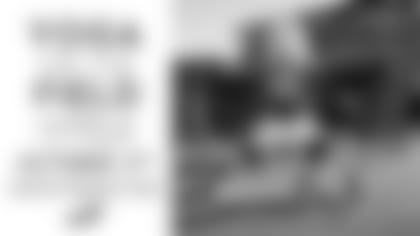 Yoga on the Field
Join the Eagles for an evening of Yoga on the field, under the lights at Lincoln Financial Field. This class will be led by experienced instructors, and all skill levels are welcome. Complimentary parking will be provided for all Yoga on the Field ticket holders. Don't miss this unique yoga experience with an Eagles twist.
It will help if the Eagles get the kind of play up front on Thursday that they had on Sunday, with rookie defensive tackle Jalen Carter posting, per Pro Football Focus, a league-high eight quarterback pressures, a quarterback sack, and a tackle for loss among his 40 snaps in his debut. Tackle Milton Williams was a force inside down the stretch, veteran tackle Fletcher Cox made some drive-stopping plays, and end Josh Sweat shared a quarterback sack with Jordan Davis at just the right time in the fourth quarter.
The Eagles shut down Minnesota last season in a Week 2 24-7 victory at Lincoln Financial Field and hope for that kind of performance again in just a few handfuls of hours from now.
"Not much time to get ready, but it's the same for them," Graham said. "We gotta get ready and bring the energy. We will do everything we can to recover the right way."
In that 2022 win, Philadelphia's defense had one of its best performances of the season, limiting the Vikings to 62 rushing yards, intercepting three Cousins passes, and slowing Jefferson to 4 receptions and 48 yards. It helped that the offense was in sync early, helping the Eagles lead 24-7 at the half and coasting, if you will, in the final two quarters.
This one won't be easy. Not by a long shot. The defense led the way in Week 1 and will have to find a way to do it again on Thursday night against a Minnesota team searching for its first win of the season and smarting from the game one year ago.
"We love the challenge," Slay said. "Everything about it – short week, good team coming in. We need to be at our best and that's what makes it so fun. You have to love the challenge. This team does. We'll be ready to play ball."