The Eagles are having their defensive depth tested early in the season as they prepare for Minnesota on Thursday night at Lincoln Financial Field. Head Coach Nick Sirianni announced on Monday afternoon that linebacker Nakobe Dean would be out "a couple weeks" with a foot injury and that cornerback James Bradberry is in concussion protocol, casting his availability for the Week 2 prime-time game in doubt.
Dean, in his second season and first NFL start, recorded seven total tackles in 49 defensive snaps before suffering the injury in the second half of Sunday's 25-20 win over the Patriots. He was replaced in the lineup by Christian Elliss, who played 34 snaps and was in on four total tackles. Sirianni said he felt good about the "options" the team has to replace Dean, a third-round draft pick in 2022. Those options include Elliss and Patrick Johnson from the team's 53-man roster, and veteran Nicholas Morrow, who is on the Eagles' practice squad.
"We are really confident in him. That's why he's on our 69-man roster," Sirianni said of Morrow, signed as an unrestricted free agent after playing 100 percent of the defensive snaps for the Bears last season. "We believe in him. We believe in the things that he can do. We believe in his style of play, his physicality, being able to line up the defense. A lot of confidence in Nick, and if he has to go, in that role, I'm excited to watch him roll for his opportunity."
As for Bradberry, a second-team All-Pro player last season, the team can't comment on his status as he works his way through the stages of the protocol. When Bradberry left the game on Sunday, he was replaced by second-year man Josh Jobe, a player Sirianni said he had a lot of confidence in and labeled a "physical" cornerback who excels in winning against wide receivers when he gets his hands on them.
"We have a lot of confidence in Josh; that's why he's made our roster the last two years," said Sirianni, who credited his defensive coaches with developing Jobe, an undrafted free agent signed following the 2022 NFL Draft. "I think he's a really physical corner who is long, strong, is able, when he gets his hands on you, is able to control you. We've got a lot of faith in Josh. Regardless of who's in there, we know we can play the schemes we want to play because Josh is our third corner. Your third corner has to play. There are times when he is going to have to play some."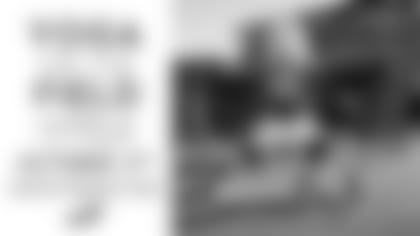 Yoga on the Field
Join the Eagles for an evening of Yoga on the field, under the lights at Lincoln Financial Field. This class will be led by experienced instructors, and all skill levels are welcome. Complimentary parking will be provided for all Yoga on the Field ticket holders. Don't miss this unique yoga experience with an Eagles twist.