You've read all about it. You've seen the tweets. Heck, if you live close enough in South Philadelphia, you might have even heard it with your own ears. We're talking, of course, about the blaring music at Eagles practice under head coach Chip Kelly.
Throughout practice, save for the occasional "teach" session, the players and coaches conduct business with loud music in the background. Kelly's use of music during practice dates back to his time in New Hampshire and he says, "There's a lot of science behind it."
For their part, the players welcome the intentional distraction.
"I like it," said quarterback Nick Foles. "I like the music. There's always a purpose and it really helps with communication. You really have to stress communication because it is loud and with cadence and everything, you have to be loud and make sure everybody's on the same page. I think they do a good job with it. It's quite a selection so I'm sure it's good for you all (the media) to listen to during practice as well."
"It's fun," said quarterback Mike Vick. "It's different. It gets you going. The thing is it's challenging because you have to stay involved mentally. I think it's going to help us when we're going on the road."
So what kind of music emanated from the speakers during Monday's open OTA? Luckily, with a hat tip to Shazam, PhiladelphiaEagles.com kept close tabs on the full, eclectic playlist. If you're looking for tendencies under coach Kelly, the playlist suggests that there really isn't much predictability. Except, maybe, some Nicki Minaj (including, gasp, one repeat).
1. Unstoppable - TobyMac featuring Blanca from Group 1 Crew
2. On Fire - Young Dro
3. Ready 2 Go - Martin Solveig featuring Kele
4. Thunderstruck - AC/DC
5. Panama - Van Halen
6. Joker & The Thief - Wolfmother
7. Crazy Train - Ozzy Osbourne
8. Hungry Like The Wolf - Duran Duran
9. New Day (Clean) - 50 Cent featuring Dr. Dre & Alicia Keys
10. No Way Back - Foo Fighters
11. Stronger - Kanye West
12. Black Betty - Ram Jam
13. Rock You Like A Hurricane - Scorpions
14. California Love - Tupac & Dr. Dre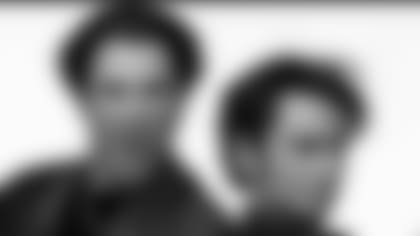 15. I Found You (Bob Sinclar Remix) - The Wanted
16. Fuego - Lecrae featuring KB & Suzy Rock
17. Chasing The Sun - The Wanted
18. Pound The Alarm - Nicki Minaj
19. Get It Started - Pitbull featuring Shakira
20. Goin' In - J-Lo featuring Flo Rida
21. Hero - Nas featuring Keri Hilson
22. Good Feeling - Flo Rida
23. I'm Shipping Up To Boston - Dropkick Murphy's
24. Turn Me On - David Guetta featuring Nicki Minaj
25. Starships - Nicki Minaj
26. What Is Love - Haddaway
27. Turn Me On - David Guetta featuring Nicki Minaj
28. Chasing Summers - Tiësto
29. We Will Rock You - Queen
30. Foreign Exchange Student - XV featuring Miami Horror
31. Party Rock Anthem - LMFAO
32. I Love It (Club Edit) - Icona Pop featuring Charli XCX
33. Don't You Worry Child - Swedish House Mafia & John Martin