Lito Sheppard spoke with the media Friday, the first time he has done so since hiring agent Drew Rosenhaus last week. It seems his demands of a bigger contract and guaranteed playing time haven't dwindled, but he reported to training camp on time on Thursday in an attempt to keep things moving.
The two-time Pro Bowl selection said he's in camp to prove that he's still capable of playing the game at the highest possible level and that he's healthy, despite missing 14 games over the past three seasons.
"My job is to come here and perform and play, and I'll let my agent and the Eagles take care of everything else," Sheppard said, "and hopefully they come up with something pretty soon."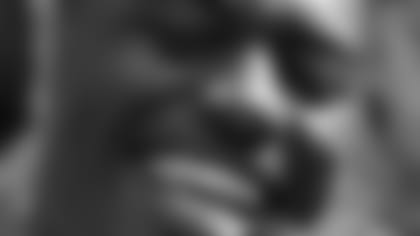 CB Lito Sheppard
Sheppard admitted that the situation, which he called "unresolved," has added a new level of stress to this particular camp. One that he's never felt before. With the Eagles' addition of Asante Samuel in the offseason to play left cornerback – Sheppard's position – speculation arose that Sheppard might be pushed out of the starting lineup.
But whatever their plan to use Sheppard is, the Eagles haven't let in on it just yet. As of now, neither head coach Andy Reid nor defensive coordinator Jim Johnson have said which player they plan to start with Samuel. In Friday's practice, Samuel and Sheldon Brown took the initial reps in defensive sets, but Sheppard rotated in often, and at both positions. He played alongside both Samuel and Brown, and all his reps came with the first team.
Still, the Eagles worked strictly on base packages, not yet showing their potential alignment in nickel or dime packages. Even without Samuel, the Eagles started five games with three cornerbacks in 2007.
In fact, Sheppard said a potential three-corner set could work – so long as he isn't the third corner.
"It's not an issue of 'Can we play together or not?' That's not the issue," he said. "I think people need to stop feeding into that. I have nothing against any of my teammates."
Sheppard said a trade wasn't something he requested, but would accept whatever it took "to make the situation right." He never explicitly defined what the "situation" he often referenced was, but his hiring of Rosenhaus and Rosenhaus' subsequent meeting with the Eagles' front office last week suggests money talks.
However, that may not be all of it. Sheppard made it evident that he wouldn't be pleased with a reserve role.
"Of course not," he said. "I mean, I feel like I'm a Pro Bowl-caliber player, so why wouldn't I be starting?"
Reid said he hasn't yet talked to Sheppard, but that he will in the coming few days. In the meantime, the team is trying to establish chemistry with its talented trio in the secondary.
"It's an important thing to have everyone here. I've been in this game long enough," free safety Brian Dawkins said. "I've seen a lot of situations and you play with the guys you have. When the other guys when they take care of their business, they come on in and we continue to ball."
And as for now, Sheppard is here.
"I'm going to do my part by showing up and performing," Sheppard said. "And we're going to see how that goes from there."