When Tom Hunkele was hired by the Philadelphia Eagles to be the team's head athletic trainer in February 2020, one of his first phone calls was to Shaniece Jackson, who worked with Hunkele at the Minnesota Vikings as a Training Camp intern in 2017. His message to her was to be ready for a potential opening.
"She was excellent in her ability to adapt to the way that we had run the program out of Minnesota," Hunkele says. "She did excellent in the way of fitting into our processes and kind of making them her own. I could trust her to anticipate doing things that needed to be done on that basic level. That's really what you look for.
"I always knew she had the right demeanor. I knew she had the right abilities. She had the right base education. She had all of that. Now, it was time to get the experience. You can't replace experience. Experience is key for all of us."
Jackson was the head athletic trainer at Doral Academy Preparatory School in Florida, not too far from Florida International University where she earned her master's degree and a doctorate in athletic training. At Doral, Jackson oversaw the care of nearly 50 sports teams ranging from middle school through high school and close to 1,000 student-athletes. Jackson also started a Sports Medicine Club at Doral to help champion students who are interested in becoming the next generation of athletic trainers. She also served as a preceptor for students from FIU earning their master's, supervising them in their clinical rotations. Jackson continued to volunteer for the FIU football and men's and women's basketball teams to gain that experience while waiting for that very call from Hunkele.
The job offered by Hunkele was a season-long internship – the next step on the road to earning a full-time spot. Jackson wasn't going to waste the opportunity.
"She was someone that I thought was going to be very successful in the NFL. She was my first choice," Hunkele says. "I think it was her ability to fit in the room and improve the room. It's not truly one thing, but it's just an overall blend of the personality – the determination, the passion for the field, and the skill set.
"She's a person who didn't need to be told twice. Once she knew the task, she was able to not only perform the task, but then she was able to anticipate the bumps in the road that happened with external stuff that you just can't control. There's no way to come into the NFL as a trainer and understand the dynamic of everything that needs to be done from top to bottom for the organization, for the league, for the players, medically, the way that everything has to be communicated and put together. You do that one step at a time. She's done an excellent job with that. It's very important that the staff flows with each other because of everything that we do and the amount of time that we spend together. It has to become a close-knit family that you're able to work with each other."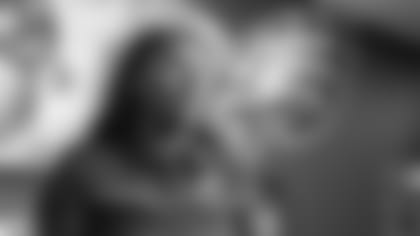 As Hunkele expected, Jackson aced the season-long internship, which included the added difficulties of navigating COVID. On February 1, 2021, Jackson became the first Black female athletic trainer to be hired in team history.
"It's extremely rewarding and I just want women, especially women of color, to see that this is possible," Jackson says. "You can do it even if the path is untraditional. Just do the work. Stay dedicated. Stay in touch with all those people that you need to stay in touch with and just do what you need to do to get what you want.
"It's something that I always wanted, especially being so committed and so dedicated to this profession. I think it's definitely the right fit. We have such a great staff and each and every day I learn something from them. It's been a dream come true."
"She's fantastic at her job. And she earned it," Hunkele says. "It's a credit to her to fulfill that role (of being the first Black female athletic trainer). Sitting back and someone saying it, that's a really inspiring thing to think about. But 100 percent I give the credit to her because she's the one who made herself stand out. I want to give ourselves, the athletes, the team, everybody the greatest chance to have success. The sum of the parts is what's going to give us the greatest chance. To me, she earned it with her dedication and passion and what she showed."
Jackson was a basketball star at Emmaus High School before continuing her success on the hardwood at Shippensburg University. She was always curious about the medical profession and found her love of athletic training when she started working with the football team in her sophomore year.
"It's just the atmosphere, the camaraderie that comes with it. There's just a certain type of energy that comes with football and it's always exciting. You never know what's going to happen," Jackson says.
She was hungry to learn anything and everything about the profession to become a well-faceted athletic trainer. She even minored in psychology at Shippensburg to help understand how to work with different types of personalities. Following her undergrad, she went to FIU to learn how to start and conduct her own research as well as various tenets of the industry ranging from entrepreneurship to finances to leadership. Her manifold of credentials ranges from being a certified athletic trainer to a performance enhancement specialist and features a special certification to work closely with and perform tasks under the supervision of an orthopedist. She can speak the same language as doctors, strength coaches, trainers, and – with her basketball background – athletes.
Fans will see athletic trainers on the field on gamedays carrying water bottles, but they are involved with the players from the time they join the team in helping with injury prevention to managing the rehab process to help them get back on the field. It's fitting that the theme for Women's History Month is "Providing Healing, Promoting Hope." That's precisely what Jackson and the Eagles' Sports Medicine and Performance Team provide.
"That is everything an athletic trainer should be from taking care of them the moment they step in the room and being passionate about providing the best care possible to the athletes," she says. "I always knew I wanted to work with athletes and work with patients in some capacity and get them back to where they used to be, so I think athletic training was the perfect transition for me being a student-athlete. It's so rewarding to see when the athletes have worked so hard to get back out on the field."