BETHLEHEM, Pa. - As training camp comes to a close, one of the standout players has been rookie linebacker Moise Fokou. The seventh-round pick came into camp part of a loaded linebacker corps and has ascended to the second-team strongside linebacker on the official depth chart.
"He's got a skill set of strength and quickness and then he's got a very serious approach to the game," said defensive coordinator Sean McDermott. "That's big for a rookie, to come in and have that background and really not have to learn that part of it. It's a step in the right direction."
Indeed, Fokou credits his work off the field as much as his work on the field for his rise up the linebacker ladder.
"I've been staying in my playbook," Fokou said, "And once you get that part down, I think it allows your natural athleticism to come out because you're not thinking so much on the field, you're just reacting."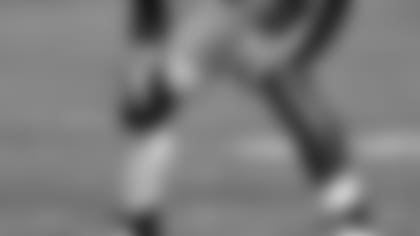 LB Moise Fokou
Fokou has taken a long road to get to this point, including a lot of stops along the way that are not exactly NFL hot beds. He emigrated with his family from Cameroon at the age of 5. Growing up, he was much more of a soccer player than a football player until he fell in love with the game because it gave him a more physical outlet. After high school, Fokou played football at Frostburg State in Maryland before transferring to Maryland.
He began his career at Maryland as a walk-on on the scout team, and immediately made an impression on head coach Ralph Friedgen. After sitting out a year for transfer reasons, Fokou rose up the depth chart to become a star his last two seasons, including a senior campaign in which he was the only ACC player with at least 75 tackles (77) and five sacks (5.0).
"I think I'm a good cover guy," Fokou said when asked to describe his game. "I think I'm a good speed pass rusher. I'm a decent guy in the run. I have a couple good qualities that I can bring to the defense and as long as I know my assignment and don't do a lot of thinking out there and just react, I think I can make a lot of plays this year."
Although he has been very impressive as a first-year linebacker in camp so far, Fokou's presence on the roster may depend on his ability to contribute in special teams. And that's something he has a lot of experience with, having led Maryland's special teams in tackles in both 2007 and 2008.
"I think that's something they thought I could definitely bring to the team," said Fokou, who has seen the field in some form for all special teams units during camp. "It's been a good camp and I'm glad for the opportunity that I have. I'm trying to take the opportunity and roll with it."
He has definitely rolled some heads during camp with a few big hits in pass coverage.
"The Eagles defense, as people know, is a fast-paced, nasty defense," Fokou said. "With the more reps I've been getting, I've been getting a lot more comfortable with the defense and starting to make a lot more plays and open a lot of people's eyes up."
But as much fun as Fokou has had at camp, he's even more excited to get to the real football in the preseason opener against the Patriots.
"I'm looking forward to that first kickoff on Thursday," Fokou said. "It's always a lot of fun when you get your first hit; it kind of calms your nerves and everything. From then on, you just go out and play football."