Safety Sean Jones is "turning a new leaf" in his NFL career. And that change began Friday as Jones inked a one-year deal with the Eagles.
"It feels great. Philly has great tradition here," Jones said at his introductory press conference. "The fans demand the team to win and I'm very excited to be here and be a part of this organization. I want to thank (head coach Andy) Reid for giving me the opportunity to come and showcase my talent."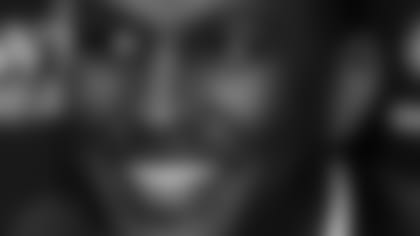 S Sean Jones
A second-round draft choice of Cleveland in 2004, the 6-1, 225-pound Jones has played in 60 games (44 starts) during his five-year career with the Browns, recording 300 tackles and three forced fumbles. The 27-year-old Jones ranks third among NFL safeties behind Ed Reed and O.J. Atogwe with 14 interceptions since 2006. He is also one of just four players in the NFL to have at least four interceptions in each of the last three seasons. The others are new teammate Asante Samuel, the Packers' Charles Woodson and Reed.
"I think I have a natural knack for the ball," Jones said. "Playing quarterback when I was younger, I kind of recognize stuff before it happens, so that really helps me out a lot."
In 2008, Jones appeared in 12 games and recorded 83 tackles and four interceptions, including one at Philadelphia on Dec. 15th. He underwent knee surgery following the first game of the season vs. Dallas, and was sidelined for the next four contests. Jones missed his rookie campaign after suffering a knee injury in a May minicamp, but rebounded in 2005 to appear in all 16 games and led the team with 20 special teams tackles. The following year, Jones was named the Browns' starting strong safety and went on to post consecutive seasons with 100-plus tackles and five interceptions from 2006-07. Jones also earned a spot on Sports Illustrated's Dr. Z's All-Pro team following the 2006 season.
"My knee is 100 percent right now," Jones said. "At the beginning of the (2008) season, I kind of banged it up and I had to have it scoped early in the season last year. It was kind of swelling throughout the whole year. I think the last two or three games, it started to become like how it was in the 2006 and 2007 campaigns. My knee is great right now, I just can't wait to come out here and be an Eagle."
A former standout at the University of Georgia, Jones earned first-team All-America honors as a senior in 2003, after serving as the team's defensive captain. A two-time All-SEC selection, Jones finished his collegiate career with 250 tackles, seven interceptions and a school-record four blocked kicks.
The Atlanta, Ga., native attended Westlake High School. As a senior quarterback in 1999, Jones threw for 2,490 yards and 31 touchdowns, while rushing for 806 yards and 11 scores. He also notched 13 interceptions as a defensive back, en route to all-state and All-USA Today honorable mention honors.
Sean Jones' Career Statistics
Year
Team
GP/GS
Tot
Solo
Ast
Sacks
Yds
INT
Yds
Lg
TD
KD
FF
FR
Yds
2004
Cle.
0/0
0
0
0
0.0
0.0
0
0
0
0
0
0
0
0
2005
Cle.
16/0
4
2
2
0.0
0.0
0
0
0
0
0
0
0
0
2006
Cle.
16/16
108
57
51
0.5
5.0
5
46
19
0
7
0
1
0
2007
Cle.
16/16
105
49
56
0.5
4.0
5
37
26
0
3
2
0
0
2008
Cle.
12/12
83
39
44
0.0
0.0
4
27
20
0
2
1
0
0
Totals
60/44
300
147
153
1.0
9.0
14
110
26
0
12
3
1
0