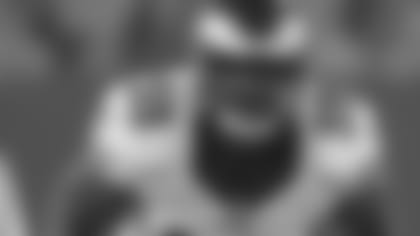 Linebacker DeMeco Ryans is "ready to roll" after returning this preseason from an Achilles injury that sidelined him for the second half of the 2014 season. Ryans is eager to get the season started Monday night in Atlanta, but he is also excited to see the Eagles debut of quarterback Sam Bradford.
"Sam is the man," Ryans said Tuesday on SportsRadio 94 WIP. "I haven't seen a quarterback that can spin the ball like Sam does. Watching him in practice, he makes every throw and he makes it effortlessly. I get excited when I'm just over there watching him just compete in practice."
As we've seen in the past and specifically in the third preseason game against the Green Bay Packers, when he went 10-of-10 for 121 yards and three touchdowns, Bradford is healthy and has the potential to make a lot of big plays for the Eagles.
Ryans is aware of the importance of protecting his quarterback and knows that if he and his teammates do their job, Bradford can take over on the field.
"He's an outstanding quarterback and we just have to protect him and keep him healthy. But, I think he can really shred some defenses," Ryans said. "You can see why he was the number one pick overall in the draft because of the talent he showed me throughout the offseason and throughout Training Camp. Sam is the real deal. I'm excited that he's on our team. I'm excited that we were able to make a deal for him."