In an otherwise frustrating and disappointing 17-3 loss to the Dallas Cowboys, the performance of the defense was a bright spot for the Eagles that should provide encouragement moving forward.
The signs of improvement had been evident for the past two games, and on Sunday the unit took another step in the right direction as it limited an explosive Cowboys offense to just 17 points. Even so, the Cowboys were able to make some critical plays when they needed them, especially on third down, and the Eagles defense was far from pleased with the final result.
"It's tough to be pleased in a loss," defensive coordinator Bill Davis said. "I don't think anybody in this locker room is pleased. I think we held a very powerful offense. We did well against some of their better weapons at times, and at times they made plays. They made more plays than we did today and we didn't get the win. I'm not pleased, but I do think we're taking steps forward."
While it is difficult to look at the positives in the wake of a tough loss, 17 points is the lowest total the defense has given up thus far, and it forced Tony Romo into throwing more interceptions (two) than touchdowns (one) for this first time this season. Inside linebacker DeMeco Ryans made one of those interceptions – a tremendous catch in coverage in the middle of the field – and was the Eagles' best player on defense. He flew around the field, registering a sack and leading the team with eight total tackles (six solo). Ryans also added a tackle for loss, a quarterback hurry and a pass defended.
"DeMeco's outstanding," Davis said. "He's the quarterback of our defense. He lines them all up, keeps them steady when things go bad. Seeing him make that interception, it was a great catch. I'm happy for DeMeco. He's having a good season. It's always good to have leadership like that. You wish to come away with a win, but the defense is slowly taking steps forward."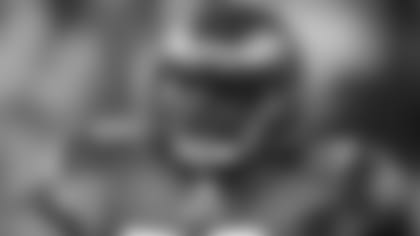 "Relentless effort," Mychal Kendricks said of his fellow inside linebacker. "Scheme-wise, he knows what's going on, so he's quick on his decisions. Big-time plays in big-time moments. He did his thing today."
Ryans was less interested in praising himself, and, like the leader he is, instead wanted to focus on the defense as a whole.
"We see how good we're getting (on defense)," Ryans said. "We still have some things to get better at. Our goal is to continue to get better each and every week. Even though this was a solid outing this week, we still have things to improve on."
The defense was particularly on top of its game in the first half and consistently stifled the Cowboys offense, limiting it to just three points and 175 yards of total offense. Coverage in the secondary was suffocating, and the pressure up front made Romo uncomfortable in the pocket. Despite registering only two sacks, the Eagles were able to get in his face and hit him, rarely allowed him to find a rhythm and forced a number of off-target throws. For the game, Romo finished with his lowest completion percentage (59.6 percent) of the season.
"I think the guys are tightening down their coverage in the secondary," Davis said. "It's about getting familiar with our technique and the calls, and I think the pass rush is getting there, I really do. I think the stunts and games are getting better. We only had two sacks today, but it felt like we were on (Romo) all day. He was getting rid of the ball, but at least he felt the pressure, and I think that had an impact on the rest of the passing game."
"Guys were getting to the quarterback, flying around, applying pressure all day," said defensive end Vinny Curry, who had a sack. "That's the type of thing you like to see out of the defense."
Unfortunately, the Cowboys came out in the second half and set the tone with their very first drive, marching 66 yards in 10 plays and scoring a touchdown to go ahead 10-0. Ryans made his interception near the end of the third quarter and returned it 36 yards to the Cowboys' 30, which set up the offense for its only points of the game. The defense was unable to get another stop on the very next Cowboys possession and keep the momentum, allowing the offense to drive 72 yards in 10 plays. The drive was capped by a 9-yard touchdown pass from Romo to rookie wide receiver Terrance Williams to put them up 17-3.
Davis and his players were adamant that the Cowboys did not make any adjustments in the second half, just that they made plays while the Eagles did not.
"They didn't do anything different in the second half, they just won some plays," Davis said. "In the NFL, you're going to win some and you're going to lose some. You're not going to keep them down to nothing all the time, and you're not going to make plays all the time."
"They were able to execute in crunch time and we didn't," cornerback Cary Williams said. "It comes down to the little things, making plays when it counts. They were able to do it. We weren't."
Even though the defense gave up two touchdowns in the second half, it put forth a strong effort and played hard, while the first half gave a glimpse of what can happen when the unit is clicking. There is no question this Eagles defense continues to make strides each week. The loss stings, but the improvement is real.