They're impossible to miss on the football field.
Jon Runyan and Tra Thomas are two of the tallest players on the Eagles roster, each of them enjoy a Birds' eye view of the field standing at 6 feet 7 inches tall. Combined, they tip the scales at a robust 665 pounds. They've started a franchise record 134 regular season games together.
Death. Taxes. The sun rises in the East and sets in the West. Thomas starts at left tackle. Runyan suits up at right tackle. There are things in life that are certain. There will be a day that neither of them suit up for the Philadelphia Eagles. Both Thomas and Runyan are scheduled to become unrestricted free agents.
We've seen a glimpse of what could happen if Thomas doesn't play. A very brief peek, in fact. Thomas has only missed eight games due to injuries over his 11-year career - all with the Philadelphia Eagles ever since he was the No. 11 overall selection in the 1998 NFL Draft. In those eight games, we saw Todd Herremans prove that he is a legitimate NFL starter with the four starts he got in Thomas' absence back in 2005. However, in 2007 against the Giants at the Meadowlands, we saw the Eagles surrender 12 sacks to tie the league record. It's not a surprise that the three-time Pro Bowl selection wants to be remembered as one of the "better ones that played our position."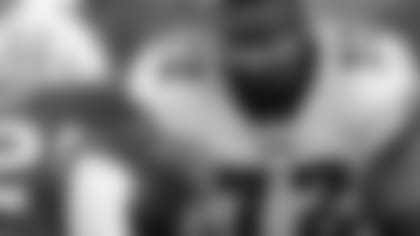 Tra Thomas is the second-longest tenured athlete in the City of Philadelphia
"It's been a long, long haul, but it's gone by quick," Thomas said. "I've had some fun. I've had some great experiences. I've met a long of great people and have had a great time with it. Just on the field, I want to go down as one of the better ones to play the position."
The impact of Runyan's absence is a complete unknown. Runyan has started in 192 consecutive regular season games, a streak that began during his tenure in Houston. Only two active players have started more consecutive games - Jets quarterback Brett Favre and Bucs linebacker Derrick Brooks. He has played in every game since he signed with the Eagles as the first big-ticket free agent of the Andy Reid era in 2000. On the field, Runyan has not only helped the Eagles reach five NFC Championship Games, but he also earned a berth in the Pro Bowl after the 2002 season. Off the field, Runyan has made his home in South Jersey. He and his wife, Loretta, built a 13,000 square-foot dream house. No matter what happens after this season, Runyan's roots are firmly planted in the Philadelphia area.
"I definitely want to stay here," Runyan said. "It's my home. It's where I live. My kids go to school here. I'm not going anywhere. My wife and kids aren't going anywhere if I have to play somewhere else. C'mon, let's make it easy on us."
The fact that Runyan and Thomas have embraced the City of Philadelphia is not lost on the fans. It's rare for an offensive lineman to become a household name. But the workmanlike style that these two professionals bring to the forefront week in and week out, year in and year out, is more than appreciated by the blue-collar fanatics.
"When I first came here as a rookie on the recruiting trip, I knew that this was a city I wanted to play in,"" Thomas said. ""It just so happened to work out that way. It's been a great ride. I'd love to be here. I'd definitely love to be here. That's not up to me. That's up to the guys upstairs."
"I think it's more appreciation of the type of work you do and the fact that you're out there doing it every week and not complaining about anything, just having that mentality," Runyan said. "It's just the appreciation they have for your work ethic."
But both players are on the wrong side of 30 - Runyan is 35 and Thomas is 34. Runyan spent most of the season on the injury report with a knee injury that he admits most other players wouldn't have played through.
So, what if the Eagles re-sign neither of them? Or what if they only bring back one? Herremans has evolved into a very good left guard for the Eagles, but tackle is his natural position. Shawn Andrews played tackle in college, but missed almost all of the 2008 season with a back injury. Winston Justice played right tackle in the 2007 season finale. King Dunlap spent the 2008 season on injured reserve, but is a physical specimen at 6-8, 310 pounds. And of course, the Eagles have the 21st and 28th picks in the upcoming draft.
There are options, but Thomas has protected Donovan McNabb's blindside for his entire career. Runyan has not missed a game in Eagle green. They hope they have made the decision tough for the front office.
"You do what you can, make their job hard," Runyan said. "If their job is easy, that means it's time for you to go."