The Eagles entered Sunday afternoon's contest against the Washington Redskins as the NFL's top-rated defense against the run.
After Redskins' running back Clinton Portis gashed the Eagles for a season-high 145 yards and a touchdown on 29 carries, there's a pretty decent chance the Eagles have been knocked from that perch.
In all, Washington outrushed the Eagles 203-88 and gained 4.6 yards per carry in a 23-17 come-from-behind victory over Philadelphia at Lincoln Financial Field.
"They straight up beat us," defensive end Trent Cole said. "They came into our place and beat us in our home. It was very embarrassing, very embarrassing. They got a lot of rushing yards on us and we're a good defense. We're known, and we want it to stay that way, for having the best run defense in the league. It was just embarrassing, but we're going to rally this thing up."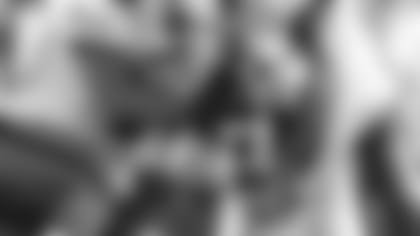 For the most part, Jason Campbell was kept under wraps
Prior to playing Washington, the Eagles' defense had surrendered an average of 53.8 rushing yards per contest and total of 245.5 yards per game. The Redskins racked up 388 total yards on Sunday.
"I don't think it was a good defensive effort, especially in the second half," defensive coordinator Jim Johnson said. "We'll get better. We just can't let people control the ball like that."
Washington won the time of possession battle as the Redskins held the ball 9:30 longer than the Eagles, most of which seemed to come late in the fourth quarter.
After kicker David Akers connected on a 23-yard field goal to pull Philadelphia within six, Washington got the ball back with 7:18 left on the clock. The Eagles didn't get the ball back again.
Philadelphia had a chance to stop the Redskins with just over two minutes left in the game when Washington opted to go for a first down on fourth-and-one. Portis slammed through the line for a first down, however, effectively sealing the win for the Redskins.
"It was an aggressive call on their part," Johnson said. "We had the right defense. We had an eight-man front with two 'backers blitzing. They just kind of bowled us over."
Portis wasn't the only Redskin that bowled the Eagles over. Tight end Chris Cooley led all Washington receivers with eight catches for 109 yards and a touchdown.
"We did a good job at times," Johnson said. "There were a couple times before the half where (Cooley) shouldn't have gotten free, but he did."
The Eagles' defense just couldn't get off the field. The Redskins were an efficient 11-for-19 on third-down conversions, but according to linebacker Omar Gaither, third down wasn't the problem. It was what the Eagles did on the first two downs that cost them the game.
"Everyone looks at third down as we didn't get off the field, but I think we didn't do a good enough job on first down," Gaither said. "The third downs were just too easy for them. Where we lost really was on first down."
After Washington scored on an 18-yard touchdown pass from wide receiver Antwaan Randle El to Cooley to take a 16-14 third-quarter advantage, the Eagles had chances to regain the lead.
But five of the last six Eagles' drives ended with a Sav Rocca punt.
"When it came down to it, as bad as we played, as many penalties that we had, we still had a chance to win the game," linebacker Omar Gaither said. "As a defense, we didn't get off the field enough - too many long, steady drives. It hurts. It really does."
Now the Eagles are 2-3 overall and 0-2 in the division with losses to both Dallas and Washington already working against them.
"We're going to rally this thing up," Cole said. "This thing isn't over yet, we have a long season to go and we're going to rally this thing back up. We're forced to come out here and be on a mission. Coming off two losses is tough. We have to do something. We're going to make a big change and get after it."