General manager Howie Roseman is comfortable with the Eagles' internal options for replacing the production of wide receiver Jeremy Maclin. Those options, though, reach beyond the wide receivers.
"We have a lot of faith in our skill position group as a whole and that's kind of how we look at it," said Roseman, a day after Maclin tore his right ACL during practice. "We're not only looking at just the wide receiver group, we look at the running backs, we look at the tight ends and those are the guys that we have high hopes and expectations for. That's what (Training Camp) is for, the competition, and that's why we brought in people to compete."
Roseman mentioned the offseason additions of James Casey and Zach Ertz as potential safe guards for the loss of a player like Maclin. On the outside, Russell Shepard and Ifeanyi Momah are other new additions while holdovers DeSean Jackson, Jason Avant, Riley Cooper and Damaris Johnson remain. The stable of running backs, meanwhile, remains as impressive as any in the league.
"We always talk about the ump from the first to second year, so you have Bryce (Brown) and Chris (Polk), and then bringing in Felix (Jones) at that spot," Roseman said, without having to name-drop LeSean McCoy.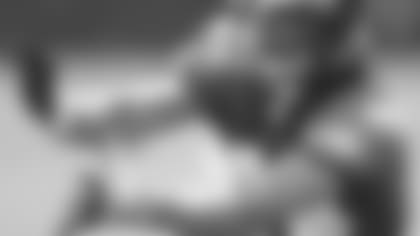 Cooper would seem to be the wide receiver most ready-made to fill in for Maclin in the immediate future.
"I don't think it matters right now who's one, who's two (on the depth chart)," said Roseman. "It's about evaluating all those guys and when you talk about Riley, you talk a lot about traits and we discussed traits, he's big, he's strong, he can go up and get the football, he can block and for a big guy he can drop his weight and run routes. He had the lockout in 2011 and then he broke his collarbone last year so he hasn't had a chance to really have a Training Camp and an offseason where he can fully develop and put that to use. So we're excited about his potential and it's up to him."
Former second-round pick Arrelious Benn was also acquired in the offseason, though he suffered a hyperxtended knee on the first day of practice.
"I think coach said it best, durability is the most important ability, so he knows he has to get it back out here and show what he's capable of," Roseman said. "He's a talented guy but part of it is being out here and being reliable."
Roseman, Kelly and the rest of the front office now wait to find out which players will emerge over the next few weeks. And again, that search won't be limited to just the wide receivers.
"When you met with Chip originally, he's much more personnel-driven than even I thought just from observing him at Oregon," said Roseman. "It's going to be based on the guys who are producing at a high level and if that's the tight end position, they'll get more reps, if it's the receiver position, if it's the running back group. I think that's yet to be determined since we're so early in camp. We're excited to be in pads here today and start the evaluation process in full.
"It's also about making sure the last few spots on your roster are the best players and that you're not just taking guys because they fill a spot, but they're developmental and have a chance to be here in the future. As we go forward here obviously those discussions will be more intense, but when we interviewed (Kelly), specifically he and I spent a lot of time on that."
As for Maclin, Roseman said he has full confidence that the future remains bright.
"Jeremy's a heck of a player, great character, hard worker, he had a great offseason and it's disappointing for him and it's disappointing for us," said Roseman. "He's 25 years old, he'll come back from this. He's overcome a lot of adversity in his life, he's got tremendous character. We're hurting for him but at the same time, we have to keep going and find guys."
The team does not have to make a decision whether to place Maclin on injured reserve until the first roster cutdown to 75 players.