Riley Cooper is confident in his game, but he knows he's not Jeremy Maclin. The fourth-year wide receiver will be one of the many Eagles who will be called upon to step up in the absence of Maclin, who suffered a torn ACL during Saturday's practice.
"I have to play Riley Cooper's game. I'm not Jeremy Maclin by any means," Cooper said after Sunday's practice. "We have different styles of play. Am I confident in my game? Absolutely."
Cooper showed flashes of what he can do at the end of last season. He missed the first six games of the year after fracturing his collarbone early in Training Camp. Cooper rebounded to start in each of the last five games and finished the year with 23 catches for 248 yards and three touchdowns, all career highs. Two of those touchdown receptions - both against Dallas - were ridiculous, highlight-reel catches.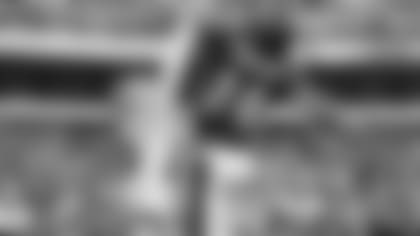 He used his 6-foot-3, 222-pound frame to shield Cowboys cornerback Morris Claiborne and plucked the ball out of the air with his left hand for a 15-yard touchdown reception in Week 10. Three weeks later, Cooper made another one-handed catch in the end zone despite being blanketed by cornerback Brandon Carr. Cooper was targeted in the red zone four times last season and came away with his three touchdowns.
As flashy as those receptions were, Cooper looks at the big picture when analyzing his performance.
"I never just look at one play. I look at the whole course of the game," Cooper said. "Are you playing as hard as you can? Are you making the catches when opportunities come? Are you doing all that you can? That's what I try to do."
General manager Howie Roseman is looking to replace Maclin's production primarily from within and Cooper is one of the players he's looking to see step up.
"He's big. He's strong. He can go up and get the football. He can block and for a big guy he can drop his weight and run routes," Roseman said. "He had the lockout in 2011 and then he broke his collarbone last year, so he hasn't had a chance to really have a Training Camp and an offseason where he can fully develop and put that to use. So we're excited about his potential and it's up to him."
Further helping Cooper's cause, head coach Chip Kelly's offense will take advantage of the receiver's size, physical style of play and eagerness to block.
"It's a totally different style of play. You saw the tempo. You saw our routes. Our routes are different than a typical West Coast system. Everything's just different," Cooper said. "If they need someone that's big, tough, strong and plays as hard as he can, this is the offense for me."
Cooper finished the 2012 season strong. Now, he's doing everything in his power to carry that momentum into 2013.