FOXBOROUGH, MA -- Much like his eventual touchdown celebration, Quintin Demps' kickoff return was practically a layup.
With the exception of trucking Patriots' kicker Stephen Gostkowski ("He's got to get in the weight room a little bit," Demps joked), Demps went largely untouched late in the second quarter, en route to a 101-yard touchdown - just his second kickoff return since ascending to the starter at the position earlier this week.
After outrunning newest Patriot John Lynch to cross the goal line, Demps made his way over to the goal post, jumped, and rolled the football off of his fingers.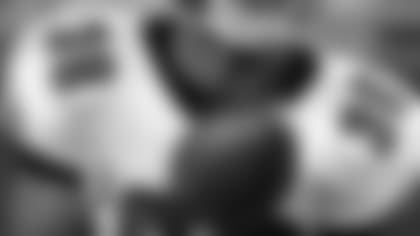 Quintin Demps scored on a 101-yard kickoff return in the second quarter
Smooth.
"I trusted my blocking, and just hit the hole," Demps said. "I saw it forming, running behind (center) Nick Cole in that wedge. I saw something going, so I just put my head down and went harder."
Despite being preseason, Demps' return might have sent Eagles fans through the roof. Though it won't officially count in the record books, it was technically the Eagles' first kickoff return for a touchdown since Brian Mitchell took one back on Nov. 4, 2001.
And however frenzied fans might have been then, picture the reaction when DeSean Jackson followed Demps' efforts with a 76-yard punt return score to close the first half after a New England three-and-out. A booming punt from Chris Hanson (a little past the coverage, Jackson said) gave him all the time and space to weave through defenders.
The returns were a perfect example of the contrast between the two arts – a north-south explosion for Demps, a joystick dance for Jackson.
Jackson's reaction was simpler: a deliberate but quiet drop of the ball in the end zone's front corner. After all. He's a bit more used to touchdowns than Demps – 29 in college compared to Demps' five.
But Demps wouldn't let Jackson one-up him; not this night, at least. His block on the punt return, he joked, was crucial.
"I knew the next time I went out there I was going to have to take it the distance," Jackson said. "It was a very competitive game and, through the team, it just shows how competitive we are. I saw him do it, so I wanted to do it too."
Touchdowns notwithstanding, a few more big plays on returns could take some pressure off of, and give rest to, the offense. It's a law of averages – the shorter the drive, the higher the chance of scoring.
In fact, Jackson had a lengthy return deep into Patriots' territory in the first quarter called back because of a penalty (on Demps, actually). The point, though, was that he showed the electricity that sparked the Eagles to call his name in April's NFL Draft.
As for the touchdown, it was a little bit of redemption for the penalty, a little bit of a reaction to Demps' success. The rookies, Jackson said, feed off of each other, culminating in an arms-crossed pose they do together after a standout effort.
"We were out there joking around. After he scored, I gave him a little love. I scored and he came over and we did the pose again," Jackson said. "There are some things you have to do sometimes when you are feeling good, winning. Things like that happen. "